Posted by Chad Finn, Globe Staff
October 1, 2008 05:32 PM
6. Three sleeper heroes for the Sox:
Jed Lowrie: He's pulled off a spot-on Mark Bellhorn imitation lately at the place, and we all know what The 'Horn did in Sept. '04.

Tim Wakefield: He's not currently scheduled to start, but he always ends up being a factor somehow, doesn't he?

Justin Masterson: He reminds me so much of D-Lowe in '98 it's scary. I wouldn't be shocked to see him pitching both the seventh and the eighth innings in a tight game.

7. And in the spirit of equal time, three for the Angels:
Howie Kendrick: His OPS is mediocre (.754), but the kid hit .306 and he's a line-drive machine. The Bill Madlock comparison is legit.

Gary Matthews Jr.: Sarge's son had a lousy year (78 OPS+), but he hit .316 with two homers in 19 at-bats against the Sox.

Erick Aybar: Heaven forbid he should torment the Sox as much as his brother does.

8. I know, I know, Manny's the most despicable person ever to walk the earth - he karate-chops clubhouse men and kicks puppies, or vice versa, blah blah blah. But could someone please send this along to Gerry Callahan. I'm sure he'll claim it's fiction, but at the least it's an interesting counter to the over-the-top, the-scum-wouldn't-visit-Walter-Reed hatchet job Callahan whacked him with on his way to L.A. The truth, as usual, is probably somewhere in the middle.

9. As for today's Completely Random Baseball Card: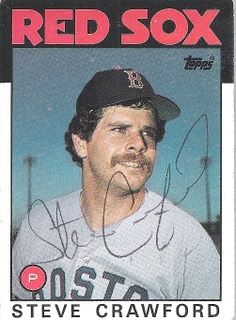 For karma's sake. And if you're old enough to remember 1986, you know exactly what I mean. (FYI, we used Hendu in this spot in the lineup before the Angels series last year.)
About Touching All The Bases
| | |
| --- | --- |
| | Irreverence and insight from Chad Finn, a Globe/Boston.com sports writer and media columnist. A winner of several national and regional writing awards, he is the founder and sole contributor to the TATB blog, which launched in December 2004. Yes, he realizes how lucky he is. |
Tweets by @GlobeChadFinn
browse this blog
by category
The best of Touching All The Bases