Posted by Chad Finn, Globe Staff
October 7, 2008 05:19 PM
One last quickie look at the Angels-Sox ALDS, with due apologies to Three Up, Three Down innovator Gennaro Filice . . .
RED SOX
Three up . . .
1. Jon Lester: It's official. He's the ace. No, not just of the Red Sox -- of everyone, at least in October.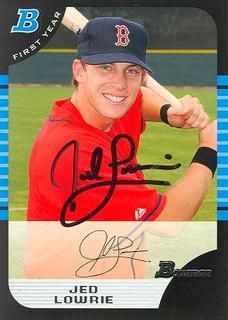 2. Jed Lowrie: He whiffs like a Bellhorn and delivers in October like a Bellhorn. Sadly, he also looks like the kind of blue-blooded kid The 'Horn and his goons used to beat up at bars for the sport of it.*
3. The Jasons: Okay, a tie is a cop-out. But Bay lived up to the immense offensive standards of the former left fielder, batting .412 with a pair of homers in the series and chugging home like a turbo-charged Sid Bream for the winning run in the clincher. As for Varitek, he had a crucial and overlooked single in the fifth inning to set up the game's first run, and also made a terrific play on the botched squeeze. You know we often think Varitek gets too much credit. Last night, he didn't get enough.
. . . and three down
1. Francona: I've heard his explanation, but I still don't understand why he pulled Lester after seven. Fortunately, Scioscia and his Headless Chicken Angels took him off the hook. Forgiven and forgotten, Tito.
2. Justin Masterson: We believe in this kid as much as Tito does -- did you notice he was touching 97 last night? -- but at least for a moment, the magnitude of the situation seemed to get to him. When have you ever seen a catcher get crossed up like that? Varitek's lucky he doesn't have a dent in his famous, intangibly-crinkled forehead.
3. Sean Casey: So that's why he's persona non grata. Who knew Mark Kotsay would bring his center fielder's range to first base? Well, besides Tito.
ANGELS
Three up . . .
1. Torii Hunter: The one Angel who consistently delivered with runners in scoring position in the series, it appeared he had turned the momentum LA's way with his game-tying two-run single in the eighth. He's not the center fielder he once was, however, though he'll probably win three more Gold Gloves on reputation alone.
2. Mark Teixeira: He didn't hit for power in the series (though it felt like just a matter of time) and drove in just one run, but he did bat .467, and his all-around performance -- working the count, and playing Mattingly-like defense at first -- was extremely impressive. The price, as Mo Vaughn used to say, just went up.
3. Chone Figgins: He hit .333 and, as Dustin Pedroia could attest, played surprisingly well at third base.
. . . and three down
1. Mike Scioscia: His team is not aggressive, it's reckless, and he's now 1-9 against Terry Francona in the postseason. Tell me again who's the best manager in baseball?
2. John Lackey: He pitched well in both of his starts -- but not well enough to win either of them. Plus, he's a boor, refusing to give the Red Sox credit and embarrassing his infielders whenever they failed to make a play; Kevin Brown had more grace in defeat. He can't be a popular guy in the clubhouse.
3. Erick Aybar: Ya gotta get the bunt down, son.

* Okay, we made that up.
* * *
As for today's Completely Random Baseball Card:

TBS didn't show the ceremonial first pitch, and there are no photos as far as I know. Poor Yummy's still getting no respect at Fenway.
About Touching All The Bases
| | |
| --- | --- |
| | Irreverence and insight from Chad Finn, a Globe/Boston.com sports writer and media columnist. A winner of several national and regional writing awards, he is the founder and sole contributor to the TATB blog, which launched in December 2004. Yes, he realizes how lucky he is. |
Tweets by @GlobeChadFinn
browse this blog
by category
The best of Touching All The Bases