Posted by Chad Finn, Globe Staff
October 15, 2008 02:57 PM
4. File this one under I Did Not Know That. It comes from a pretty decent Howard Bryant piece on Terry Francona on ESPN.com:
Four years ago, Francona was a more than able practitioner of the time-honored baseball tradition of embarrassing outsiders. He was short with visiting writers and particularly sensitive to criticism. For a time last season, Dennis Eckersley, the Hall of Fame pitcher who is now a Red Sox in-studio commentator, did not enter the clubhouse because he said Francona did not want to speak to him.

Francona shakes his head. "Here's what I said. What I said to him was, 'You can have an opinion. But if you want to have an informed opinion, you have to do a little work.' It pissed me off, and I told him that.

"Dennis and I go back years. We used to hang out together with the Cubs. I'm not mad about it. But I felt I had to say that. You can say whatever you want, but you have to have an informed opinion, especially here."
You know what? Tito might have been hypersensitive, but I think this actually knocks my perception of the Eck down a peg. I always thought he was prepared. Tito apparently perceived otherwise. Also of note: Tito and the pre-rehab Eck used to hang out. I'm sure they can tell some stories.
5. You probably won't believe this considering how much I've "bashed" him lately -- and for the record, every single word has been justified -- but I actually want Jason Varitek back on the Red Sox next season. The catch, so to speak: It has to be a one-year deal, and he has to be accepting of a platoon role if Theo Epstein can swing a deal for a decent young backstop over the winter. (My vote: Texas's Taylor Teagarden.)
6. The initial reaction to the Rays' decision to flip James Shields and Scott Kazmir in the rotation: Another look-how-smart-and-unconventional-I-am move by Rays manager Joe Maddon, and hopefully one that will backfire and revive the Sox. But the more we learned about this - - Shields and Kazmir had been clued in that it would happen long ago, Shields is considerably better at Tropicana Field, Kazmir has a bitter history with Game 6 plate umpire Derryl Cousins -- the more sense it made. It's actually a very shrewd and logical move, and so now I must admit the truth: For the first time in his four postseasons with the Red Sox, Francona might just be getting outfoxed by the guy in the other dugout.
7. Oh, okay, I get it now: It was the third-base coach's fault. Man, the current state of the Yankees' front office really is a blessing we should never take for granted.
8. Call this a hunch, call it a prediction, call it my usual *$%*$*#, but I'm beginning to believe Glen Davis might not make the Celtics' opening day roster. Doc Rivers went out of his way to criticize Big Baby after the preseason opener, and it's apparent the majority of his offseason was spent taste-testing Krispy Kremes and seeing how many Oreos he could fit in his mouth at once. He'd better show some Powe-like dedication soon, because his spot on this team might not be as secure as he seems to believe.
9. I know, it's a silly and hopeless exercise, but I can't be the only one wondering how things might be different right now if Clay Buchholz had lived up to his immense promise this season. Hell, this year's version of Buchholz might have been a better bet than Wakefield last night.
10. As for today's Completely Random Baseball Card: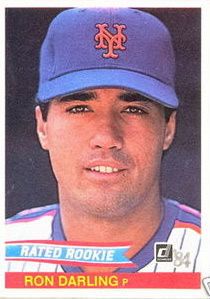 I spend a lot of words here yelping about lousy broadcasters, and frankly, I probably should have learned my lesson after busting on Jerry Trupiano all those years, only to have him succeeded by a couple of unlistenable suck-ups. But there are ones I do like -- honest. Dave O'Brien is, of course, outstanding (and right now, dearly missed), and I also like TBS's understated Ron Darling, who picks his spots and seems to add actual insight, rather than the usual inanities that come from the third man in the booth. (Though I did snicker when he called Kevin Cash "Kevin Chase" last night.) Think he'd be willing to come here to be Castiglione's sidekick?
About Touching All The Bases
| | |
| --- | --- |
| | Irreverence and insight from Chad Finn, a Globe/Boston.com sports writer and media columnist. A winner of several national and regional writing awards, he is the founder and sole contributor to the TATB blog, which launched in December 2004. Yes, he realizes how lucky he is. |
Tweets by @GlobeChadFinn
browse this blog
by category
The best of Touching All The Bases