Posted by Chad Finn, Globe Staff
October 14, 2008 02:23 PM
* * *
I'm starting to think that no one believes in the value of Jason Varitek's intangibles more than Jason Varitek.
Seriously, I want you to explain this one to me, all you blind and loyal citizens of Varitek's Army: How can a player who batted .220 overall, .201 from the left side, .175 with runners in scoring position, and .157 with two outs and runners in scoring position during the regular season possibly even consider protesting when his overly patient manager finally has the nerve to pinch hit for him during a postseason in which he is batting .125 with a matching .125 slugging percentage?
Please, don't give me any nonsense about his pride being wounded -- his skills, offensively and defensively, have eroded to the point where his entire value to the ball club is tied to his leadership.
And judging by his thinly veiled annoyance when he's removed for a superior hitter -- and right now, everyone from Alex Cora to David Ross to Dave Magadan qualifies for that title -- apparently even that skill isn't what it used to be.
* * *
File this one under late-breaking news, but I'm thrilled that Tito has decided to put J.D. Drew in the leadoff spot tonight.
While it might foil Jacoby Ellsbury's plan to set a postseason record for feeble groundouts to the pitcher, it should strengthen the Sox' lineup, if only because Drew has a knack for getting on base even when he's not hitting. Even Chip Caray is aware that the Red Sox desperately need baserunners when Dustin Pedroia, Kevin Youkilis, and Jason Bay -- their three trustworthy hitters right now -- come to the plate.
Some will say it's a desperate move, since Drew had only 39 at-bats in the No. 1 spot this season, but it's not. It's a shrewd one.
* * *
As for today's Completely Random Baseball Card: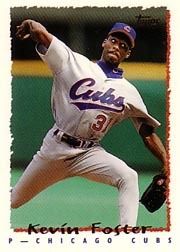 Sad to hear this morning about the passing of former Cubs pitcher and Red Sox farmhand Kevin Foster, who died of cancer Saturday at age 39. Everything I ever heard about Foster -- who spent the 2000 season with the PawSox -- confirms what his friends and family say in this story: he was a genuine and engaging guy who appreciated how fortunate he was to be a professional ballplayer.
About Touching All The Bases
| | |
| --- | --- |
| | Irreverence and insight from Chad Finn, a Globe/Boston.com sports writer and media columnist. A winner of several national and regional writing awards, he is the founder and sole contributor to the TATB blog, which launched in December 2004. Yes, he realizes how lucky he is. |
Tweets by @GlobeChadFinn
browse this blog
by category
The best of Touching All The Bases