Posted by Chad Finn, Globe Staff
October 16, 2008 04:43 PM
A passing thought on the Patriots while worrying that Dice-K's maddening habit of nibbling will contribute to the end of the Sox' season tonight:
I'll admit, my expectations for (and opinions of) Matt Cassel have tended to fluctuate wildly during the first six weeks of the season, depending pretty much on whether the Patriots won their game that particular Sunday.
So you probably have a sense for how I feel about the Accidental Heir at this particular moment: C'mon, Kevin O'Connell, hurry up and master the offense already, so Cassel can fulfill his destiny of holding a clipboard for the Toronto Argonauts.
Cruel and unreasonable? Probably. But after watching the debacle against the Chargers, I really don't have a lot of hope for him -- or the sluggish and inconsistent football team he's desperately trying to guide -- this season.
The Patriots looked indifferent (and that's a nice way of saying "comatose") once they fell behind at San Diego, and if they play that way against the Broncos -- and I fear they're going to be on the losing end of a track meet -- then it's not going to be long before their fans become indifferent as well. I feel like a spoiled jerk writing that . . . but it's the truth. At least we've still got the Celtics (and at least nine more innings of the Sox, I suppose).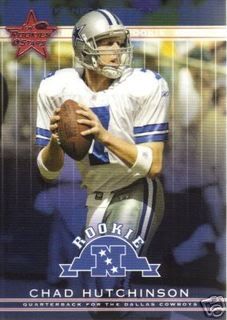 But the point here today isn't to blame Cassel -- by all accounts he is putting in the overtime required of an NFL QB, he seems like a swell guy, and he has some raw athletic ability (though in a sense, Cassel, a former Southern Cal pitcher, reminds me of Chad Huchinson and Drew Henson -- athletes who were just good enough at a couple of sports to not quite make it).
The point is to suggest a certain segment of fans and media should lower their expectations of him, and of what he might become.
For instance, I heard someone -- a deployed 'EEI airbag, I think, but I can't remember which one -- point out that Cassel's numbers through his first five games are similar to Tom Brady's during his first handful of starts in '01. The point, I think, was that there's a chance Cassel could develop into something special at quarterback himself, just as Brady did from his humble beginnings.
Which, of course, is absurd. Anyone who actually watched Brady play in the sudden aftermath of Drew Bledsoe's franchise-altering injury in 2001 saw encouraging attributes in the new guy immediately, even when the statistical results weren't there.
When Brady first took over, you had to be impressed -- again, immediately -- at his poise in the pocket, his uncanny instinct for feeling and dodging the pressure, his ability to sell a fake, his knack for throwing an accurate screen pass at just the right time. They were subtle aspects of quarterbacking, and they were so noticeable to us at the time because they were such unfamiliar characteristics in a Patriots quarterback -- they were important skills that the rocket-armed but satisfied Bledsoe never possessed.
And they are skills (or instincts) that Cassel lacks right now -- and most likely, always will.
Cassel actually might have more physical ability than Brady at the same age, though pure talent has long been an underrated aspect of the Brady package. But Cassell has the timing of a cheap watch, a blind man's feel for the pass rush (how many sacks has he scrambled into?), and even though those weaknesses are in part due to his limited playing experience, it's fair to assume he will never completely master them.
The small things elude Matt Cassell, and I fear, like with Bledsoe, Tony Eason, and so many others before Tom Brady came around, they always will.
I'm sure he could probably start for the Argonauts, though. That was just plain mean.
* * *
FYI, this week's "OT" column can be found right here -- I like to call it my Loving Tribute To The Brilliant 'n' Omnipotent Tito. Seriously, even though Terry Francona hasn't had his finest postseason in terms of strategy, I stand behind every word in the piece but one: instead of calling the Rays "pesky," I'd like to change that to "$*$(#(*$** impressive." Man, are they loaded, for now and the future.
* * *
As for today's Completely Random Baseball Card:
Yep, for karma's sake, we're going back to Hendu. Hey, his magic worked against the Angels.
About Touching All The Bases
| | |
| --- | --- |
| | Irreverence and insight from Chad Finn, a Globe/Boston.com sports writer and media columnist. A winner of several national and regional writing awards, he is the founder and sole contributor to the TATB blog, which launched in December 2004. Yes, he realizes how lucky he is. |
Tweets by @GlobeChadFinn
browse this blog
by category
The best of Touching All The Bases