Posted by Chad Finn, Globe Staff
September 10, 2008 02:46 PM
6. I was under the impression that Mark McGwire didn't talk about the past. But on those select occasions when he chooses to do so, the truth is apparent: He's still in denial about the fraud he perpetrated on baseball in the summer of '98.
7. You have to give Coco Crisp credit. Rather than moping through the season or forcing the Red Sox to trade him after he lost his job to Jacoby Ellsbury, he instead took the approach of a true professional: he shut his mouth and made the most of the playing time he did get, and now he's outperforming his supposed successor. I couldn't be more impressed.
8. Our expectations have understandably skyrocketed in the Brady/Belichick Era, but it wasn't so long ago when an 11-5 record and a playoff berth was considered an outstanding season by the boys in Foxborough. When this season ends with that exact record, I think we'll feel fairly satisfied, all circumstances considered.
9. I'm able to accept the Patriots' cruel early-season fate in part because I already know how the rival Jets season is going to end: With Brett Favre throwing his fourth hillbilly-brained interception of the afternoon in the closing moments of the AFC wild card game. And the best part? Fireman What's-His-Face and the rest of his cronies don't even see it coming. Mark these words: They'll be longing for Richard Todd before this season is through.
10. As for today's Completely Random Baseball Card: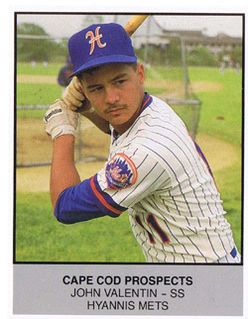 Apparently, puberty walloped ol' Johnny Val hard during his summer in the Cape League.
About Touching All The Bases
| | |
| --- | --- |
| | Irreverence and insight from Chad Finn, a Globe/Boston.com sports writer and media columnist. A winner of several national and regional writing awards, he is the founder and sole contributor to the TATB blog, which launched in December 2004. Yes, he realizes how lucky he is. |
Tweets by @GlobeChadFinn
browse this blog
by category
The best of Touching All The Bases