Posted by Chad Finn, Globe Staff
September 5, 2008 02:39 PM
6. The 1993 Rangers, starring Jose Canseco, Juan Gonzalez, Pudge Rodriguez, and Rafael Palmeiro, might have featured the most artificially enhanced lineup since the '93 Phillies. And no, that's not a reference to Palmeiro's side job pitching Viagra.
7. Worst fight in franchise history: When second baseman Lenny Randle, apparently peeved at losing his starting job to rookie Bump Wills, sucker-punched 49-year-old manager Frank Lucchesi during spring training '77, breaking Lucchesi's cheekbone in three places. Randle's punishment: He was sent to the Mets.
8. Best fight in franchise history: Nolan Ryan, age 46, pounding some sense into that young whippersnapper Robin Ventura in 1993. Legend has it Ryan could be heard yelling, "This will teach you to run across my lawn, young fella!" as he repeatedly walloped Ventura upside the head. Old people love that.
As for today's Completely Random Baseball Card: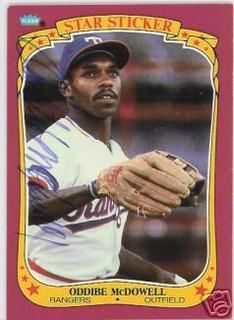 Oddibe McDowell is a baseball legend, and I don't care what you say. And so was Bump Wills.
About Touching All The Bases
| | |
| --- | --- |
| | Irreverence and insight from Chad Finn, a Globe/Boston.com sports writer and media columnist. A winner of several national and regional writing awards, he is the founder and sole contributor to the TATB blog, which launched in December 2004. Yes, he realizes how lucky he is. |
Tweets by @GlobeChadFinn
browse this blog
by category
The best of Touching All The Bases