Posted by Chad Finn, Globe Staff
September 4, 2008 11:19 AM
6. Former Red Sox farmhand Rich Rundles made his big league debut with the Indians yesterday at age 27, throwing a grueling four pitches while facing one batter in the ninth inning. If you can name the lunatic the Red Sox acquired for Rundles and another pitcher in '01, you win the grand prize. What that is, I have no idea, but I'm open to suggestions. Maybe a Pat Mahomes baseball card or something.
7. It's starting to look like the end is very near for our old friend Pedro, whose velocity is down to Livan Hernandez levels in the final year of his contract. Obviously, the Red Sox made the right decision in letting him walk after the '04 season, and it would have been a bummer to watch his otherworldly skills erode here. But man, I do still miss watching him pitch every fifth day. When he was at his peak, there was nothing like it, and it's going to be a long time before there ever will be again.
8. I'm not much of a Jim Leyland fan - I can smell his cigarette breath through the TV, and his old-school "charm" gets him a free ride with the media - but I did get a kick out of him calling out Justin Verlander after the underachieving Tigers pitcher blamed the ump's allegedly small strike zone for his latest disaster. I was among those who had him pegged as the Cy Young front-runner entering the season (oh, like you were onto Cliff Lee), and my greatest disappointment at my league's fantasy draft was missing out on him by a pick or two. Brandon Webb turned out to be a decent consolation prize, however. (And that concludes this week's segment on Boring Nonsense About My Fantasy Team That Only I Care About. Tune in next week when I confess my irrational admiration for Ian Stewart. Actually, feel free to share your hits and misses this season in the comments.)
9. As for today's Completely Random Baseball Card: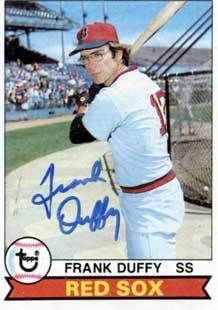 Because sometimes, it really is random.
About Touching All The Bases
| | |
| --- | --- |
| | Irreverence and insight from Chad Finn, a Globe/Boston.com sports writer and media columnist. A winner of several national and regional writing awards, he is the founder and sole contributor to the TATB blog, which launched in December 2004. Yes, he realizes how lucky he is. |
Tweets by @GlobeChadFinn
browse this blog
by category
The best of Touching All The Bases