It would require a thesaurus' worth of adjectives to even begin an accurate description of Manny Ramirez - we could start with charming, irresponsible, prolific, selfish, dedicated, infuriating, endearing, oblivious, gifted - and pretty much all of them would be contradictory.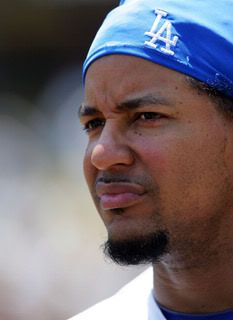 (AP Photo)
So it was with ol' No. 24, an enigma wrapped in a riddle wrapped in a size XXXL uniform. But this much cannot be debated: It was an absolute treat to watch him hit a baseball for 7 1/2 years here, and that's what I will miss the most. All the rest is just shouting.
Even now, four days after the messy divorce, I'm not particularly interested in finding out the gruesome details regarding where the marriage between the greatest righthanded hitter I have ever seen and the Red Sox went wrong, though I'm sure some more stories about his behavior will gradually leak out of the back rooms at Fenway Park in time.
(Pssst, reporter guy . . . did you know he once burned Pookie Jackson with a stogie because we ran out of Fresca in the clubhouse? It's true. Singed his left eyebrow right off! But, uh, you know, don't put my name on that.)
Anyway, what's done is done. Manny's gone, the darling of Hollywood, while Pittsburgh refugee Jason Bay is our new kid in town, doing and saying all the right things so far.
While it still feels weird not having him around, even I'm Manny-ed out and moving on - that is, just as soon as I share some final, scattered thoughts, which will probably be as contradictory as the goofy manchild himself . . .
* * *
"Turn the page" seems to be the team credo right now. They also might want to add "look in the mirror." Charlie Pierce said it with more lyrical grace than I ever could, but it's time for Manny's ex-teammates to start being accountable. If the Sox miss the playoffs, it's not because Manny went down looking against Rivera or elevated clubhouse tensions before the trade. It will be because the likes of Josh Beckett, Jason Varitek, Julio Lugo, Coco Crisp, Jacoby Ellsbury, and oh, about a half the bullpen failed to meet what were reasonable performance expectations. Manny wasn't exactly a scapegoat, but he did serve as an occasional and convenient distraction from his teammates' failings. Everyone is looking their way now.
* * *
You might despise Manny right now, but I can think of two situations where you will find yourself missing him: against the Red Sox' biggest rival, and in October's biggest moments. Manny has 55 homers in 200 career games against the Yankees; it's no surprise they were practically dancing in the New York clubhouse when news of the deal broke. And in the postseason, Manny has 24 homers - the most all-time - in just 353 at-bats. Sure, Jason Bay is a terrific hitter, but it cannot be ignored that he owns a .704 OPS this season with runners in scoring position and has never played a meaningful game in his career. Bay won't replace Manny; few in the game's history can. And don't look now, but David Ortiz seems to be noticing as much with every walk he accumulates. I wonder if he was the dissenting vote.
* * *
From reader Jeff in Maine: "Tito's so relieved, his hair is growing back." Fantastic line, and it indirectly reminds me of why I realized this trade had to happen: Terry Francona, the man most affected by Manny's whims, desperately wanted him gone from this team. Tito was tired of covering for him in front of the media when the other 24 players in the clubhouse knew or suspected the real story - his credibility was at stake - and he had long since gone above and beyond a manager's call of duty in that regard anyway. (I can't help but think that Tito's first skipper as during his playing days in Montreal, the comically cantankerous Dick Williams, would have bludgeoned Manny with a fungo bat long ago.) In the end, my unyielding respect for Francona won out over my enjoyment of watching Manny bat cleanup for this team. If Tito says Manny has to go, who am I to argue? In a related note, how much would you pay to hear Tito's first phone conversation with Joe Torre after the trade went down? I imagine it started with the words, "Good (expletive) luck."
* * *
You realize Manny is probably convinced he outfoxed the Red Sox' front office right now, don't you? Sadly, the dastardly plan that Scott Boras surely whispered in his ear worked to perfection. He got what he wanted - free agency after this season - and he's undoubtedly oblivious or indifferent to the collateral damage he caused. That's pretty damn loathesome. I hope Bud Selig does investigate what exactly happened here, if only to make Boras squirm. (As you know, he prefers to slither.)
* * *
My three favorite Manny Moments, in no particular order: 1) The homer off K-Rod in Game 2 of last season's ALDS at Fenway, a rocket that should be reentering the atmosphere just about any day now. 2) His three-run bomb off Barry Zito in Game 5 of the '03 ALDS, back when Zito was an elite pitcher and not the reincarnation of Steve Avery '97. 3) His lasered single back through the box to drive in the winning run against Mariano Rivera and the Yankees early in the '01 season. That's the precise moment I realized this was going to be a wildly enjoyable ride.
* * *
I almost hope Manny ends up in a Yankees uniform next season. I dreaded the thought of watching him decline here - and you, me, and every pitcher with a 94 mph fastball knows the process has at least started - but I wouldn't mind watching those skills gradually erode for $70-something million over four years in the Bronx. C'mon, Hank! Overrule Cashman! Make it happen!
* * *
We shouldn't be so surprised he was all about money. All the old Cleveland stories about him leaving his uncashed six-figure paychecks in his glove compartment were precious, but the truth is his thirst for big, fat stacks of cash led him to Boston in the first place. Manny the Mercenary is not a new character. And if I recall correctly, we pretty much flipped for him the way Dodgers fans are right now, so hold off on the hypocrisy, please.
* * *
I don't mean to suggest that Manny didn't deserve the majority of the grief he received the past few days; again, what he did was inexcusable. But some of the glee that certain media members took in his departure bordered on character assassination, and it was unbecoming to say the least. Dale Arnold was at his smarmy worst during Thursday night's broadcast. Peter Gammons made the bizarre assertion that Manny's transgressions were more of an affront to baseball than the steroid era. And Gerry Callahan, in a venemous column he'd undoubtedly been waiting months to spew, essentially accused him of everything but drowning kittens. There's no doubt Manny should have acknowledged the disabled children and visited the wounded veterans at Walter Reed, but it's not hard to find tales of Manny's generosity if you're looking for them.
* * *
Here's mine: Three years ago during a spring training game in Bradenton, Fla., I happened to be looking on from the concourse when I saw Manny, an inning or so after being removed from the game and in street clothes, saunter over to a group of a dozen or so disabled children and adults seated along the left field line. He promptly signed autographs, shook hands and offered high fives, grinned for pictures, and generally treated every one of them like they were dear old pals having an unexpected reunion. It was a sight that would melt a cynic's heart, and the only other Sox player I saw do such a thing during the time I was there was Johnny Damon. Maybe Manny didn't do that every time, and maybe it was just one more contradiction in his personality, but on that particular day he took it upon himself to give those people a memory they won't forget. And that's the thing: Few want to admit it right now, but over the years he gave us more than our share, too.
* * *
As for today's Completely Random Baseball Card:
Manny, at his introductory press conference in LA: "When I was a little boy my first baseball uniform was one from the Dodgers. No. 30. So the No. 30 has always been my favorite."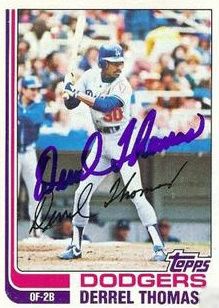 Of all the great Dodgers . . . Derrel Thomas? I guess we shouldn't be surprised. It's just Manny being Derrel.