Posted by Chad Finn, Globe Staff
July 15, 2008 10:12 PM
6. I was intrigued by one reader's suggestion that the Sox should pursue San Diego's Khalil Greene - a smooth fielder who drove in 97 runs last season - if Jed Lowrie doesn't cut it as Julio Lugo's replacement. But there are two negatives to Greene, beyond that he's signed though next season: he's having truly brutal season at the plate (63 OPS+), and his most similar player through age 27 is this guy. Upon further review, I'll pass.
7. This week's must-read from the life-altering SI Vault: Leigh Montville's pitch-perfect farewell to Teddy Ballgame. I loved this description of Williams while he was an instructor at Red Sox spring training in the late-'70s.
He would argue with anyone about politics, sports, detergents, anything. He would question. He would tell stories. He would interact, hour after hour. There was a liveliness about him that was different from the ordinary. He was larger than larger-than-life, if that makes any sense. He was Ted Williams, and he knew who he was. He played his own role. Himself.
8. C'mon, I know you had the same thought I did when you heard Jimmy Kimmel and Sarah Silverman are splitting up: Who gets custody of Simmons?
9. I like the Celtics' signing of 7-footer Patrick O'Bryant for no reason other than that he must have done something right to be the ninth pick in the draft just two years ago.
10. As for today's Completely Random Baseball Card: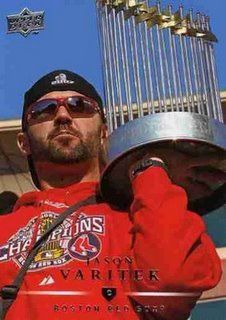 I know, you expect me to make a joke about 80-something-year-old Yogi Berra having better bat-speed than 'Tek during batting practice last night, but nope . . . I just wanted to point out that this is a damn cool card. No snark required for this one.
About Touching All The Bases
| | |
| --- | --- |
| | Irreverence and insight from Chad Finn, a Globe/Boston.com sports writer and media columnist. A winner of several national and regional writing awards, he is the founder and sole contributor to the TATB blog, which launched in December 2004. Yes, he realizes how lucky he is. |
Tweets by @GlobeChadFinn
browse this blog
by category
The best of Touching All The Bases