Posted by Chad Finn, Globe Staff
July 21, 2008 01:02 AM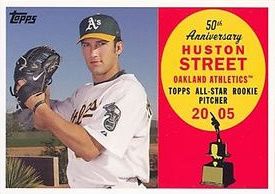 Well, I'm convinced. The Red Sox aren't winning anything of consequence with this bullpen as currently constituted.
I'm sure you're all too familiar with the flammable culprits in this 'pen-wide tribute to Heathcliff Slocumb. But I'm still fuming in the aftermath of tonight's loss, so what the heck, let's point some fingers:
Three seasons into his big-league career, Manny Delcarmen still gets the Schiraldi Eyes in big situations; he simply cannot be trusted in a tight game, a damning indictment of a pitcher with his ability. But I'm sure he'd put up sick numbers as a Washington National.
Craig Hansen possesses the stuff but not the command, and if you don't have command at this level, well, you're about as useful as Big Papi's mitt. (Or Coco Crisp's bat, if you prefer.)
And after a sensational first season stateside, Hideki Okajima has reverted to the inconsistent enigma he often was during his career in Japan. This, I'm afraid, is who he is.
Oh, I realize Terry Francona's reluctance - or refusal - to use Jonathan Papelbon in tie games on the road has cost the multiple times this season, including tonight. But it's unfair to expect Papelbon to be a one-man bullpen. The days of Goose Gossage buzzsawing a lineup in three-inning bursts are gone for good.
So where does Tito turn in the eighth inning? Mike Timlin? I suspect he's cooked, though he's come back from the dead before. Javier Lopez? Doesn't throw enough strikes, among other flaws. Tom Burgmeier? Intriguing, but he is 64.
Perhaps Justin Masterson will provide a boost, though we must be reasonable: he was in Single A a little more than a year ago, and the elevated home-run rate (eight in 54 innings, and six in 106 at-bats by lefthanders) suggests he'll be something less than a savior. He'll be a very good pitcher someday, but that time may not be upon us quite yet.
Chances are the help will have to come from outside the organization, which brings me to this piece by CNN/SI's Jon Heyman and a compelling thought:
Maybe the Sox should pursue Oakland closer Huston Street.
According to Heyman, Billy Beane is willing to consider offers for the 24-year-old righthander, a somewhat curious development since the Oakland GM has a knack for unloading his big-name pitchers at the right time. There are some red flags with Street. He's something less than durable, he's not having a particularly strong season statistically (4.19 ERA, 92 ERA+, 1.16 WHIP), and who knows how he'd adjust to pitching the eighth rather than the ninth. (Silly, I know, but closers are a quirky breed, and that was Eric Gagne's excuse.)
But Street's young, proven, presumably healthy, and has historically pitched slightly better in the second half. He's considerably more appealing than the Mahays, Fuenteses, and assorted retreads who will be moved near the July 31 trade deadline. The Red Sox have incredible depth in their farm system - Theo has lived up to his brash vow to create a "player development machine" - and he easily could put together a package to entice Beane without gutting, say, the Sea Dogs.
So whaddaya say . . . is Huston Street the solution? I don't know about you, but I've seen enough from this crew. I'd have had Beane on the phone before Casey Kotchman's double hit the grass.
About Touching All The Bases
| | |
| --- | --- |
| | Irreverence and insight from Chad Finn, a Globe/Boston.com sports writer and media columnist. A winner of several national and regional writing awards, he is the founder and sole contributor to the TATB blog, which launched in December 2004. Yes, he realizes how lucky he is. |
Tweets by @GlobeChadFinn
browse this blog
by category
The best of Touching All The Bases