Posted by Chad Finn, Globe Staff
July 23, 2008 11:33 PM
* * *
As for today's Completely Random Baseball Card: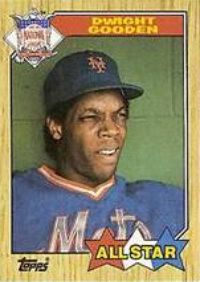 Papi's appearance in Portland reminded me of the other time I saw a significant big leaguer play a minor league rehab game in Maine. Trust me when I say this was an entirely different experience.
In 1987, while working his way back to the Mets after going through drug rehab, Dwight Gooden pitched against the Maine Guides (the Official Defunct Minor League Team of TATB) in Old Orchard Beach.
It's easy to forget now, as Gooden's legacy is that of a cautionary tale more than anything else, but there was a brief time in the mid-'80s where he trailed only Michael Jordan as the biggest superstar in sports. They called him Dr. K, and save for Pedro Martinez in his prime, the most consistently dazzling starting pitcher I have ever seen is Dwight Gooden in '85.
While his star had already begun to fade by '87 (though few realized it yet), he was still a huge deal when he came to The Ballpark. And he knew it. Gooden carried himself with a remarkable air of arrogance, scarcely acknowledging the fans before or during the game, and even sharing a snicker with a Tidewater teammate as a Maine player named Ken Dowell writhed in the batters box after getting beaned.
He struck me as a reprehensible character right then. He did nothing in the ensuing acts of his life to change my mind.
About Touching All The Bases
| | |
| --- | --- |
| | Irreverence and insight from Chad Finn, a Globe/Boston.com sports writer and media columnist. A winner of several national and regional writing awards, he is the founder and sole contributor to the TATB blog, which launched in December 2004. Yes, he realizes how lucky he is. |
Tweets by @GlobeChadFinn
browse this blog
by category
The best of Touching All The Bases