Posted by Chad Finn, Globe Staff
June 18, 2008 12:41 AM
You're damn right it's okay to call them the Big Three now.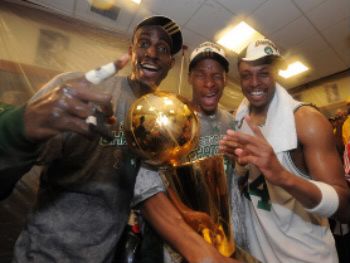 (AP Photo)
After the Boston Celtics' 131-92 public evisceration of the soft and soulless Los Angeles Lakers tonight to clinch their 17th world championship, let the record show that Paul Pierce, Ray Allen and Kevin Garnett no longer stand in
anyone's
shadow. They are NBA champions in their own right, and they did it in a manner that would impress even Larry, Kevin, and the Chief. Your kids will remember this the way we remember 1986, and that's exactly how it should be. The Big Three sequel was 22 years in the making, but man, what a movie it turned out to be.
It seems appropriate to distribute the first portion of praise to the player who has been here the longest and endured the most, the captain, Pierce. It was often said by those pushing a Laker agenda before this series that the team with the best player inevitably prevails in the Finals. Well, wouldn't you know it, that proved to be the truth . . . or should I say, The Truth. With the exception of a clunker in Game 3, Pierce thoroughly outplayed the regular season MVP, Kobe (You're No Jordan) Bryant, on both ends of the court, collecting a Finals MVP award of his own to accompany the Larry O'Brien Trophy. Celtics fans knew Pierce was complete player and a legitimate superstar long ago; now the rest of the nation does as well.
Allen took longer to win us over, but when he did it, he sure did it with flair. Tonight he hit seven of nine 3-point attempts en route to 26 points, brilliantly concluding series in which he reminded us why he is one of the most effective, efficient, and aesthetically pleasing shooters in the history of the league. Postseason success did not come easy for Allen - he agonized through a 9-for-51 slump in the early rounds that left some wondering if the 32-year-old's gas tank was on empty. To his credit, he stuck to his legendary pregame routine, literally shot his way out of the slump, and was so consistently excellent against the Lakers (a Finals-record 21 3-pointers) that he would have been a worthy MVP had the honor not gone to Pierce. Allen proved himself to be the epitome of a professional, and it has been a privilege to watch him these past two weeks.
As for Mr. Garnett, the word we used earlier today keeps returning to mind: Redemption. Never again should his fortitude in the big moments be questioned, never again should those who criticized his game be heard. It turns out Bill Russell doesn't have to give him a ring after all. Tonight, he went out and claimed his own, scoring 26 points, collecting 14 rebounds, and earning his place on the pedestal alongside the great Celtic big men of other eras. Watching him embrace Russell in the aftermath . . . well, if that doesn't make a Boston sports fan a little verklempt, then your cynical soul is beyond hopeless, my friend.
If there was any doubt about this trio's Hall of Fame credentials - and really, there shouldn't have been - it was permanently erased last night, when they combined for 69 points, 21 rebounds, and 16 assists. Appropriately, Pierce, Allen, and Garnett exited together with 4:01 left to play, spending the final moments of the season beaming through a continuous photo op and rejoicing in the ultimate team feat, something none of them could accomplish solo in their decorated careers.
And make no mistake - despite those sensational contributions of the, yes, Big Three, this was a complete team effort. So many members of the unsung supporting cast - think anyone still believes the Lakers have a superior bench? - deserve a standing ovation today.
We must start with James Posey, for he is to these Celtics what Troy Brown was to the '01 Patriots. When something absolutely, positively needed to be done during this postseason - say, drilling a 3-pointer from the corner, taking a charge on Kobe, poking away a steal in the back court, anything - he inevitably did it. He is the ultimate role player, just what every championship team needs, and there are few recent Boston athletes I've admired more.
So many others deserve a salute: Eddie House, who kept his shooting hand locked and loaded even when minutes were scarce . . . Kendrick Perkins, whose toughness and brute-force defense gave the old timers some welcome Paul Silas flashbacks . . . Rajon Rondo, the maddening but bright and gifted kid point guard who saved his best for last (21 points, 8 assists, 6 steals, 1 turnover) . . . Leon Powe, who made sure Phil Jackson learned his name . . . youthful and exuberant Big Baby Davis . . . ancient and wise P.J. Brown . . . and hell, yes, even Cassell.
Let's not overlook the two men most responsible for bringing this wonderful team together. There's Doc Rivers, the maligned coach, who demonstrated such an uncommon (and unexpected) knack for making the right choices as the stakes grew larger that one almost had to wonder if someone was whispering in his ear. Rivers, relentlessly positive and unifying, always had his players' respect, even when the seas were roughest, which tells you all you need to know about his competence.
Finally, there's Danny Ainge, the direct link from that beloved champion 22 years ago to this one, the tireless-shooting-guard-turned-tireless-GM whose savvy trades and free agent signings sparked the greatest one-season turnaround in league history. I still don't know whether the sequence of events that led to the Garnett deal was more by luck or design, but at this moment, it matters not one bit. He revived the franchise, and he cannot receive enough credit for that.
To think about where the the Celtics were 12 months ago - reeling after yet another lottery letdown, leaving its downtrodden fans muttering and desperately trying to talk themselves into believing in a pipe dream such as the raw promise of Gerald Green - well, it might just be the most improbable story of all in this remarkable (six champions!) decade of Boston sports success.
Read the words: The Boston Celtics, World Champions. At last and again.
Let the praise and the champagne flow.
About Touching All The Bases
| | |
| --- | --- |
| | Irreverence and insight from Chad Finn, a Globe/Boston.com sports writer and media columnist. A winner of several national and regional writing awards, he is the founder and sole contributor to the TATB blog, which launched in December 2004. Yes, he realizes how lucky he is. |
Tweets by @GlobeChadFinn
browse this blog
by category
The best of Touching All The Bases