Posted by Chad Finn, Globe Staff
June 2, 2008 02:30 PM
The date was June 8, 1986, and as a certain sequin-adorned singer popular at another Boston sporting venue likes to caterwaul, the good times never seemed so good.
(Bill Greene/Globe File Photo)
The Boston Celtics breezed to a 114-97 victory over villain-of-the-times Ralph Sampson and the Houston Rockets in Game 6 of the NBA Finals that glorious day, securing their 16th championship in 40 seasons, their third of the '80s, and their status as the decade's co-dynasty with the their glitzy opposites from the opposite coast, the Los Angeles Lakers.
Larry Bird, 29 years old and in all of his wispy-mustached, party-in-the-back glory, was at the peak of his powers, averaging 24-10-10 in the Finals and winning the series and regular season MVP awards (his third straight). Kevin McHale, Dennis Johnson, Robert Parish, Bill Walton, and Danny Ainge provided perhaps the most talented and cohesive supporting cast since Dr. Naismith first tacked up his peach basket.
The Celtics went 67-15 in the regular season, 15-3 in the postseason, and 50-1 at home overall. It was basketball as it was meant to be: selfless, breathtaking, freestyled, and aesthetically gorgeous. For fans who arrived in the post-Russell generation, it was as good as the game could possible get.
June 8, 1986. Man, it was lifetimes ago. Len Bias was nine days from having all of his dreams come true . . . and 11 days from snorting it all away. Reggie Lewis, a shy, skinny Northeastern senior-to-be with a sweet jumper and an ominous scar on his heart, was emerging as a talent to be reckoned with on the Huntington Ave. hardwood.
June 8, 1986. So much of the franchise's gloomy history had yet to be made. Charismatic Rick Pitino was finding success was a reality, if not quite a choice, just down I-95 in Providence. Tim Duncan was a 10-year-old in St. Croix harboring Olympic aspirations . . . in swimming.
June 8, 1986. The franchise's next triumphant trio was still in its formative years. Kevin Garnett probably spent afternoon recess terrifying the other Mauldin, S.C., third-graders with his wild-eyed intensity at hopscotch. Walter Ray Allen, a few weeks from turning 11, surely must have been the smoothest-shooting military brat in his class. And 8-year-old Paul Pierce was chubby, Laker-loving daydreamer in Inglewood (always up to no good), spending his childhood in the large shadow of his half-brother Steve, the family's first star athlete.
June 8, 1986. It's the official timestamp on the Celtics' last NBA championship. Four victories from another, it seems appropriate to retrace the steps of the journey.
* * *
In most ways, the Celtics' descent from the delirious high of 1986 didn't occur overnight. In 1986-'87, they won 59 games in the regular season and dumped Detroit in the Eastern Conference finals before losing the championship to Kareem, Magic and the finest Lakers club of the era in six games. No, it was more of a gradual decline, the kind that inevitably happens to franchises that cling to their aging heroes for sentimental reasons rather than trading them off and building anew.
In 1987-'88, the Celtics shuffled another step backward, winning 57 games and falling to the brash, ascending Pistons in the Eastern finals. The next season, Bird suffered a heel injury and played just six games, foreshadowing the premature end of his career after just three more seasons due to injuries.
While the Celtics remained one of the league's better teams until Bird's retirement after the 1991-92 season - they won at least 51 games each season he was healthy - they were no longer among the elite. The obvious became the reality: You just cannot replace Larry Bird.
* * *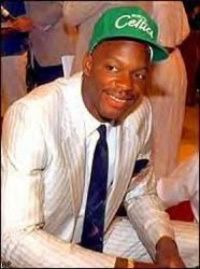 (AP Photo)
Yet in a devastatingly tragic sense, their decline
was
an overnight occurrence.
Nine days after wrapping up the '86 title, the Celtics, due to a typical bit of shrewd dealing and foresight by Red Auerbach, had the incredible fortune of owning the second pick in the NBA draft. With the selection, they chose a chiseled, can't-miss 6-foot-8-inch specimen from the University of Maryland who just happened to grow up dreaming of playing for the Celtics.
It all seemed too good to be true; terribly, it was.
Less than 48 hours later, Leonard Kevin Bias, 22 years old and bursting with potential, was dead of a cocaine overdose. In one night of reckless stupidity in a college dormitory, the Celtics' future, a player so gifted and determined that he drew some favorable comparisons to a skywalking kid named Jordan by their Atlantic Coast Conference contemporaries, had become a cautionary tale for a generation.
Bias was supposed to be Larry Bird's heir; instead, he was gone before he even arrived. His ghost haunted the franchise through the lost '90s and beyond.
* * *
Bird wasn't the first of the '86 gang to bid farewell. Walton hobbled off into retirement after playing just 10 games in the '86-'87 season. Ainge was dispatched to Sacramento midway though the following season in exchange for 14 feet of mediocrity, and his backcourt partner DJ was nudged into a reluctant retirement after the '89-'90 campaign.
McHale, his aching feet by the end a chronic affliction, put his unmatched array of post moves in permanent storage after the '92-'93 season, at age 35. (He would, however, play a significant role in his old team's return to prominence a decade-and-a-half later.)
Remarkably, the Celtic who lasted the longest was the one who always seemed the most indifferent - or perhaps it was amused - when it came to the relative importance of the sport.
Robert Parish, bless his stoic mug, played 21 years in the NBA, finally retiring after earning his fourth championship ring as a member of the '96-'97 Chicago Bulls.
You fooled 'em. You fooled 'em all, Chief.
* * *
(NBA.com Photo)
As the Bird Era wound down and those World Champion '86 caricature t-shirts were tucked away in storage, the Celtics front office did its best to refurbish the roster with young talent. But the Next Generation failed to live up to the promise of its youth.
Dee Brown, the No. 1 pick in 1991, proved an inconsistent flash whose legacy was turning the dunk contest into a sneaker commercial. Brian Shaw, a lanky, bright, multi-talented guard, never seemed pleased to be here and found himself in an unbecoming contract controversy after his rookie season. And the most talented among the kids was felled by another unthinkable tragedy.
On July 27, 1993, Reggie Lewis, just 27 years old, dropped dead from a heart attack after a light workout at the Celtics' practice facility.
Earlier that spring, Lewis had collapsed on the court in a playoff game against Charlotte, and in the hazy aftermath he made the curious and fatal mistake of listening to the lone doctor who told him what he wanted to hear - that his flawed heart wouldn't prevent him from playing basketball again.
All these years later, the heroes and villains in that sordid mess remain difficult to distinguish, but this much we do know: for the second time in seven years, the Celtics lost a wonderful young basketball player - Lewis, an All-Star, a captain, a quiet, admired leader, had been the one to take the reigns from Bird, as Bias was supposed to do.
And once again, so cruelly, Celtic Pride was overwhelmed by tears.
* * *
Following Lewis's passing, the franchise fell into spiral of irrelevance and disrepair; hell, how could it not?
The Celtics became an insignificant afterthought as the NBA became someone else's party (Michael Jordan's, usually) and those who still tuned in to Mike Gorman and Tommy Heinsohn did so for love ofthe game rather than any particular attachment to the unappealing collection of players.
The Celtics' ill-conceived mid-'90s rosters dotted with the likes of Dominique Wilkins, who morphed into an inefficient gunner once his legs were no longer full of lightning, permanently vacationing Pervis Ellison, and Todd Day, perhaps the most unconscionable chucker ever to wear the green and white. (Think Sam Cassell without a single redeeming quality.) First-round picks included Eric Montross (a slow stiff) and Acie Earl (slower, stiffer). Even the venue changed for the worse, the decrepit but forever beloved Garden falling victim to a wrecking ball in '95, replaced by the antiseptic FleetCenter.
The Celtics officially scraped the bottom in 1996-'97, winning 15 games and losing 67 while giving the likes of Brett Szabo and Nate Driggers the opportunity to someday tell their grandchildren they played in the NBA without fibbing.
It was left unsaid by those executing the task, but the motivation for running out a helpless lineup night after night was apparent to anyone who had seen a Wake Forest game that season: this particular savior stood nearly 7-feet tall, possessed the footwork of Gino, featured a deadly old-school bank shot, and was calmly shredding the ACC.
He was the player to resuscitate the franchise for sure. If only a collection of ping-pong balls would cooperate.
* * *
It may not be the most sporting thing to do, of course, but tanking the season to get a shot at Wake Forest's Tim Duncan - the once-in-a-decade franchise big man who was a lock to be the top pick in the '97 draft - was far from a foolish strategy, as coach M.L. Carr just happened to be a natural at losing basketball games.
So perhaps it was karma, or the old adage about best-laid plans, but despite owning two lottery picks - the second coming from Dallas in a deal that involved the Montross albatross - and a 36-percent shot of winning the top pick, the Celtics did not get Duncan.
The moment the draft order was determined, and the cruel realization hit you that those damn fickle ping-pong balls had decided that the San Antonio Spurs, not the Celtics, would be getting Duncan, you undoubtedly howled like Charlton Heston upon realizing Soylent Green was made out of peeeeeeople.
It felt like a kick in the gut from a size-20 Nike, the ultimate test of your faith as a fan, and the consolation prizes - No. 3 pick Chauncey Billups, a guard from Colorado, and No. 6 selection Ron Mercer, a Kentucky swingman - consoled no one. Neither was capable of being the savior Duncan would have been.
Worse, a slick, self-styled savior newly arrived on the sidelines would only prolong the dark ages.
* * *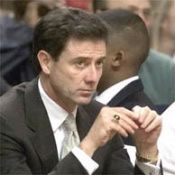 (AP Photo)
Maybe it wasn't
all
Rick Pitino's fault. He took the Celtics' job as coach and team president not long before the '97 draft lottery under the reasonable assumption he'd be coaching Duncan; no one should be expected to recover from such a massive disappointment with ease.
But Pitino, whose ego and wallet were both swollen from his enormous success at Kentucky, demanded instant gratification, and when it didn't come beyond a stirring opening-night victory over the World Champion Bulls, he proved to have the patience of a petulant toddler.
Pitino the personnel boss perpetually undermined Pitino the coach. (See: Knight, Travis, $22 million; Potapenko, Vitaly, $33 million; Mills, Chris, $33 million . . . must we continue?) Billups was dealt after just 51 games for overdribbling underachiever Kenny Anderson. Pitino, with typical disingenuousness, suggested he made the swap because Bob Cousy told him Billups would never be a point guard. (Cooz, of course, never likes any young playmaker at first.) Mercer, graceful but lethargic, was gone two years later.
Pitino's one shrewd personnel move - plucking Kansas's Paul Pierce with the 10th pick in the '98 draft - was a gift courtesy of nine other teams' incompetent scouting more than anything, as the future franchise cornerstone slid on draft night for reasons that have never adequately been explained.
(A year later, Pierce was stabbed 11 times outside a nightclub, and it must be noted that he avoided being a Bias/Lewis-level tragedy in large part due to the heroic efforts of teammate Tony Battie, who raced his profusely bleeding friend to the hospital.)
Even Pierce, a star from him first spin move on the parquet, couldn't help Pitino. His inability to win with the players he was providing proved his downfall, and after 3 1/2 seasons, 102 victories, 146 losses and one all-timer of a meltdown, he packed up his Armani suits, his unsold motivational books, and his snake oil, and walked out that door after a January 6, 2001 loss in Miami.
He returned to the lucrative security of the college game, where he's yet to make a bad trade and, to the best of the public's knowledge, there is no salary cap.
* * *
Once Pitino cut his losses, so to speak, the players' attitudes and their place in the standings instantly improved, curiously enough. Under longtime and anonymous Pitino assistant Jim O'Brien, a stickler for defense who in turn gave Pierce and Antoine Walker (a cornerstone who arrived in Carr's final season and possessed an odd array of skills and mostly good intentions) free rein on offense in exchange for their commitment on the other end of the floor, the Celtics went 24-24 the rest of the way in 2000-'01 after a 12-22 start.
O'Brien was promoted from interim coach the following season, which brought the Celtics their greatest recent success until now. Led by Pierce, Walker, and a hardnosed supporting cast (where have you gone, Erick Strickland?), the Celtics emerged as one of the league's pleasant surprises, winning 49 games, ending a six-year absence from the playoffs, and advancing to the Eastern finals, where they pulled off the greatest postseason comeback in NBA history in Game 3, rallying to win in the fourth quarter from a 21-point hole.
But they fell to the Nets in six games, and the unexpected success came a steep price: in an attempt to bolster their roster near midseason, they swapped first-round pick Joe Johnson, whom you may remember from his star turn in the recent Hawks series, to Phoenix for Tony Delk and Rodney Rogers, despite the Suns' willingness to accept eventual washout Kedrick Brown instead. Johnson became an All-Star; Delk and Rogers, while valuable contributors that postseason, soon became ex-Celtics.
A year later, the Nets bounced the Celtics a round earlier, and their revival in the weak Eastern Conference proved to be little more than a temporary tease.
* * *
Give Danny Ainge credit - he recognized as much before anyone else did.
It's funny now, but when he was hired as GM and executive director of basketball operations by fledgling owner Wyc Grousbeck in the midst of the 2002-'03 postseason, it was looked at as something of a curious move, a desperate, ill-timed grab for some reflected glory from the '80s.
Ainge did little to silence the skeptics when he traded the maddening but popular Walker to Dallas for passive big man Raef LaFrentz, his public justification being that he believed the team had peaked with that particular core of players.
A season later, O'Brien quit during the season because of a personality conflict with Ainge, and despite occasional success the next few seasons - the Celtics, under new coach Doc Rivers, a friendly rival from Ainge's playing days, won 45 games and slipped into the playoffs in 2004-'05 - serious contention seemed to be seasons away.
But while the results on the floor were mixed, Ainge was proving to be a deadeye when it came to spotting young talent, rarely wasting a pick while finding the likes of Al Jefferson, Kendrick Perkins, Delonte West, Tony Allen, Ryan Gomes, Rajon Rondo, and Leon Powe in the draft.
Little did we know his finest personnel masterstroke was yet to come.
* * *
The irony, of course, is that it took yet another piece of lousy lottery luck to restore the franchise to greatness.
The 2006-'07 Celtics season was their darkest in recent history, worse even than the Tanking For Tim year, which at least had a wink-wink, optimistic vibe to it thanks to the affable Carr. The pall was cast in late October, when the patriarch, Red Auerbach, passed away at 89. Pierce, increasingly frustrated by the relentless losing, injured his elbow and foot and missed 35 games, and the growth of some of the young players, particularly the clueless Gerald Green, proved stunted.
The Celtics lost a franchise-record 18 games in a row en route to a 24-58 record. Again, as they had a decade earlier, the Celtics hoped for some long-overdue luck of the Irish. Again, the ping-pong balls refused to cooperate.
Despite having the second-best odds at landing the top pick (19.6 percent,) and the right to choose between Ohio State redwood Greg Oden or polished University of Texas scorer Kevin Durant, the two perceived franchise players of the draft, the Celtics were stuck with the No. 5 selection.
The lottery deja vu was crushing. And so Danny Ainge went to work to guarantee that he'd never have to depend on the whims of silly plastic balls ever again.
* * *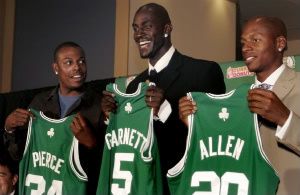 (AP Photo)
You know how it all played out from here - hell, you've probably replayed it in the TiVo of your mind countless times during this improbably joyous season.
That No. 5 pick, which became Georgetown forward Jeff Green, went to Seattle along with Delonte West and Wally Szczerbiak's carcass in exchange for Ray Allen, a 32-year-old sharpshooter with ties to New England and a flawless reputation, and a No. 2 pick that turned out to be Glen Davis.
Allen's arrival not only assuaged Pierce, who openly and justifiably pined for capable veteran help, but it convinced disgruntled Timberwolves icon Kevin Garnett that Boston, which had been coveting him even before the draft, might not be an unappealing destination after all.
On July 31, with Garnett's blessing, Ainge and his old teammate, Minnesota GM Kevin McHale, consummated the deal that would - at last - restore the green and white to its greatest glory since they were still in uniform. Seven players, with Jefferson as the centerpiece, were sent to Minnesota in exchange for Garnett, a 10-time All-Star who played with uncommon intensity and selflessness.
Remember how you felt as you took in that introductory press conference, broadcast live on CSN, watching Pierce, Allen, and Garnett grinning and interacting like it was a reunion of lifelong friends? Remember how you had to keep saying it out loud to convince yourself, to wrap your head around the whole concept - "Holy bleep, Kevin Garnett is a Celtic"?
For the first time in a couple of decades, something that seemed too good to be true wasn't.
Sixty-six regular season wins (the greatest one-season turnaround in league history) and 12 more (and counting) in the postseason later, and it's funny: All those sins of the last 22 years? They are so much easier to forgive.
With four more victories, maybe we'll also forget.
About Touching All The Bases
| | |
| --- | --- |
| | Irreverence and insight from Chad Finn, a Globe/Boston.com sports writer and media columnist. A winner of several national and regional writing awards, he is the founder and sole contributor to the TATB blog, which launched in December 2004. Yes, he realizes how lucky he is. |
Tweets by @GlobeChadFinn
browse this blog
by category
The best of Touching All The Bases