Posted by Chad Finn, Globe Staff
May 2, 2008 02:11 AM
While we wait for Suzyn Waldman to reveal that she, too, had an illicit, repulsive affair with Roger Clemens, how about we crank out a few Random Lists of Five . . .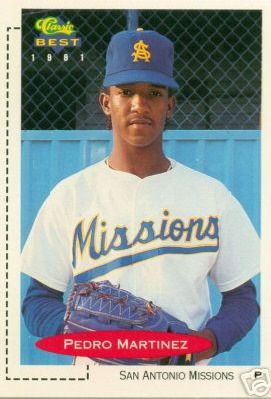 Five best ERA+ seasons in baseball history:
1. Tim Keefe, 1880, 294 ERA+. I have no freakin' idea who Tim Keefe is, but I assume he probably played with Mike Timlin at some point.
2. Pedro Martinez, 2000, 291 ERA+. Pedro also has the ninth-, 18th-, 27th-, and 32d-best seasons. Sandy Koufax's best season, 1966, ranks 56th all-time in ERA+. There's something to be said for dominating during the steroid era.
3. Dutch Leonard, 1914, 279 ERA+
4. Greg Maddux, 1994, 271 ERA+
5. Greg Maddux, 1995, 262 ERA+
Five early surprises this baseball season:
1. Philip Hughes's injury/incompetence. I thought this kid would emerge as the No. 2 starter the Yankees need. Instead, he's giving Yankees fans Sam Militello flashbacks.
2. That Miguel Tejada can still play. He looked cooked last year, and that he skipped age 32 entirely didn't bode well for a comeback.
3. That the Arizona Diamondbacks are this good. Webb, Haren, Owings, Johnson, Scherzer. That could be a championship rotation.
4. Papi's struggles. But he's coming around. (Crossing fingers.)
5. Nate McLouth. Um . . . who?
Five 1985 Tidewater Tides, who were notorious for trashing the hotel next to my family's summer house every damn time they visited Old Orchard Beach, Me.:
1. Kevin Mitchell. He terrified me.
2. Billy Beane. Mitchell probably terrified him, too.
3. Lenny Dykstra. Too dumb to be terrified.
4. Randy Myers. Too busy carving up the latest woodchuck he trapped to be terrified.
5. Calvin Schiraldi. You could see the terror in his eyes.
. . . and five more:
1. LaSchelle Tarver. Got a cameo with the Sox in '86, and came to Jim Rice's aid armed with a Louisville Slugger during an incident at Yankee Stadium that season.
2. John Gibbons. Soon to be the Toronto Blue Jays' former manager.
3. Rick Lancellotti. Minor league slugger from the mean streets of Concord, N.H.
4. Wes Gardner. Straightest fastball ever, though John Wasdin might dispute that.
5. Rodney "Buckethead" Craig, TATB Ombudsman.
Five songs my ears are always happy to hear:
1. "California Stars," Billy Bragg and Wilco. I think it's been on the last seven or eight CDs I've burned.
2. "You Could Be Mine," Guns 'N' Roses.
3. "Please Forgive Me," David Gray. "White Ladder" is probably my favorite album of all time, for sentimental reasons mostly.
4. "Friends in Low Places," Garth Brooks. Reminds me of my favorite bar in college, $1.50 pitchers of Schaefer on Thursday nights . . . and some Friday mornings full of regret.
5. "No Woman, No Cry," Bob Marley. His charisma was hypnotizing.
Five "True Yankees" of the new millennium:
1. Kevin Brown
2. Javier Vazquez
3. Kyle Farnsworth
4. Karim Garcia
5. Randy Johnson
Five players selected immediately after Chicago high schooler Kevin Garnett in the 1995 NBA draft:
1. Bryant "Big Country" Reeves, C, Vancouver. He's gotta weigh four bills these days.
2. Damon Stoudamire, PG, Toronto. One thing Isiah Thomas got right.
3. Shawn Respert, SG, Portland. He's long since out of the league, but his unsung former Michigan State backcourt partner, Eric Snow, has carved out a decent career.
4. Ed O'Bannon, F, New Jersey. Didn't pan out due to bad knees and mess of a shot.
5. Kurt Thomas, F/C Miami. A pro's pro.
Five favorite venues I've seen a sporting event:
1. Fenway. Of course.
2. Wrigley Field. For a day, it was fun to part of Lee Elia's 15 percent.
3. The old Garden.
4. Montreal Forum. The only time I went was for Patrick Roy's infamous final game. What a scene.
5. Alfond Arena, Orono, Me. The place where I realized how much fun hockey could be live.
Five players in the starting lineup during Tim Wakefield's Red Sox debut, May 27, 1995:
1. Mike MacFarlane. At least he wasn't Dave Valle.
2. Troy O'Leary. Leading off, no less.
3. Luis Alicea.
4. Reggie Jefferson.
5. Karl "Tuffy" Rhodes. Found his niche in Japan.
Five players most similar to Derek Jeter, according to baseballreference.com:
1. Barry Larkin. The perfect comparison, and in my mind a Hall of Famer.
2. Alan Trammell. Should be in Cooperstown. Didn't get close, and neither did Whitaker.
3. Ray Durham. Doesn't seem to fit, does he?
4. Ryne Sandberg. But how was his fist pump?
5. Arky Vaughn. No relation to Mo.
Five favorite Topps baseball card sets:
1. 1987. Yup, with the weird wood paneling. And thanks to mass overproduction, they're about as valuable as my socks. You can probably still get packs of them at Grand City.
2. 1978. Many of my first memories as a baseball fan relate to these cards.
3. 1956. Someday, I'll get that sweet Clemente I always wanted. And a Jackie Robinson, too.
4. 1975. Color combinations only a 5-year-old could love.
5. 1985. Because that Oddibe McDowell Olympic card was going to pay for my college education, I just knew it.
Five Red Sox I really hated, and no, "hate" is not too strong a word, and yes, they all played for the reprehensible 2001 team:
1. Mike Lansing. No redeeming qualities whatsoever.
2. Carl Everett. Not the good kind of crazy.
3. Dante Bichette. Not a slugger. A slug.
4. Shea Hillenbrand. Stupid is as stupid does.
5. Ugueth Urbina. You know it's a rotten team when the guy who slashed people with machetes and tried to light them on fire might not be the most despicable person on the roster.
Five players drafted ahead of Indiana State junior-eligible forward Larry Bird in the 1978 NBA draft:
1. Mychal Thompson, F/C, Portland. Probably the only University of Minnesota player who talked more than McHale.
2. Phil Ford, G, Kansas City. Those Ford-Birdsong-Wedman KC teams were great fun, but an eye injury and booze abbreviated Ford's career.
3. Rick Robey, C, Indiana. Dealt to Phoenix for DJ. That worked out okay.
4. Micheal Ray Richardson, G, NY Knicks. He had Magic's skill set, but snorted it all away.
5. Purvis Short, F, Golden State.
Five Celtics I'm $*% at right now:
1. Doc Rivers. At this point, the clipboard is merely a prop.
2. Kevin Garnett. Maybe the big-game reputation isn't so unjust after all.
3. Paul Pierce. This is starting to feel a lot like the infamous Indiana series.
4. Rajon Rondo. Any point guard worth his crossover must get a better shot with 7.4 seconds remaining to play and the game up for grabs.
5. Sam Cassell. Pass. Please. Just once. Cripes.
About Touching All The Bases
| | |
| --- | --- |
| | Irreverence and insight from Chad Finn, a Globe/Boston.com sports writer and media columnist. A winner of several national and regional writing awards, he is the founder and sole contributor to the TATB blog, which launched in December 2004. Yes, he realizes how lucky he is. |
Tweets by @GlobeChadFinn
browse this blog
by category
The best of Touching All The Bases