Posted by Chad Finn, Globe Staff
May 6, 2008 09:25 AM
3. Doc Rivers's strength as a coach is his people skills - what, you thought I'd say he's a master tactician? - and it's imperative for him to take all of the charm and persuasiveness he usually puts toward getting the media in his corner and use it toward convincing World B. Cassell to stop shooting the damn ball so much. Seriously, Doc has to say something, because Cassell's unconscionable chucking sends the offense into disarray just about every time he is on the court. Even Eddie House, a gunner in a point guard's clothing, runs the offense better, and I feel bad for him that he's lost his minutes to a latecomer who seems to have brought an I'll-get-mine mentality with him to Boston. It's disappointing, because I respect Cassell's intelligence and savvy as a player and thought he'd be a perfect fit here, and I'm surprised he's been unwilling or unable to sacrifice his own game for the betterment of the team. I do know this: if it's the former, it's time for the coach to do something about it.
4. The more I see James Posey, the more I appreciate him, and the fact that the Celtics will likely call on him to play a major role in this series - namely, as LeBron's shadow and chief antagonist - bodes well for their chances. He strikes me as a winning player, someone who plays his best and does whatever it takes when the stakes are the highest, and I think Pat Riley would probably second that assessment. Signing him was Danny Ainge's best move of the offseason that no one noticed.
5. As for today's Completely Random Basketball Card: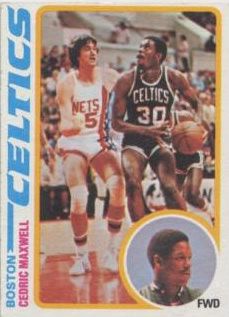 Cedric Maxwell has been doing the color commentary on the Celtics' radio broadcast since 1995-96, and darned if I still can't decide whether I like him in the role or not. He comes across as an affable character with a quick, self-deprecating wit, but he's also prone to blathering the ridiculous (Nowitzki>Bird) and I sometimes feel like he's going to say something that will cost him his job (then again, I've felt the same way about Tommy Heinsohn for 25 years). I'm curious what you guys think, so feel free to jump in and offer your 2 pennies in the comments (quack, quack).
About Touching All The Bases
| | |
| --- | --- |
| | Irreverence and insight from Chad Finn, a Globe/Boston.com sports writer and media columnist. A winner of several national and regional writing awards, he is the founder and sole contributor to the TATB blog, which launched in December 2004. Yes, he realizes how lucky he is. |
Tweets by @GlobeChadFinn
browse this blog
by category
The best of Touching All The Bases