Posted by Chad Finn, Globe Staff
May 15, 2008 12:49 AM
4. The key stat for Paul Pierce in Game 5? Ten made free throws in 11 attempts, including 5 of 6 in the final 16 seconds. Pierce has a maddening knack for splitting his free throws in big situations - or at least it sure seems like he does - so it was reassuring to see him stick his freebies down the stretch. That's how he ended up with a team-high 29 points despite hitting just 8 of 19 field goal attempts. Here's hoping he keeps going to the hoop, getting to the line, and making the Cavs pay . . . two points at a time.
5. As for today's Completely Random Basketball Card: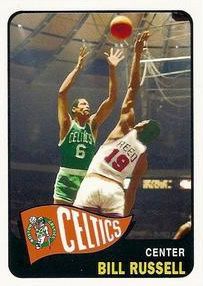 For karma's sake, you know.
About Touching All The Bases
| | |
| --- | --- |
| | Irreverence and insight from Chad Finn, a Globe/Boston.com sports writer and media columnist. A winner of several national and regional writing awards, he is the founder and sole contributor to the TATB blog, which launched in December 2004. Yes, he realizes how lucky he is. |
Tweets by @GlobeChadFinn
browse this blog
by category
The best of Touching All The Bases