Posted by Chad Finn, Globe Staff
May 16, 2008 09:26 PM
3. After his star turn in Game 5, Rajon Rondo (2 points) couldn't have looked more out of it in the first half last night, though he did redeem himself somewhat with a decent showing in the final minutes. So it goes with a young point guard, I guess. I give Doc Rivers credit for finally realizing that Sam Cassell is a mummy and turning the reigns over to Eddie House, who was terrific, when Rondo was moping on the bench. Who knows, maybe Doc does learn from his mistakes. Now, if he'd just realize that it might be wise to give Leon Powe a few minutes on a night when you're getting killed on the boards, there might just be hope for him yet.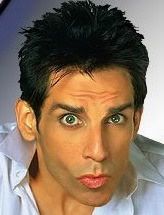 4. Other scattered thoughts in the aftermath: I used to think Ray Allen looked slow because he was smooth. Now I'm starting to think he's just decaying. He and Wally Szczerbiak are basically the same player in this series, a slow, defensively challenged spot-up shooter . . . Big Baby got significant minutes down the stretch, and he hurt the cause. He couldn't score among the trees, and he was late on a rotation to LeBron in the final minutes, which is supposedly Powe's flaw . . . There are few things more aggravating than seeing Wally Zoolander (pictured at left) stick a dagger in your team. Somewhere, KG solemnly nods in agreement.
5. As for today's Completely Random Basketball Card:

Big Ben . . . bald? I'm going to assume he hasn't had a haircut since the day this photo was taken.
About Touching All The Bases
| | |
| --- | --- |
| | Irreverence and insight from Chad Finn, a Globe/Boston.com sports writer and media columnist. A winner of several national and regional writing awards, he is the founder and sole contributor to the TATB blog, which launched in December 2004. Yes, he realizes how lucky he is. |
Tweets by @GlobeChadFinn
browse this blog
by category
The best of Touching All The Bases