Posted by Chad Finn, Globe Staff
May 22, 2008 02:05 AM
6. Unfortunately for Mike D'Antoni, he didn't heed one of the lingering lessons from the Rick Pitino disaster with the Celtics: Don't take a coaching job with a crappy team until you know where they'll be picking in the lottery. I believe that's officially known as the Billups/Mercer Rule. Frankly, I don't understand why D'Antoni chose the Isiah-ravaged Knicks over the Bulls in the first place. Right about the time the ping-pong balls fell Chicago's way, it sure looked like he didn't either.
7. My favorite non-Posnanski read of the week: Jeff Pearlman's funny timeline of his life as a sportswriter. I don't think I'll look at Wes Helms the same way ever again.
8. Felger pointed this out on his radio show yesterday, but it's so telling that it bears repeating: Matt Ryan, he of the six-year, $72-million deal with the Falcons, will make more on his first NFL contract than Tom Brady is making on his third. If that's not a damning indictment of the NFL salary structure, I don't know what is.
9. If you haven't had your fill of this nonsense by now, head on over to longtime TATB pal Mike Giardi's blog on NECN.com, where I recently submitted to a Q-and-A in which the subjects included Ray Allen's Celtic future, the done-for-'08 Yankees, and, um, ABBA. Check it out if you get the chance.
10. As for today's Completely Random Baseball card: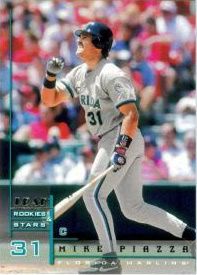 Farewell to one of the all-time great Marlins. In all seriousness, Piazza's retirement this week probably merited more attention than it received, though I suppose it was a formality since he was no longer on a big league roster. Piazza's final stats in 16 big league seasons - 427 homers, 1335 RBIs, a .307 average, and a 142 OPS+ - ensure that Cooperstown will come calling, most likely five years from now. He'll be remembered as an icon with two franchises - nope, Florida isn't one of them - which is not a bad legacy at all for a 62d-round draft pick.
About Touching All The Bases
| | |
| --- | --- |
| | Irreverence and insight from Chad Finn, a Globe/Boston.com sports writer and media columnist. A winner of several national and regional writing awards, he is the founder and sole contributor to the TATB blog, which launched in December 2004. Yes, he realizes how lucky he is. |
Tweets by @GlobeChadFinn
browse this blog
by category
The best of Touching All The Bases