Posted by Chad Finn, Globe Staff
May 15, 2008 07:11 PM
6. Julian Tavarez's unique brand of crazy will be missed around here - I'm pretty sure we'll never see a pitcher roll the ball to first base again, at least on Francona's watch - but the hideous 6.39 ERA and 67 ERA+ will easily be replaced, most likely by Mike Timlin. If Manny, Tavarez's brother in lunacy, is okay with him leaving, so am I.
7. It's a good thing footage of Manny's catch (the "7-High 5-4-3 double play," as the Herald cleverly called it) and the ensuing hilarity is all over the internet, because Dale Arnold still hasn't told me exactly what happened.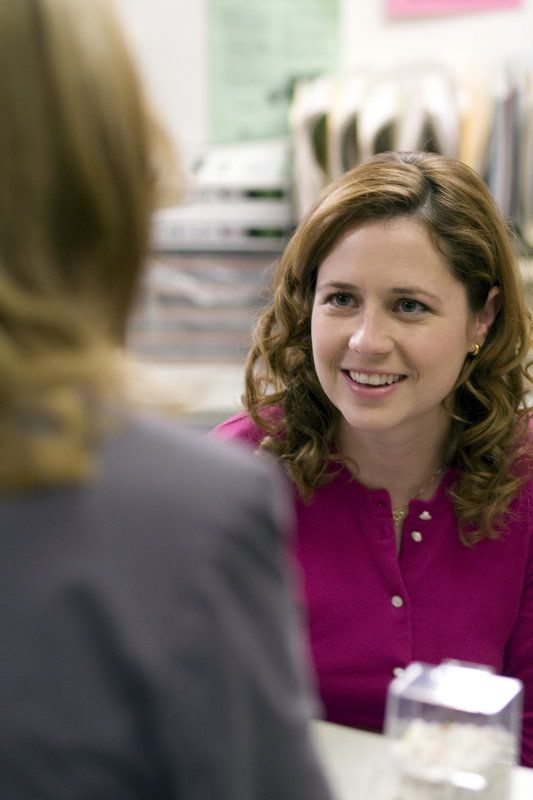 (NBC.com Photo)
8. I'll admit, "The Office" often disappointed during this uneven, writers' strike-abbreviated fourth season, to the point that I occasionally caught myself trying to pinpoint the exact moment when Fonzie soared over the shark. (Michael and Dwight driving the car into the pond was usual conclusion.) But tonight's season finale restored my faith, for it was absolutely classic "Office" - Michael making oblivious and ill-considered decisions out of desperation and loneliness, the return of the old familiar romantic tension between Jim and Pam, unexpected but believable plot twists (Prison Ryan!), a brilliant misunderstanding between the new HR person and slow-but-sly Kevin, redemption, longing, subtlety, countless
hilarious lines
, and even a Jim/Pam prank on Dwight for old times' sake. For the third straight season, the best episode was the last. Turns out there was no shark in that pond after all.
9. As for today's Completely Random Baseball Card:

I have no idea who this guy is, but the shades suggest to me that he is all different kinds of awesome.
About Touching All The Bases
| | |
| --- | --- |
| | Irreverence and insight from Chad Finn, a Globe/Boston.com sports writer and media columnist. A winner of several national and regional writing awards, he is the founder and sole contributor to the TATB blog, which launched in December 2004. Yes, he realizes how lucky he is. |
Tweets by @GlobeChadFinn
browse this blog
by category
The best of Touching All The Bases