Posted by Chad Finn, Globe Staff
April 28, 2008 11:20 AM
6. I'll feel a little bit more confident about the Sox' bullpen once Mike Timlin finally retires to his possum-huntin' lodge and either Craig Hansen (so that's the famous slider he had at St. John's) or Justin Masterson slides into that sixth- or seventh-inning role. Timlin has more lives than Michael Myers (the "Halloween" killer or the lefty reliever, take your pick), but the way he is throwing the ball, I'd be surprised if he makes it through this season. An 86 mph fastball won't get it done, especially since his location isn't what it used to be.
7. One blessing from Bobby Kielty's hand injury, which is expected to keep him out for at least a month: The Sox have little choice but to retain Coco Crisp for the time being. While I'm officially aboard the Jacoby Ellsbury bandwagon - the two-homer-plus-a-bunt-single game against Anaheim sold me for good that he should be the starting center fielder - Crisp is a valuable player who is showing signs that he may hit again like he did in Cleveland, and the last thing I want the Sox to do was trade him for some second-tier relief pitcher just for the sake of satisfying his wish to play every day. The Sox are a better team with Crisp and Ellsbury, even if the playing-time situation isn't what both players would like it to be. I'm glad they're both here, no matter how long it lasts.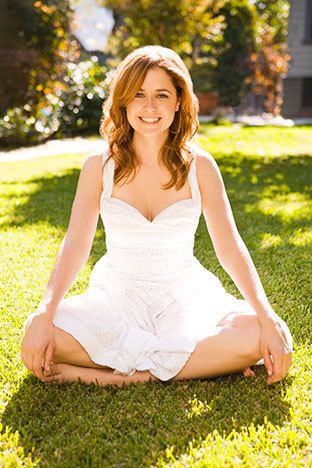 (Parade Magazine photo)
8. C'mon now, you didn't really think I'd abandon the Official Muse of TATB (Non-Wife Division) just because we have fancier digs now, did you? Actually, I was considering passing the honor on to Mindy McCready, but then I
read that she's been taken since puberty, apparently.
And for what it's worth, I thought "The Office" has hit its heartfelt/humorous stride again the last two weeks, particularly with this week's episode. It's such a better show when Michael is understated and sympathetic (calling his mom from the club) rather than over the top with the improbable antics (I cringe when I remember him driving the car into the lake).
9. Fascinating story in ESPN Magazine this week on the feud between Venezuelan [edit: Colombian. Duh.] countrymen and fellow shortstops Orlando Cabrera and Edgar Renteria. The piece leaves it unclear as to who is responsible for their falling out - actually, it seems like they never could stand each other in the first place - but based on their individual performances in Boston, I think I know whose side Sox fans would come down on.
10. As for today's Completely Random Football Card:
Based on what we've heard about Pats fifth-rounder Matt Slater - special-teams demon, outstanding speed, potential game-changer as a kick returner - could he possibly have a more different set of football skills than his old man? His mom must have been a free safety or something.
About Touching All The Bases
| | |
| --- | --- |
| | Irreverence and insight from Chad Finn, a Globe/Boston.com sports writer and media columnist. A winner of several national and regional writing awards, he is the founder and sole contributor to the TATB blog, which launched in December 2004. Yes, he realizes how lucky he is. |
Tweets by @GlobeChadFinn
browse this blog
by category
The best of Touching All The Bases