Posted by Chad Finn, Globe Staff
April 13, 2008 03:09 AM
Just saw a couple of Sox fans wearing t-shirts that said, "L.M.B. Yankees." I'm not sure if I should be proud or not when I say I broke the code in about .00094 seconds.
Manny singles, Youkilis singles to score Drew, and Mighty Casey singles to score Manny as Damon's "throw" trickles without purpose through the infield. (C'mon, I know I'm not the only one who snickered.) It's 5-1, Sox, and Hughes's night is done. For the record, 19-year-old Jose Rijo's first start at Fenway didn't go much better, and he turned out to be an outstanding pitcher.
Ross Ohlendorf in for Hughes. This kid has a good arm, but after he retires Crisp on a grounder Giambi (whose range has improved since he got the giant hypodermic needle surgically removed from his $*$), he bounced one past Molina as Youkilis cruises home. Make it 6-1, and I'm beginning to think this game will end about this time tomorrow night.
RBI single for Ellsbury. 7-1, Sox. Hughes's final line: 2 innings, 6 hits, 7 runs, 6 earned, 3 walks, 3 Ks. His ERA this season: A nice, even 9.00. Gruesome. Still think he's better long-term than Joba the Midge Whisperer, though.
Morgan seems annoyed that Papi isn't in the lineup. You know this never would have happened on the World Champion 1975 Cincinnati Reds. "Let me tell you, Jon, Tony Perez never missed an inning, even after he lost an arm to gangrene and was stricken with polio! Did I mention we won the World Series that year? They called us the Big Red Machine, Jon. I was the MVP . . . "
FOURTH INNING
Crisp misjudges a fly ball by Matsui. I haven't seen him do that since '06, when his GPS was occasionally faulty. I still don't understand how he improved by so much defensively in just one season. I imagine it must be credited to his work ethic or his improved familiarity with Fenway.
Dice-K doesn't seem particularly interested in making this easy. Sure, Crisp cost him one out, but a walk to Giambi and a Molina RBI double make it 7-2, and Gonzalez follows with a nine-pitch at-bat that culminates with an RBI single to center. It's 7-3 and on the verge of being a ballgame again, and Dice-K is back to nibbling against mediocre hitters. Maddening.
Gonzalez has played well in this serious - that was a classic Jeter at-bat he just put together - but the kid is not, as Morgan suggests, a very good hitter. Nor will he be a star, as Morgan says Jason Giambi predicted. Here is Baseball Prospectus's take on him:




His glove will inspire someone to give him a shot at some point. His bat is off of the Rey Sanchez shelf - better than Tony Pena Jr.'s, but that's all.
I'm willing to bet a Tony Pena Sr. rookie card (book value: 75 cents) that BP is a better predictor of Gonzalez's future than noted superscout Giambi is.
Dice-K gets out of it, but not before allowing another run on a Damon sac fly, scoring Molina, who makes it home safely despite running like he's carrying his brothers on his back. It's 7-4, good guys, and it should not be this close.
Drew just shook his head in disagreement after being called out on strikes. That might be the most infuriated I've ever seen him. Look out, water cooler! (Seriously, for the most part I prefer that approach to the faux rage that the previous No. 7 for the Sox would exhibit whenever the man was keeping him down.)
Just when I was about to praise the relentlessness of the Sox offense, Varitek kills a bases-loaded, no-out situation with a dinky 4-6-3 double play. But man, does he ever hustle back to the dugout to put his gear on! (Sorry. The booze makes me extra snarky.)
FIFTH INNING
Dice-K gets Abreu looking. I'm a believer in making the pitchers work and the value of a high OBP, but sometimes Abreu looks like he's not particularly interested in swinging. There's a point where patience becomes passivity.
Morgan thinks they'll leave Dice-K in for five innings so he can get the win. That's the first truly ridiculous thing I've heard him say tonight, but he still hasn't matched the idiocy of McCarver yesterday, who claimed that Varitek getting thrown out at second by 10 yards was a good baserunning play. I think my brain is hemorraging from trying to solve that one.
Dice-K's at 112 pitches through 4 2/3ds. God, he's excruciating. He teases us by breezing through Abreu and A-Rod for the first two outs, but then walks Matsui (his sixth of the night), and Posada ropes a single to left. Here's Giambi as the tying run . . .
. . . and Crisp hauls in his laser. Exhale. I think I'm sweating as profusely as Giambi right now. He must go through a dozen shirts a day.
So, think Dice-K (116 pitches) has another inning left in him? With Papelbon unavailable and Okajima also due for a day of rest, they might need to try to push him through another inning or two. At least you know that he'd just as soon stay out there for 150 pitches.
Just peeked over for the Bruins score. Glad to see they got one. I'm obviously no Gallery God - I think the last time I mentioned them on this blog was when Joe Thornton was traded - but I do follow them and I've been impressed by how they get they most out of very limited talent this season. Julien seems to know what he's doing.
Okay, back to the regularly scheduled programming, the Sox go 1-2-3 in their half, and frankly, at this point, I'm fine with that.
SIXTH INNING
David Aardsma in for Dice-K. I'm encouraged by him, though I have a general distrust for unproven power arms with mediocre command. (I'm talking about you, Blaine Neal.)
Jon Miller mentions that Aardsma replaced Hank Aaron as the first name in the Baseball Encylopedia. C'mon, you knew he couldn't resist.
Aardsma gets Molina to ground out, but walks Gonzalez and Damon back to back. Ugh. Just throw strikes, Meat. That's now a Mantei-like six in six innings for Aardsma this season, and the Yankees have eight walks tonight. Their patience - or the Sox pitchers' lack of command - is keeping them in this game.
Abreu. Can of corn to left. Only the Pink Hats thought it was gone. Of course, I'm now biting my nails and perspiring like the entire Giambi family, including the legendarily super-sweaty Momma G. (Okay, I made that up. But it could be true. Jason got his glandular woes from someone.)
Pedroia hits a rope off the wall, but hesitates slightly around first, and Matsui's crappy throw is just good enough to get him at second. Somewhere, Tim McCarver nods in approval and says to his male nurse, "Now that's great baserunning, son. Can I have my Ovaltine now?"
Gammons tells us Pedroia's hands are the same size as his. I'm not sure what that means, but I fear it's teetering on Too Much Information.
Drew and Manny go quietly against LaTroy Hawkins, and A-Rod is due to leadoff the seventh for New York. This is the perfect time for him to hit a home run - down three with no one on base.
SEVENTH INNING
I'll admit it - I loved the story of the buried Ortiz jersey in the foundation of the new Yankees stadium. You know Hank Steinbrenner would have done everything but fire nuclear missiles at the site if his minions couldn't find the damn thing. If Dr. Steinberg still worked his schmaltz for the Sox, the construction worker who buried the shirt would have thrown out the first pitch tonight.
Aardsma gets A-Rod to fly to right. Huh. I thought this was his moment. Matsui and Posada also go feebly, with a smooth scoop by Casey ending the inning, and that's just what the doctor ordered. Damn, these Sox-Yankees games are a grind. Where's Greg Maddux when you need him?
Sox go in order. Cool with me. Let's get this win in the books and get out of here.
EIGHTH INNING
Oh, Lord, no . . . a Timlin sighting. Shouldn't have counted my victories before they've hatched.
And wouldn't you know it, Giambi takes him deep for the second time in three days, and it's 7-5, Sox. I probably should have learned my lesson about writing off Timlin last year . . . but the guy is 42 years old, and I think John Farrell has better stuff at this point. Are we sure Okajima can't get a couple outs?
Molina, who has been a complete pain-in-the-Steinbrenner in this series, singles, and pinch hitter Melky Cabrera follows with another hit. Get Timlin out of there, Tito. He's fooling no one but you.
Javier Lopez, in to face Damon. Just when I was about to look up his numbers against lefties last year - I don't recall them being good - he breaks Damon's bat and Pedroia makes a savvy tag-and-throw double play to lower our blood pressure a bit. A job well done on all counts.
For what it's worth, lefties hit .293 with an .810 OPS against Lopez last season. Righties? .176/.565. He is not a lefty specialist, despite the funky motion and repertoire of slop.
And whaddaya know: Lopez gets Cano to ground out to Pedroia, thus holding lefties to a .000 average and .000 OPS in this particular game. That's why Tito makes the big bucks while I sit on a couch typing 5,000 words of nonsense for four hours. I'm humbled, not that I had far to go.
Just saw the commercial for the "Walk Hard" DVD. Yup, this should get me through the rest of the night.
Crisp greets Kyle Farnsworth with a scorched single to center. Hmmm. The book said Crisp could crush anyone's fastball during his two productive offensive seasons in Cleveland, but we really have seen him do it since he broke his finger early in the '06 season. Is this, a hard single off one of the hardest throwers in the league, a cause for optimism, a sign that he's going to be a productive hitter again? Here's hoping.
I'm not fond of the term "manufactured run," but that's exactly what Crisp just did with this sequence: Single, steal, advance to third on a fly to right by Lugo, score on a sacrifice fly by Ellsbury. Very impressive, and with the heart of the Yankees order coming up in the ninth, it's a crucial run to make it 8-5.
Man, Posada can't throw - literally. Pedroia just swiped second without drawing anything but a hangdog look. Girardi might be a better option to catch at this point, but I give Posada credit for going in there after Molina came out of the game last inning. It's a selfless thing to do for sure.
Drew flies to left, and thank God, we go to the . . .
NINTH INNING
Lopez departs after getting Abreu thanks to a nice backhand play on a short hop by Lugo, and let the record show he retired all three lefties he faced. Of course, Miller raves about how effective Lopez has been against lefties through many years, which makes me wonder if he's ever even heard of baseball-reference.com. That's the kind of nonsense I expect out of Morgan.
Delcarmen smokes A-Rod, and then you remember why Varitek says he has the second-best stuff on the staff after Beckett, the usual closer included.
Delcarmen wraps up his second big-league save, getting Matsui to ground to Tiny Hands Pedroia to end it. Papelbon couldn't have done it any better.

The final word: Sure, Dice-K pitched like he did last postseason, earning the win while inspiring little faith, but any time you can get a win over the Yankees without using Papi or Papelbon, it has to be considered a successful night. And extra kudos to Aardsma, Lopez (one of the all-time great lefty specialists, in my humble opinion), and Delcarmen, who performed ably while allowing Papelbon and Okajima to get a little relief themselves.
Just one thing left to do:
"G'night, Joe."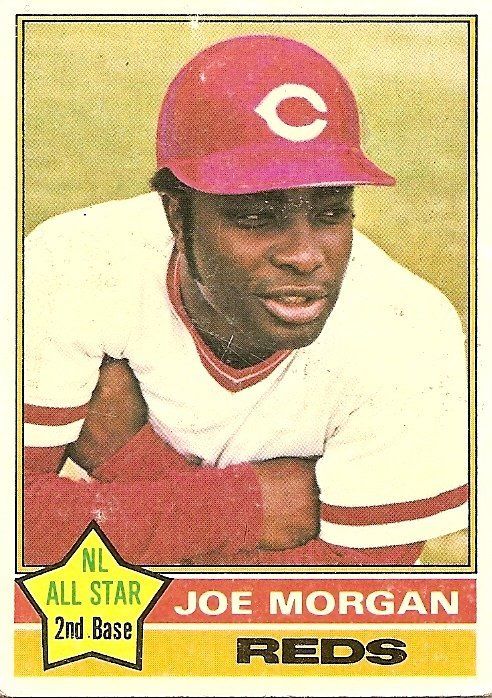 "I played for the Big Red Machine! My armpits are very warm!"

About Touching All The Bases
| | |
| --- | --- |
| | Irreverence and insight from Chad Finn, a Globe/Boston.com sports writer and media columnist. A winner of several national and regional writing awards, he is the founder and sole contributor to the TATB blog, which launched in December 2004. Yes, he realizes how lucky he is. |
Tweets by @GlobeChadFinn
browse this blog
by category
The best of Touching All The Bases