Posted by Chad Finn, Globe Staff
April 5, 2008 02:58 AM
ANAHEIM ANGELS
Phenoms: RHP Bobby Jenks (2), RHP John Lackey (3), RHP Francisco Rodriguez (6), RHP Johan Santana (9)
Flops: LHP Joe Torres (5), 3B Dallas McPherson (12)
. . . and those lingering somewhere in between: 1B Casey Kotchman (1), RHP Chris Bootcheck (4), OF Nathan Haynes (8), C Jeff Mathis (10), Derrick Turnbow (13), RHP Scot Shields (22)
Six years later: Yes, "Johan" Santana is actually Ervin Santana (explanation here). The Angels' version is obviously the lesser of the two Santanas, but despite a maddening inconsistency that often forces manager Mike Scioscia to take solace in the comforting embrace of the buffet table, he does possess the ability to be a top-of-the-rotation starter . . . Pretty impressive collection of arms, though Jenks and Turnbow had to go elsewhere to find success . . . I didn't categorize Kotchman as a bust since injuries and illness have prevented him from living up to his talent. He's been effecctive when healthy and could still have Sean Casey's career with any luck.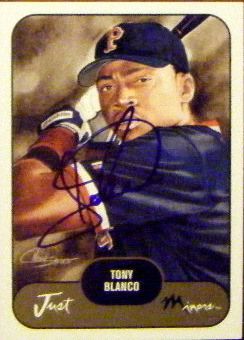 BOSTON RED SOX
Phenoms: Kevin Youkilis (29)

Flops: RHP Seung Song (1), 3B Tony Blanco (2), RHP Rene Miniel (3), Juan Diaz (12), Steve Lomasney (16), Dernell Stenson (19), Sunny Kim (22)
. . . and those lingering somewhere in between: Manny Delcarmen (4), Freddy Sanchez (6), Frank Francisco (10), Kelly Shoppach (20), Juan Pena (21)

Six years later: They've come a long way, baby . . . This was the season before Theo Epstein took over as GM, and the organization was pretty damn far from being "a player development machine" . . . How about that big three? Song never threw a pitch in the majors (though he did bring Cliff Floyd in trade), Blanco, who had a cannon arm and not much else in the way of tools, had a cup of coffee with the Nationals, and Miniel washed out in Double A . . . It's easy to forget Delcarmen has been in the system so long. I still think of him as a developing player . . . This is about the time Youkilis first caught Billy Beane's eye, posting a .512 on-base percentage in the NY-Penn League. The guy is almost entirely a self-made player . . . Too bad the Sox had to give up Shoppach in the Crisp/Marte deal. He'd be the perfect backup catcher for this team . . . The one that got away: Sanchez has a .311 career average. He's the player people such as Remy think David Eckstein is . . . Rest in peace, Dernell. I think you would have made it.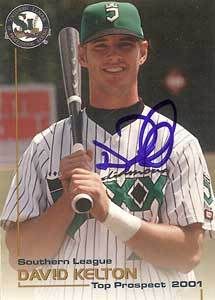 CHICAGO CUBS
Phenoms: RHP Mark Prior (1), RHP Carlos Zambrano (6), LHP Dontrelle Willis (21)
Flops: 1B Hee Seop Choi (3), 3B David Kelton (4), 2B Bobby Hill (5), RHP Ben Christenson (8), SS Luis Montanez (10)

. . . and those lingering somewhere in between: RHP Juan Cruz (2), SS Ronny Cedeno (17), RHP Todd Wellemeyer (18), SS Ryan Theriot (24)

Six years later: Prior is little more than a cautionary tale now, another arm chewed up and spit out by Dusty Baker, so it's easy to forget he had established himself as legitimate ace by the time he was 22. Check out his '03 numbers: 18-6, 2.43 ERA (the league average was 4.33), and 178 ERA+ . . . Willis never pitched in the bigs for the Cubs: He was dealt to the Marlins in March, 2002, along with everyone's favorite lunatic Julian Tavarez for Matt Clement and Antonio Alfonseca . . . By the way, Willis's most similar pitcher through age 25: Steve Avery. Does. Not. Bode. Well. . . . The fascinating kid is Kelton, who looked every part the phenom and who the Prospect Guide notes "was on pace to bat .300-30-100 in Double A at age 21 when he (hurt his hand)." It must have been some injury, because he never saw a day in the majors and was out of baseball at 26.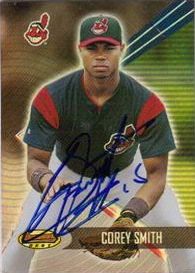 CLEVELAND INDIANS
Phenoms: C Victor Martinez (6)
Flops: 3B Corey Smith (1), OF Alex Escobar (2), RHP Dan Denham (4), RHP Tim Drew (12)

. . . and those lingering somewhere in between: RHP David Riske (7), LHP Brian Tallet (8), LHP Billy Traber (9), OF Willy Taveras (11), SS John McDonald (14), OF Ryan Church (15), SS John Peralta (19), C Josh Bard (21), SS Maicer Izturis (22).
Six years later: Smith's actually the player who piqued my curiosity in the first place. The Prospect Handbook said of the Indians' 2001 first round pick, "Smith gets rave reviews for his makeup and work ethic. He is, plain and simple, a baseball player." Yet the stats suggest he had at least one glaring flaw: He whiffed 149 times in Single A. As it turns out, it was a flaw he couldn't overcome. He played just five games above Double A and spent last season with the Newark Bears of the Atlantic League . . . I believe you now know John Peralta as Jhonny . . . Escobar was the centerpiece of the Mets' trade for Roberto Alomar, but a severe knee injury, among other ailments, prevented him from living up to his talent . . . Martinez is the best-hitting catcher in the game and someone I never expect the Red Sox to get out . . . Tim Drew was drafted with the 28th pick in the '97 draft - 26 picks after the Phillies chose his brother, J.D.
COLORADO ROCKIES
Phenoms: 3B Garrett Atkins (3), OF Matt Holliday (11), OF Brad Hawpe (27)

Flops: RHP Chin-Hui Tsao (1), RHP Ryan Kibler (4), RHP Jason Young (5), OF Rene Reyes (7), RHP Ching-Lung Lo (9)
. . . and those lingering somewhere in between: RHP Aaron Cook (2), DH Jack Cust (6), RHP Jason Jennings (8), 2B Jason Nix (10), LHP Brian Fuentes (18)
Six years later: More proof that rating prospects can be an embarrasing endeavor: Holliday and Hawpe, who combined for 65 homers for the NL champs last season, were ranked below fellow outfielder Reyes, and Choo Freeman rated higher than Hawpe . . . In his eighth season of pro ball, Nix is finally breaking through this season, succeeding Kaz Matsui as the Rockies' second baseman . . . Not surprisingly, there's high rate of washouts among their top pitching prospects. Only the sinkerballer Cook and Jennings have had any success in the majors. Coors Field devours its young . . . Tsao, the top prospect, had Tommy John surgery and a torn labrum in his shoulder, but he's still kicking around and is currently in the Royals' system . . . Cust could have put up some sick offensive numbers in Colorado, but he's a DH in the same sense that Sam Horn was. He shouldn't even bother owning a glove.

FLORIDA MARLINS
Phenoms: Beckett (1), 3B Miguel Cabrera (2), 1B Adrian Gonzalez (4)
Flops: RHP Allen Baxter (5), OF Abraham Nunez (6), RHP Blaine Neal (8), 1B Jason Stokes (11), OF Chip Ambres (13)
. . . and those lingering somewhere in between: RHP Denny Bautista (3), RHP Claudio Vargas (7), SS Josh Wilson (9), 2B Pablo Ozuna (12), RHP Jason Grilli (25)
Six years later: One of the two or three best pitchers in the game and one of the top two or three hitters? Now that's a rich farm system . . . Sheesh, Gonzalez, a former No. 1 overall selection who has turned out to be a truly outstanding hitter, would have been the top prospect in most systems . . . Bautista, who was mentored by his cousin Pedro Martinez, hasn't put it all together in trials with Baltimore, Kansas City and Colorado, but he made the Tigers out of camp this season and at age 27, there's still hope . . . Baxter had a series of arm problems and hasn't made it above Double A, but he's still pitching in the Florida system . . . Neal might be one of my most despised Red Sox of the past 10 years . . . Stokes was the Marlins' hitter last spring who claimed Daisuke Matsuzaka struck him out with a gyroball . . . Ambres, a toolsy sort who never quite mastered the subtleties of baseball, was the player the Sox dealt to Kansas City for Tony Graffanino in '05.
NEW YORK METS
Phenoms: SS Jose Reyes (2), 3B David Wright (5)
Flops: RHP Pat Strange (3), RHP Jae Weong Seo (4), RHP Satoru Komiyama (6), RHP Grant Roberts (7)
. . . and those lingering somewhere in between: RHP Aaron Heilman (1), RHP Tyler Yates (8), C Jason Phillips (17), LHP Lenny DiNardo (20), OF Angel Pagan (23)
Six years later: Reyes? Wright? Whatever happened to those guys? . . . Actually, it's a tribute to BA that they were both ranked in the top five since they had just 193 games of pro experience between them at the time . . . Hard to believe Heilman was ranked so high. He's always had good breaking stuff and command, but has never had a blazing fastball that's usually a prerequisite for a premier pitching prospect . . . Strange got into 11 games with the Mets over parts of two seasons, but has seen the big leagues since '03 . . . Roberts was once the Mets' top prospect but, um, burned out.
And that seems like an appropriate place to sign off . . .
About Touching All The Bases
| | |
| --- | --- |
| | Irreverence and insight from Chad Finn, a Globe/Boston.com sports writer and media columnist. A winner of several national and regional writing awards, he is the founder and sole contributor to the TATB blog, which launched in December 2004. Yes, he realizes how lucky he is. |
Tweets by @GlobeChadFinn
browse this blog
by category
The best of Touching All The Bases