Posted by Chad Finn, Globe Staff
April 8, 2008 03:05 AM
4. I'm trying to give Julio Lugo the benefit of the doubt in his sophomore season with the Red Sox. Really, I am. But then he spends the first seven games of the season strangling the bat into sawdust, then makes three careless errors in a Sunday's ugly loss to the Blue Jays, and again I catch myself wondering just what it was that made the front office so fascinated with this guy. Oh, well. At least J.D. Drew looks his second season in Boston will be a major improvement over his first. It appears to me he's swinging the bat better now that he did at any point last season prior to his fateful at-bat against Fausto Carmona.
5. Jacoby Ellsbury is playing center field exactly the way Coco Crisp did during his first season in Boston: Erratically, particularly when in comes to the routes he takes in pursuit of the ball, yet with such incredible speed that he can often outrun his mistakes. One of the pleasant surprises of last season was Crisp's staggering improvement defensively. Hopefully, Ellsbury can make similar leap over the course of this season, because right now he is an undeniable downgrade over his predecessor/temporary platoon partner.
6. Quick non-baseball thoughts: Dick Vitale is in the Basketball Hall of Fame, but Dennis Johnson isn't? I guess we're not supposed to take the thing seriously . . . We finally saw Friday why NBA scouts have mixed feelings about UCLA freshman Kevin Love. Yes, he has a creative offensive game, and maybe he really does throw the best outlet pass since Bill Walton. But he struggled mightily against that blockhead Joey Dorsey and Memphis's rubber-armed defense, both in getting open and getting his shot off, and unless he gets serious about his physical conditioning, the scouts who are skeptical of him might be proven right . . . The Pat Riley who Bob Ryan knew way back when seems much more appealing that the slicked-back egomaniac who has a knack for distancing himself from his basketball team whenever things start to go wrong . . . Love the Pats' signing of Victor Hobson. There's plenty of room for a young, experienced linebacker who is familiar with the system . . . There are no real sleepers in fantasy baseball anymore, but one player I really like who isn't getting much notice is Cleveland's Franklin Gutierrez. He's off to a slow start, but he had 13 homers in 271 at-bats a season ago, and without a mummified Trot Nixon around to take away playing time, he'll get more of an opportunity this season . . . Yeah, I'm psyched about the Office's return Thursday, though after watching a couple of last week's Season 4 repeats, I'm still concerned that the new Jim/Pam dynamic has irreparably changed the show. Their longing for each other gave the show a heart in the midst of the Michael/Dwight silliness, and while I have faith in the writers, I just don't know how they can fill that void.
7. Today's gem from the Sports Illustrated vault: Steve Wulf's enjoyable (if slightly patronizing) feature on my beloved Maine Guides during 1984, their hugely successful first season of existence. Hard to believe they were gone to Scranton/Wilkes-Barre just five years later. I'm still bitter.
8. Quick programming note: Looks like TATB's official move to Boston.com, originally scheduled for today, is on hold for another week. The new template isn't quite good to go - for one thing, I still need my wife to photoshop a picture for my mugshot, and as you might expect that's a hell of a challenging and time-consuming task - so you'll still find me in the blogspot neighborhood for a few more days. Anyway, I suppose it's appropriate that I should hit the 500-post milestone (this sucker is No. 498) here before we board this place up. I'll keep you posted. And again, the invitation remains open to stop by and say hi to TATB on Facebook. It's always cool to see who's actually reading this thing.
9. As for today's Completely Random Baseball Card: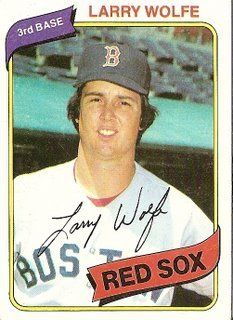 Larry Wolfe? He was no Butch Hobson. Hell, he wasn't even Jack Brohamer.
(Wolfe brought to you per reader request. Even I'd forgotten about him.)
About Touching All The Bases
| | |
| --- | --- |
| | Irreverence and insight from Chad Finn, a Globe/Boston.com sports writer and media columnist. A winner of several national and regional writing awards, he is the founder and sole contributor to the TATB blog, which launched in December 2004. Yes, he realizes how lucky he is. |
Tweets by @GlobeChadFinn
browse this blog
by category
The best of Touching All The Bases