Posted by Chad Finn, Globe Staff
February 21, 2010 06:30 PM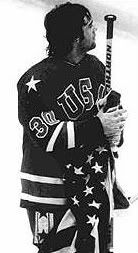 (AP File Photo)
For those of a certain generation, the 1980 US Olympic hockey team's "miracle" victory over the mighty Soviet Union stands as possibly
the
"Where were you when it happened?" sports event of all-time -- a notion that was bolstered when "Sports Illustrated" named it the greatest sports moment of the 20th century.
The lasting image from that impossibly dramatic upset -- save for perhaps this one -- is the picture you are looking at right now: scruffy and indefatigable goalie Jim Craig, the pride of North Easton, Oliver Ames, and Boston University, wrapped in the American flag as he searches for his father in the stands.
It's as timeless as timeless gets.
The 30th anniversary of the "Miracle on Ice" will be prominently featured this weekend as the Olympic hockey tournament heats up with Sunday's much-anticipated US-Canada showdown; NBC has a mesmerizing piece planned in which Craig, Mark Johnson, Mike Eruzione and broadcaster Al Michaels return to Lake Placid and reminisce about the magic that happened there.
We caught up with the gracious and friendly Craig, now 52 and a successful Boston-based motivational speaker and businessman, via telephone this week as he prepared to make his second trip to Vancouver during these Olympics. Here are a few of his recollections and opinions from our conversation:
They always stick together: When asked for a certain player to watch on any of the hockey teams in the Olympics, Craig -- naturally -- picked the Team USA goalie:
"It looks like Ryan Miller will be in there every night, so there's going to be a lot of a pressure squarely on his shoulders," Craig said. "He's an outstanding goalie, he really is, but there is going to be a lot of expectations of him because this is a young team and you're not quite sure how some of the inexperienced guys here are going to respond to certain situations.
"But they've got a good guy there behind them. Miller's outstanding, and I think he's going to be up to whatever they ask of him. I like watching him a lot."
Craig said he thought the United States did the right thing in giving an opportunity to young players rather than going with the Modanos and Tkachuks, the longtime veterans who formed the nucleus of a team that won just one Olympic medal, a silver in 2002. In fact, he's like to see the US program go one step further.
"I actually wish it would take a turn back to amateurs," Craig said. "But these young guys on the US team should have no fear. They haven't been afraid to play so far, and the talent is there. They just need to be poised and stay out of the penalty box and they can accomplish some things.
"I actually think it was really smart, what [Brian Burke and Team USA officials] did. You had some older veterans who were kind of used to losing here. Experience is a great conditioner to winning. If you look back on our team '80, Herb Brooks didn't take all the best players when he put us together. He took winners, whether it was his [University of Minnesota] guys or those of us from BU who were NCAA champs [in 1978]. If you have a bunch of players who have that one thing in common -- they want to win above all else -- they will bond as a team. It's a process, but it's worth it when you get there."
Herb Brooks was a good man: The legendary mastermind of Team USA was notoriously gruff and demanding of his players -- the pivotal skate-with-the-lights-out-'til-you-drop scene in the movie "Miracle" was only slightly Disneyfied, Craig said.
Adjusting to the coach's style was not easy for many of the players, but Craig said he realized even then that while Brooks could be distant, there was a reason he took that approach.
"There was always a method to Herb's madness," Craig said. "He treated all of us as individuals depending upon what he thought we needed and what he thought would get the best out of us, not only as players but as a whole.
"For me, he was a father figure. My mom had died [Margaret Craig died of cancer in 1977], my dad had just lost his job, and there was some pressure on some of us to skip the Olympics and turn pro so we would get some money. It was like, 'Why would you play in the Olympics? You could be getting paid to play.' But my mom had dreamed of me playing for the US, I was going to do that, fulfill that, for her, and Herb knew what my frame of mind was.
"Sure, he was tough. But he understood why it mattered to us, why it mattered to me and where I was coming from in my life, and I will always appreciate that about him."
Craig chuckles. "And I think history shows that he knew what he was doing, right?"
Happy to reminisce: It's been 30 years -- 10,950 days, give or take a sunrise or two -- since "The Miracle on Ice," and Craig acknowledges that a day does not pass when he isn't reminded of the accomplishment or asked to share a memory or recollection.
It would be understandable if he bristled at the notion that he is defined by the moment, or grew weary of reliving it time and again all these years. But that he says that is not the case whatsoever, and his jovial tone adds a layer of conviction.
"I get asked if it gets old all the time, and the answer is no, it doesn't," Craig said. "I understand where people are coming from with the question, if it's like "Groundhog Day" or something like that. But it's not, not really. It's such a special thing to be part of something that meant so much to people, to be part of something that happened 30 years ago and something that people will probably still be talking about 30 years from now."
Craig's legacy and role in the victory has benefited him to some degree both financially and professionally, of course, but he says his appreciation for the "Miracle" as much to do with what it means to other people as it has to do with what he and his teammates accomplished during those golden days in Lake Placid.
"What we did became an incredibly emotional, personal thing for people and it's such a positive memory for me and all of us who were a part of it," Craig said. "If anything, I'm lucky to have been involved in something that mattered to so many people."

Olympics bloggers
Look for updates, news, analysis and commentary from the following reporters:.
Headlines
DAN EGAN COVERAGE POWERED BY
Browse this blog
by category