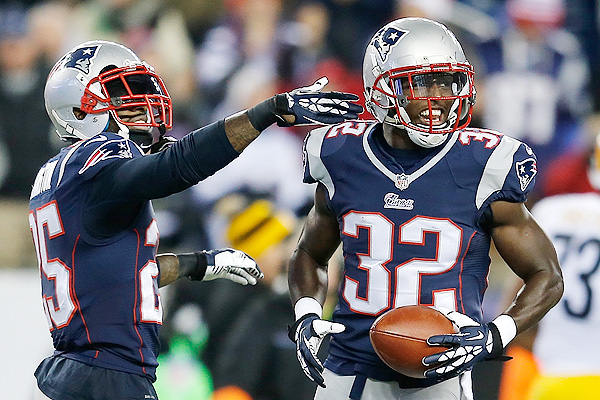 Devin McCourty won't suit up for the first regular season football game for another four months and 14 days, but he and his teammates are already hard at work getting ready for the 2014 season.
The New England Patriots' front office and coaching staff have been hard at work for months, adding players to improve the roster. There have been sweeping changes in the secondary; the Patriots released safety Steve Gregory; cornerback Aqib Talib left for the Denver Broncos as a free agent; and two of the Patriots' biggest acquisitions are cornerbacks Darrelle Revis and Brandon Browner.
Communication is key on the back end, where everyone has to know their assignments to prevent receivers from running free and getting big plays. There are a lot of moving parts in the defensive backfield, so there's no time to waste in getting everyone on the same page.
"Us, as a secondary, the bonding begins now," McCourty said at a press conference on Thursday. "I think you guys always saw us in the locker room, we're always in there laughing and joking — that starts now. A group of us is always working out together, we're running together, we're in the locker room together, so the bonding, as a secondary, as a unit, starts now. The good thing is that everybody's all in, and we're down to have fun and get better together as a unit."
Some of that unit is already in place. McCourty is the starting free safety, Revis is the team's No. 1 cornerback, but the questions begin there. A competition between Browner and third-year cornerback Alfonzo Dennard could determine the No. 2 spot, but that's only an issue after Browner has served a four-game suspension to start the season.
Duron Harmon is being penciled in as the starting strong safety in most circles, but the team signed back Patrick Chung, released one year after signing with the Philadelphia Eagles. It's also been suggested that Logan Ryan could follow the path of his Rutgers compatriot McCourty by moving from cornerback to safety.
So much can change (and probably will) in the next four months, as it has changed for McCourty in the past five years.
McCourty entered the NFL as a rookie first-round pick to a Patriots' secondary loaded with young players. Five years later, he could be the glue that holds it all together from his perch atop the defense as the free safety.
"It actually goes pretty fast," he said, reflecting on his career. "I remember just being here, feeling like an older guy, a veteran pretty early. Now, going into my fifth year, I feel like I'm actually a veteran with a good amount of knowledge that I can pass onto the younger guys, and just trying to take it all into stride."
It makes sense that McCourty would feel like a veteran even just a couple years into his career; aside from being mature and articulate, he's been surrounded by youth his entire career, as the Patriots have fielded one of the youngest teams in the league for several years running.
Now, he will be teaming up with veterans like Revis and Browner to bring a new, experienced brand of play to the Patriots' secondary. The Patriots are loaded with talent, but it takes time to come together as a unit. How long?
"You never know," McCourty said. "I think the biggest thing is getting out there. Once you get out there, you start getting a feel for each other. They'll get out there, they'll probably have some things they're used to doing that will feel real familiar, and there are always some new things."
With cornerbacks like Revis and Browner, the Patriots will play primarily man coverage, as that plays to the strength of their players; however, the Patriots have preferred to switch things up schematically and strategically from one game to the next, catering the game plan to their opponent. That means everyone will have to put in the work to learn the entire defense and get on the same page.
McCourty, as the most Patriots-experienced defensive back on the roster, could be the leader of that process.

Follow @ErikFrenz