Part of the fascination with Twitter is it allows anyone or any brand, including those of fame and notoriety, to give a glimpse into otherwise private views and thoughts.
That can be a benefit and detriment to the user. In 2013, we saw a mix of both as tweets from Boston sports players and insiders were shared with fervent speed as highlights and lowlights of the year progressed.
Here are a collection of some of the top tweets from Boston sports figures in 2013, in no particular order. Please add any we may have missed in the comments.
1. Aaron Hernandez's last tweet before he went to jail
good morning

— Aaron Hernandez (@AaronHernandez) June 18, 2013
The very same morning Hernandez fired off this tweet his home was searched by police in connection with the death of Odin Lloyd. Eight days later, he was arrested and eventually charged with murder in Lloyd's death as well as weapons charges.
2. Red Sox hang Boston Strong jersey from their dugout in Cleveland
This jersey is hanging in the #RedSox dugout tonight. #BostonStrong http://t.co/7legxZaPmC

— Boston Red Sox (@RedSox) April 16, 2013
The Red Sox did their best to represent the city under trying circumstances. The Marathon bombing had just occurred a day prior and the team was on a road trip in Cleveland. In response, they hung a special "Boston Strong" jersey in the dugout, paying homage to the moniker that represented the strength and resiliency of the region after being attacked.
3. Jake Peavy's Duck boat
Duckboat gettin it's first introduction to the Falls! pic.twitter.com/7Ogj8rSjdS

— Jake Peavy (@JakePeavy_44) November 21, 2013
Jake Peavy said he was going to buy a Duck Boat and he did. He transported the amphibious vehicle all the way to his home in Alabama.
4. The Red Sox take the AL East
We started from the bottom... #RedSox2013 http://t.co/0wdauIc44x

— Boston Red Sox (@RedSox) September 21, 2013
Inspired by Drake's song, "Started from the Bottom," the Red Sox tweeted out this gem after clinching the AL East in September.
5. Andrew Ference gives the the Bruins' army jacket to Norwood's Matt Brown
This jacket represents a lot of great things. I couldn't think of a more worthy final recipient than you bud. @mjb_3 pic.twitter.com/B9jCCImZE0

— Andrew Ference (@Ferknuckle) July 11, 2013
The Bruins' army jacket came to represent the best of the team, awarded to the player who either played well or showed tremendous heart. So when Andrew Ference left town, he couldn't think of a better person to pass it on to than Norwood teenager Matt Brown, who was paralyzed in a hockey game for his high school.
6. Linda Pizzuti makes her mark in the clubhouse
In the air https://t.co/Zux9HsbDg9

— Linda Pizzuti (@Linda_Pizzuti) October 31, 2013
Linda Pizzuti, wife of Red Sox owner John Henry, was one of the first people to relay images and sound from the Red Sox' World Series celebration from inside the team's clubhouse.
7. John Henry expected a fantastic game
Going to be a wild ride tonight! pic.twitter.com/ddcp9hXrZK

— John W. Henry (@John_W_Henry) October 17, 2013
Before Game 5 of the ALCS, and following Stan Grossfeld's iconic photo of Boston police officer Steve Horgan, this colorful meme popped up. It spread like wildfire after Henry, also owner of the Boston Globe, shared this tweet.
8. Short-lived Patriots wide receiver asks for Ochocinco's advice
Briefly signed Patriots wide receiver LaQuan Williams asked Chad Ochocinco Johnson for advice on how to learn the team's playbook before deleting the tweet. But it lives on in text.
@ochocinco any tips on how to pick up on this NE playbook quick?
He also tweeted that he wasn't joking.
No joke at all. Any advice would be a step in the right direction.
He was released by the Patriots just a week later.
9. Ochocinco offered at least one takeaway from his time with Patriots
Tom Brady gave me Uggs and i realized he was black during conversations RT @bdavis_03: @ochocinco any special moments with the patriots?

— Chad Johnson (@ochocinco) August 26, 2013
Apparently the unemployed wide receiver says Tom Brady was "black" in conversation. Oh, and he got some Uggs. (Every member of this year's team received two pairs.)
10. DJ Hernandez gives a birthday shout out to his brother
Happy B-Day To My Brother Aaron & Niece Avielle . Love You Both Unconditionally. pic.twitter.com/rw1kBn7YDE

— DJ Hernandez (@DjHernandez14) November 6, 2013
DJ Hernandez, older brother to Aaron Hernandez, became the father figure to his younger brother when their father died. He's currently an assistant football coach at Iowa. His younger brother turned 24 in jail, awaiting trial on murder and weapons charges.
11. Halloween, the Patriot way
Me Talib and @BrandonSpikes55 at the Halloween party last night before playing laser tag haha having a blast!!! pic.twitter.com/8DWtRGPcuS

— LeGarrette Blount (@LG_Blount) October 29, 2013
From the left: Patriots running back LeGarrette Blount, cornerback Aqib Talib, and linebacker Brandon Spikes at the team's Halloween party. Best costume goes to Talib.
12. Tim Tebow thanks the Patriots for the tryout
I would like to thank Mr. Kraft, Coach Belichick, Coach McDaniels and the entire Patriots organization for giving me the opportunity...

— Tim Tebow (@TimTebow) August 31, 2013
...to be a part of such a classy organization. I pray for nothing but the best for you all. I will remain in relentless pursuit...

— Tim Tebow (@TimTebow) August 31, 2013
...of continuing my lifelong dream of being an NFL quarterback. 2 Corinthians 12:9: And He has said to me, "My grace is sufficient...

— Tim Tebow (@TimTebow) August 31, 2013
The Patriots held the most interesting training camp tryout of the NFL offseason, hosting popular quarterback Tim Tebow. Unfortunately for him, he didn't make the cut. Tebowmania quickly vacated the premises.
13. Vince Wilfork feuds with Ted Johnson
Former Patriot Ted Johnson got on a Houston area radio station and called Vince Wilfork's wife, Bianca, ugly. That prompted the Patriots' defensive tackle to respond on Twitter and direct his jabs at Johnson.
Let me apologize to my fans in advance of whatever I may say today but I do not play when it comes to my family

— Vince Wilfork (@wilfork75) March 22, 2013
What followed was a profanity laced note directed at Ted Johnson attached as a picture to Wilfork's Twitter account. Wilfork wrote in part:
Every1 is entitled to their own opinion, but it is [expletive] up when a x-teammate that I actually looked up to and enjoyed playing with takes shots at my wife for whatever reasons. I love my wife and my family She is my everything. I don't care when this was said no one should cross that line. The line has been crossed so it is what it is.
Johnson went on to apologize profusely.
I just made a huge error in judgement and want to apologize to Vince and his wife for comments I made earlier today on a Houston radio show

— Ted Johnson (@Teddyjradio) March 22, 2013
I have personally apologized to the family and feel awful. It was a huge error in judgment and I'm sorry for upsetting Vince's family.

— Ted Johnson (@Teddyjradio) March 22, 2013
14. Paul Pierce thanks Boston
#THANKYOUBOSTON http://t.co/YIo3fM57Qu

— Paul Pierce (@paulpierce34) July 16, 2013
Following his trade to the Brooklyn Nets, Paul Pierce fired off a string of tweets with Instagram photos thanking Boston for his time with the Celtics. In all, he sent 45 tweets thanking Boston and Celtics fans.
Are we missing something from this list? Let us know in the comments.
Zuri Berry can be reached at zberry@boston.com. Follow him on Twitter @zuriberry and on Google+.
If you were to have one takeaway from the year 2013, it would be that the city of Boston and New England have been not-so-surprisingly gifted with talented sports teams.
And between the Red Sox, Patriots, Bruins, and Celtics, the triumphs they have accomplished in just the last year are worthy of a proper historical record.
This is not that record. No, these are what we'll deem the coolest GIFs from the past year, with all the funny, awful, and awesome outcomes that have been spun through the GIF machine.
Take a look and then let us know what we missed.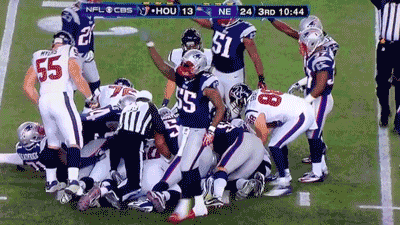 The Patriots owned the Houston Texans in 2013, beating them once in the regular season and once in the playoffs. In their divisional playoff matchup on Jan. 13, Brandon Spikes got a little festive with his prediction of a possible turnover while waiting to find out who had possession of the football during a scrum in the third quarter. It turned out he was wrong. The Patriots still went on to win, 41-28.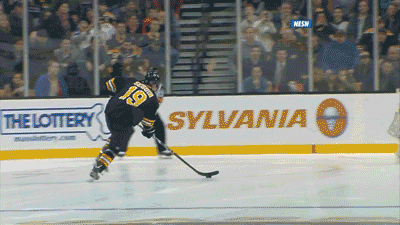 A fan at TD Garden got a little more involved than he or she should have Jan. 29, tossing what appeared to be a hot dog onto the ice during a Tyler Seguin shootout attempt against New Jersey. Seguin converted the goal against Devils goalie Johan Hedberg, but was forced to re-try. Of course, he made it again, with his puck being the only projectile on scene for the second try.
Tom Brady was super excited after Orb won the 139th running of the Kentucky Derby May 4. Former Patriot pals Tedy Bruschi and Wes Welker joined him in a raucous celebration caught on camera.
Jaromir Jagr proved he still had some juice with the Bruins last spring when he came up with this steal and assist ahead of Patrice Bergeron's game-winning goal. It was a timely play in overtime of Eastern Conference finals Game 3 against the Pittsburgh Penguins. The Bruins would go on to sweep the Penguins before facing the Chicago Blackhawks in the Stanley Cup Final.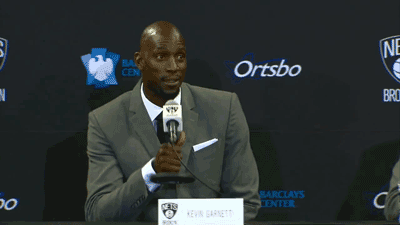 After the Celtics traded Kevin Garnett, Paul Pierce, and Jason Terry to the Brooklyn Nets -- a deal cleared after Garnett waived his no-trade clause -- the thought was that their introduction in Brooklyn might be awkward. Well, with a hearty, "What's up, Brooklyn?" Garnett made sure it wasn't.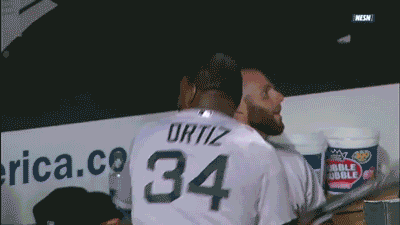 David Ortiz was quite livid with a call by umpire Tim Timmons during a game against the Baltimore Orioles July 27. With a 3-and-0 count, Timmons saw a strike when the rest of the world (read: Ortiz) saw a ball. That's when mayhem ensued.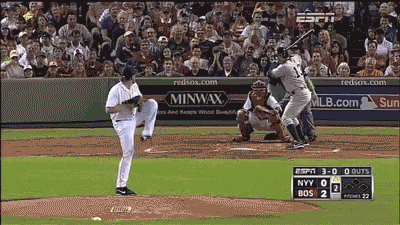 Red Sox pitcher Ryan Dempster tried to take justice into his own hands Aug. 19 when he plunked Alex Rodriguez with a 92-mile-per-hour fastball. The Red Sox would lose the game, with A-Rod pounding out a home run, and Dempster would later be suspended five games for intentionally throwing at the beleaguered Yankee.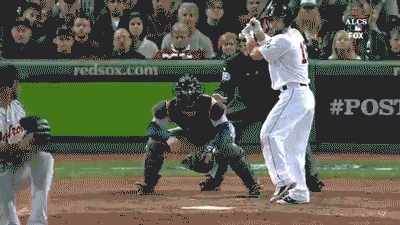 In Game 6 of the ALCS, outfielder Shane Victorino belted a grand slam in the seventh inning to lift the Red Sox over the Detroit Tigers, 5-2, and send Boston to the World Series. It certainly was one of the more impactful moments of the Red Sox' championship run.
In the second quarter of the Patriots' Week 6 game against the New Orleans Saints, Brady was looking for a high-five from receiver Julian Edelman after the Patriots had just gone on a 66-yard touchdown drive. Apparently, in addition to his comeback wizardry, Brady also has the power of invisibility.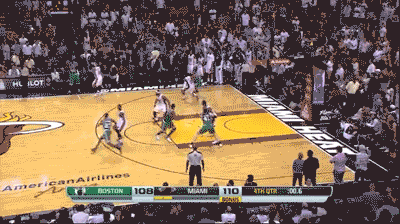 In the Celtics' Nov. 9 matchup with the Miami Heat, Jeff Green hit a buzzer-beating 3-pointer over LeBron James to lift Boston over Miami, 111-110.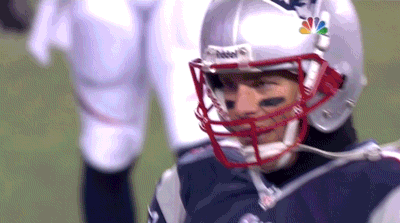 As the Patriots were in the midst of a comeback victory against the Denver Broncos on Nov. 24, one touchdown led to this intense celebration with Brady and tight end Rob Gronkowski. It's still unclear if words were used.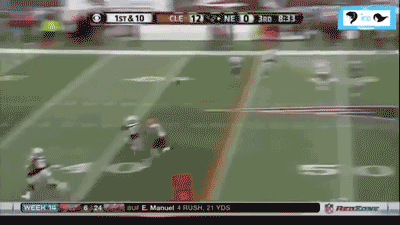 Just two weeks later, on Dec. 8, Gronkowski would go down with an ACL and MCL tear after a vicious hit by the Cleveland Browns' T.J. Ward. Ward would say that he was wary of being fined when targeting the lower half of Gronkowski's body.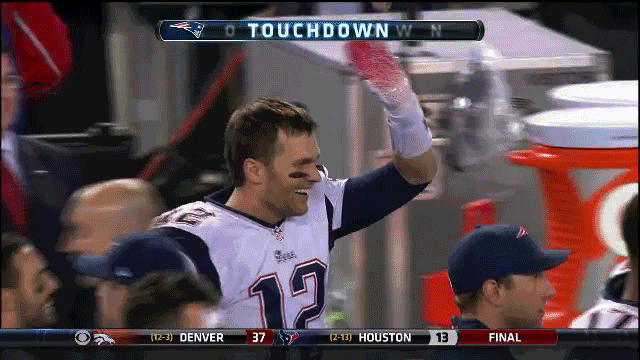 During the Patriots' dominating win over the Baltimore Ravens Dec. 22, Brady's invisibility powers kicked in again while looking for high fives.
What were your favorite GIFs from 2013? What did we miss? Drop a link in the comments.
Zuri Berry can be reached at zberry@boston.com. Follow him on Twitter @zuriberry and on Google+.
Here is a sight that some Patriots fans will find amusing, while others may see as just a sad reminder of one of the reasons why New England lost to the Dophins on Sunday: Rob Gronkowski scooting himself around a Whole Foods in Rhode Island. Apparently, the boys' dad took this picture of the star tight end and posted it to InstaGram.
Lucic says that he was the victim of an unprovoked attack while out in Vancouver following the Bruins' 6-2 loss to the Canucks. This would not be the first time Lucic and his family have faced negative treatment in the forward's home city since the Bruins beat the Canucks in the 2011 Stanley Cup Final.
"I have no reason left to defend my city and the people in my city. I'm disgusted and outraged," he said. "Other than being at Rogers Arena no one will ever see me in Downtown Vancouver ever again."
Lucic said he is following up with authorities in Vancouver about the incident.
In a video posted online by YouTube user "Nick N," Lucic is seen in an altercation outside of a nightclub in Vancouver. In the video description, it says that the video was taken Saturday night, Dec. 14. There was no confirmation at the time that this incident took place on Saturday.
Lucic was taped cursing and shouting at another individual, with Lucic saying that he had been hit two or three times. There were no punches thrown in the video, and police were seen trying to diffuse the situation. The Vancouver Police would not confirm whether the incident took place, according to the Vancouver Sun.
WARNING: This video contains graphic language that may not be suitable for younger viewers. A link to the full video can be found here.
UPDATED 1:20 p.m.: During the Bruins media availability today, Milan Lucic responded to the reports that he was involved in an altercation in Vancouver on Saturday night.
The honor went to Denver Broncos quarterback Peyton Manning, but King said Red Sox designated hitter David Ortiz was among those considered.
Ortiz was the MVP of the World Series, but also the face of the Red Sox as they rebounded from a pair of dismal seasons in 2011 and 2012. His inspirational speech at the Red Sox' first home game after the Boston Marathon bombings helped Boston's healing process, and his dugout pep-talk during the World Series made it crystal clear who was the team's leader.
Mariano Rivera of the Yankees was also considered, King said.
"[Manning] wins it in the midst of the greatest individual season of his career. At age 37, two years after four neck procedures put his career in serious doubt," King said.
Sports Illustrated's Peter King revealed the magazine's choice for its sportsman of the year, one of the most anticipated awards each year, during Sunday's NFL night game.
Taylor University in Upland, Ind., continued a unique tradition on Friday night.
On the Friday before final exams, fans at the school's basketball game watch in total silence until the 10th point is scored. When they do score the 10th point, well, bedlam ensues.
Watch for yourself.
according to a Yahoo! Sports report.
Yahoo!'s Jeff Passan reports the deal is for two years and $9.5 million.
Mujica, a 29-year-old righthander from Venezuela, spent the last two seasons with the St. Louis Cardinals. He had 37 saves last season before the Cardinals turned the closer role over to Trevor Rosenthal.
Mujica has been in the majors eight seasons and has a 3.75 career ERA, with a 1.134 WHIP.
The Red Sox have agreed to a deal with relief pitcher Edward Mujica,
According to ESPN, the decision was made "in light of the potential implications of any news from the State Attorney's press conference in Fla."
The Florida press conference at 2 p.m. is to announce the findings of an investigation into an accusation of sexual assault against Florida State quarterback Jameis Winston.
ESPN said the Burgundy appearance has not been rescheduled.
A scheduled appearance by Ron Burgundy, the character played by Will Ferrell in the movie "Anchorman," on ESPN's SportsCenter Thursday has been canceled.
According to John Heyman of CBS Sports, Jacoby Ellsbury may be on the verge of joining the Yankees with a sizable seven-year contract.
The free agent center fielder, who has spent the first seven years of his career with the Red Sox, could get a deal that exceeds the one Carl Crawford got from the Red Sox in 2011, which was seven years at $142 million.
The report quoted "someone familiar with the talks" as saying, "It could happen."
Ellsbury is a career .297 hitter and led the American League in stolen bases with 52 last season.
Ron Burgundy will be the host of SportsCenter on Thursday at 6 p.m.,
ESPN announced Tuesday.
Burgundy, played by actor Will Ferrell, will be joined by Champ Kind, who is the sportscaster alongside Burgundy in the movie "Anchorman" and the upcoming "Anchorman 2." David Koechner plays Champ Kind in the movies.
It's certainly not Burgundy's first go-around with ESPN. Just watch his famous "SportsCenter audition" below.
Another year, another championship. The Red Sox' improbable 2013 World Series run was Boston's 10th championship since 2001. David Ortiz's MVP win got us thinking about the best individual efforts during that run. If you were to compare across sports and look at the best performances by Boston players to earn these last 10 titles, who would come out on top? How does Papi's performance stack up to the likes of Tom Brady, Paul Pierce, and Patrice Bergeron?
Colleague Chad Finn and I put our heads together to come up with the top 32 performances. The list of the performances we left out is impressive in its own right: Zdeno Chara on the Bruins' championship run. World Series MVP Manny Ramirez. A 10-catch,143-yard performance for Deion Branch in the Super Bowl. I'd like to tell you we got it right, but in sports debates and XXXX, there's always a little gray area.
We've done brackets before, for Boston's best athlete (at that time), New England's best college basketball player of all time, and the best New England Patriot. The bracket style tournament format allows you to vote for the players you like until we pare down to a winner. There are four regions, seeded 1 to 8. The voting schedule is as follows:
Round 1: Tues. Dec. 3
Round 2: Weds. Dec. 4
Round 3: Thurs. Dec. 5
Round 4: Fri. Dec. 6
Round 5: Monday Dec. 9

The Red Sox have agreed to a deal with free agent catcher
A.J. Pierzynski.
With the former Texas Ranger on his way to Boston, here are some things to know about the Red Sox newest backstop addition:
1. He has strong offensive numbers
Pierzynski has been a strong offensive catcher over the course of his 16-year career. He has a lifetime average of .283 with 172 home runs and 800 RBIs. He has hit .270 or higher in each of the past five seasons, including a .272 mark with Texas in 2013 at age 36. He won a Silver Slugger as the best hitting catcher in the American League in 2012 when he batted .278 with 27 home runs and 77 RBIs.
2. He can throw out base stealers
Pierzynski is known for having a terrific arm and is exceptional at throwing out opposing base runners. Over the past five seasons, he has finished in the top four in the AL at catching runners stealing, throwing out 24 in 2013, second in the AL, and he finished with a caught-stealing percentage of 32.9 percent. His career caught-stealing average is 25 percent.
3. He is an excellent defensive catcher
Along with Pierzynski's strong offensive numbers, the Red Sox also had defense in mind when they agreed to this signing. Pierzynski has been in the top four in the AL for putouts by a catcher in nine of the past 11 seasons and currently is first overall in active players in that category, while 10th overall in history. He led the AL in assists by a catcher in 2012, finishing second last season, and has also led the AL in double plays turned by a catcher for the past two seasons. Pierzynski had also finished in the AL top five in fielding percentage as a catcher nine of the past 11 seasons, including finishing first in 2005, 2011, and 2013.
4. He has been reliable
Since 2002, his first full season as starting catcher with the Minnesota Twins, he has never started fewer than 111 games, a feat for any full-time catcher from the most demanding position in baseball. Even at age 36 in 2013, Pierzynski caught 119 games for the Rangers, while also spending 12 games as a DH. Now 37, Pierzynski will be able to split time with 36-year-old David Ross behind the plate in Boston, which should help his body stay fresh and keep his offensive numbers high.
5. He has a bad reputation
Of all the positives to come out of this deal, one negative is the reputation he has around MLB. In 2011, a Sports Illustrated poll of 215 major league players was released and stated that Pierzynski was chosen by his peers as the "meanest player in baseball," finishing with 29 percent of the vote, far ahead of second place Chase Utley, who garnered 13 percent. His former manager with the White Sox, Ozzie Guillen, has also stated that "if you play against him, you hate him. If you play with him, you hate him a little less." Pierzynski got into a major brawl in 2006 with Cubs catcher Michael Barrett after Pierzynski crashed into him at home plate during a game, and also had a public spat with former White Sox teammate, and now Red Sox teammate, Jake Peavy back in 2011.


The Houston Texans were noticeably upset after their 34-31 loss to the Patriots on Sunday, and it appears that management at Houston's Reliant Stadium did not want their employees to enjoy any time with the opposing team.
Two Reliant Stadium security guards were fired after photos surfaced of the two posing for pictures after the game with Patriots quarterback Tom Brady, according to WHDH Channel 7 News in Boston.
Fired security guard Joel Williams said that this was not the first time he had taken a photo with a famous person at the stadium, even saying that he has taken pictures with players from opposing teams that defeated the Texans, but has never been reprimanded for it.

The company that operates security at the stadium says that employees are not allowed to take photos with players.
The Red Sox have agreed to a one-year deal with catcher A.J. Pierzynski. The deal was first reported by CBS Sports baseball writer Jon Heyman.
The Globe's Peter Abraham said on the Toucher & Rich show Tuesday morning that the Sox are viewing Pierzynski as a bridge to 23-year-old prospect Christian Vazquez. Abraham reported Monday night that catcher Jarrod Saltalamacchia was unlikely to return to the Red Sox. According to Abraham, the Sox were hesitant to sign Saltalamacchia to a three-year deal with Vazquez waiting in the wings.
A 16-year veteran, Pierzynski batted .272 with 17 home runs and 70 RBIs in 134 games for Texas last season.
We've expanded The Buzz from a page of Red Sox trade talk and reports to a full-blown blog filled with news from around the web, viral videos, and commentary from the Boston.com sports producers.
The main contributors to The Buzz are:
browse this blog
by category