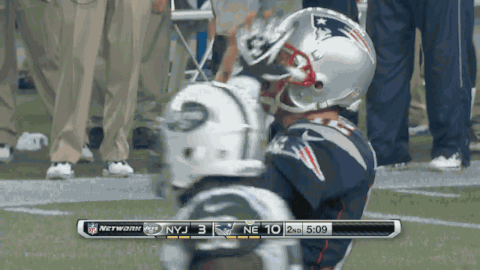 Last week was tough on sports icons.

Tom Brady was simply average. David Ortiz was pampered and above accountability. LeBron James was a friggin' wuss.
This week, they struck back in the span of less than 24 hours.
Sunday night, David Ortiz resuscitated hope for interest in the final 100 games of the Red Sox season with a three-run home run in the top of the ninth inning at Detroit.
Miami's James played cramp-free basketball in Game 2. He struck back at the haters, cynics and trolls by #LeBroning his way to 35 points and 10 rebounds in the Heat's victory at San Antonio.
Monday, it was Brady's turn.
Bill Belichick once famously said "stats are for losers."
A week after Brady was "demoted" to one of the "Bottom 27ers" in the NFL by ESPN.com's Sam Monson, Brady spoke about the only stat that really matters.
"You can't sit here and compare one year to another year, or compare this player to that player, I think winning games is the most important thing; certainly for this organization," Brady said with some uncharacteristic emotion in response to a question from Comcast Sports New England's Tom E. Curran at team charity event. "When you come here, you learn that pretty quickly - whatever matters to you as an individual, it's far distant to what the team goals are. And the team goals are one thing - to score more points than the other team."
Those who live in the real world of the NFL and not the fantasy world of stat-mavens and Sabremetricians only pay attention to one thing, Brady said.
"I think that people watch the games on TV because there is a scoreboard. I think that's what it is all about. If there was no scoreboard, then people wouldn't tune in and watch," Brady added. "There's only one stat that matters and that's because the competition in the NFL is very high; extremely high on a daily basis."
Judging Brady based solely on wins brings mixed results since the Patriots walked off the field with their 24-21 victory over the Eagles in Super Bowl XXXIX in Jacksonville. The Patriots under Brady have won 99 games in the eight full seasons he's played since.
But New England is only 4-6 in its past 10 playoff games.
Those losses have come as a result of many factors. In some games, the Patriots were flat-out demolished by the opposition, see those losses to the Ravens in Foxborough in the 2009 Wildcard Round and in the AFC title game played in January 2013.
Brady had a hand and both his feet in New England's Super Bowl XLVI loss to the Giants by taking a safety on the first play of the game, even if he "cannot f---ing throw the ball and catch the ball at the same time."
Here's a look at Brady's numbers in those six losses:
Super Bowl XLII - 17-14 Giants: 29 for 48 [.604], 266 yards, 1 TD, 0 INT
2009 AFC Wildcard Game - 33-14 Ravens: 23 for 42 [.547], 154 yards, 2 TD, 3 INT
2010 Divisional Round - 28-21 Jets: 29 for 45 [.644], 299 yards, 2 TD, 1 INT
Super Bowl XLVI - 21-17 Giants: 27 for 41 [.658], 276 yards, 2 TD, 1 INT
2012 AFC Title Game - 28-13 Ravens: 29 for 54 [.537], 320 yards, 1 TD, 2 INT
2013 AFC Title Game - 26-16 Broncos: 24 for 38 [.632], 277 yards, 1 TD, 0 INT
In comparison, Seattle's Russell Wilson went 18 for 25 [.720], with 206 yards, 2 TD and zero picks in Super Bowl XLVIII. Peyton Manning, meanwhile, set the all-time Super Bowl completion record with 34 in that disastrous 43-8 defeat.
Brady completed more passes in his six most-recent playoff losses than Wilson completed in his Super Bowl victory, threw for more yards in five of those games and even managed to go without an interception in two of them.
See, Belichick "stats."
Where Wilson really shined against Denver was in his ability to keep things contained and stay accurate.
In Super Bowl XLII, for those who love such things, the Patriots had 98.4 percent probability of winning with 1:59 left to play. Sorry for ruining your day. That was 43 seconds after Brady connected with Randy Moss to put New England ahead 14-10. Then Eli Manning and David Tyree worked their excruciating magic and Asante Samuel forgot how to jump.
Had the Patriots held won that game and finished 19-0 , Brady's elite status would be unquestioned by even the most click-hungry venues.
Judging Brady strictly on those past 10 playoff appearances, one could say he was far from Eli, or elite. The experts who slotted Brady outside the Top 5 last week said flat-out they did not use winning as a factor in anointing him "One of the Mediocre."
Brady's view is refreshing for anyone who enjoys the real world and not the make-believe of fake football or stat-based reality.
We all love a winner and someone who wants to win above everything else. Brady's temper was on display several times last season [see above] but he also checked himself in time to guide the patchwork Patriots to the AFC title game throwing to Hall of Famers like Matthew Mulligan, Michael Hoomanawanui, Josh Boyce and Austin Collie.
As noted here the other day, Brady, Ortiz and LeBron have combined for eight titles in the past 12 years. That is flat-out astounding, especially when you consider how close they may have been to three or four more.
They're all easy targets. They're all human, as as well as super human. Brady and LeBron have stumbled badly on the biggest of stages. Ortiz will be forever linked to a positive PED test in 2003 whose results were leaked taken before those substances were banned.
In Brady's case, the relentless tick of his Biological Clock has become the center of his universe and the primary force behind the Patriots' biggest moves of the off season.
He turns 37 on Aug. 3. Don't expect a big cake, party hats and presents. Gisele knows better by now.
The Patriots spent $12 million for one year on a cornerback in Darrelle Revis and carry another $2.95 million cap hit in Brandon Browner, who will miss the first four games of the season due to a drug suspension. The Legion of Belichick was created to give the Patriots a shot against the Broncos in next January's AFC title game because Brady cannot do this all on his own. Julian Edelman was brought back to fill the slot so that Brady's favorite binky was retained. This time.
The Patriots used a second-round pick on the legendary Jimmy Garoppolo just in case Father Time and Gisele finally knock Brady out of the NFL.
Brady, who is becoming vastly underpaid with each new NFL starting-QB contract, was hardly on the defensive. He was asked a question about a completely asinine premise and answered it. There's nothing defensive about that.
He sounded like he wishes Opening Week was next week.
For the rest of the NFL, it may come way too soon.
The OBF Column is written by award-winning journalist and Bay State native Bill Speros. Hit him up on his Obnoxious Boston Fan Facebook page, on Twitter @realOBF or at his
Obnoxious Boston Fan Email Address . Thanks always for reading and pass the clicker.

More from this blog on: Patriots