Posted by Obnoxious Boston Fan
March 19, 2014 05:17 PM
The Los Angeles Jaguars will have to find another quarterback.
Tom Brady and Gisele "Throw and Catch" Bundchen have put their 14,000 square-foot palace in the Brentwood section of Los Angeles on the market for a mere $50 million, so says TMZ.
That's good enough for journalism in 2014.
The last big-name NFL star who slipped out of Brentwood amid this much fanfare did so in a white Bronco and is now doing time. Brady's biggest nemeses are a white Bronco and Father Time.
Mr. and Mrs. Brady are headed back east so that they can spend all their time in Boston, reports say. They have a big spread in New York but they are building a larger home in Brookline, 14,300 square feet on five acres, complete with a spa, pool, library, wine cellar, five bedrooms and a yoga studio. Brady needs a place to find inner peace whenever Bill Belichick starts talking about the Patriots Wal-Market value of the slot receiver or Gisele decides to review game films for blown passing routes. The wine cellar should do it. The new Brady Bunch home is expected to be completed by the summer.
Brady's move back to Massachusetts full-time [or most of the time] is a terrific signal that No. 12 is going "all-in" during the Twilight of his career. Funny, how word of the big house in Brentwood hitting the market came after the Patriots locked down Brandon Browner, Darrelle Revis and Julian Edelman. Before that, Brady was probably just as likely to move to LA full-time as he was committing to Boston for the duration.
Maybe the custom-designed house in Brentwood was a ruse into forcing the Patriots to load up in the secondary. Now, Brady can sleep at night when the subject of pass defense and won't feel forced to try and find Josh Boyce 50 yards downfield on first down in the fourth quarter.
We can see "The Legion of Belichick" is already paying dividends. Brady's Biological Clock continues to drive the agenda, on the field and inside the Brady-Bundchen household. This is as it should be. Given the loony conspiracies surrounding the disappearance of MH370, whatever we posit here should be considered as reliable as a Nate Silver's weather forecast for Death Valley on July 15.
The permanent Brookline residence could have auspicious consequences for Brady far beyond football. John Kennedy was born in Brookline, as was his brother, Bobby. Former governor and Democratic party presidential nominee Mike Dukakis was also from Brookline. It would seem to be a natural launching pad for Brady, should he wish to act on any political impulses he might have when his playing days are over. And Brady won't have to drive around in a tank to show his toughness since he's already ridden in a Duck Boat.
Governor Brady. Senator Brady. President Brady. And if he wants unlimited raw power: Boston Redevelopment Authority Chairman Brady.
Oh, the possibilities. He could nominate Belichick to be head of the NSA, place Robert Kraft [another Brookline native] in charge of the Federal Reserve and put Browner atop the Food and Drug Administration. All would have prior experience in their positions.
There would be no more political downside or discourse when it comes to health care. Who would not want to sign up for something called "Brady Care?" Maybe the Manning family, but that's it. I'll take two policies, three subsidies and a side order of co-pays. Get an autographed jersey for every five people covered by March 31. Slow website? No problem.
Here's what's in store for those who screw it up: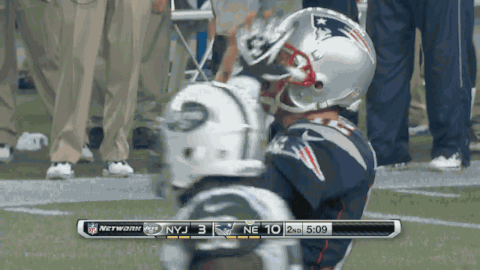 [NSFW for those who read lips out loud.]
Red States? Blue States? Fuhgeddaboudit. Brady's worn both red and blue, and enjoyed success in both colors. While one political party's machine would likely be necessary to raise money and votes in any serious run, Brady could actually be one of those rare candidates who could bridge any partisan divide, at least in the Bay State. Either way, the full-time arrival of Brady and his wife will be a boom for the city's and state's tax coffers.
Tom and Gisele recently finished their Brentwood fiefdom. It's a massive complex, Brady bunch's French country-styled limestone home sitting on four acres, with six bedrooms, a koi-filled moat, an infinity pool, garden, and a billiards room.
"Flipping Boston" meets "Flipping Brentwood." With the moves the Patriots have made thus far in 2014, "Flipping Off Denver" could debut sometime next January. T&G's Brentwood manor is the perfect place for Carl Crawford to blow the remaining dollars on his contract with the Dodgers.
Brady is both a Dad a and Baby Daddy. Actress Bridget Moynahan is the mother of Brady's eldest son, John Moynahan Brady. Perhaps her geography is changing as well. By the way, she's also wearing fashionable glasses these dayslike her former beau has done on occasion.
The Brady-Bundchens are part public property. Not in a completely mercenary or prurient way. Whatever they do interests a lot of people for whatever reason[s]. This time, the media is only responding to market demand.
They are the 2014 sports version of JFK Jr. and Carolyn Bessette, if not JFK Jr.'s parents. Of course, Jackie was far more beloved. She also smoked Newports, JFK Jr's assistant reveals her torment over urging Carolyn Bessette ...refused to change out of her pink Coco Chanel knockoff after JFK was assassinated because she wanted the world "to see what they have done to Jack," and she married a Greek shipping tycoon [see water pollution/carbon footprint] after her first husband's tragic death. Gisele says "Mother Earth is our fundamental life-support system," models for Versace and posted this photo on Instagram:
[ Any way we can work in that photo is worth it.]
Gisele was also caught on camera saying this:
That would have never happened in Jackie's day.
Brady's "Camelot" - fourth Super Bowl ring aside - came before he met his current wife. That drives much of irrational but real animosity toward her. Gisele has her haters. Much of that ire is borne out of jealousy created by her supermodel success, wealth and the fact that she is married to Tom Brady and you're not. Gisele's occasional football-related outbursts or her willingness to breast feed on social media makes for an easy target. But we wish nothing but success for the mother of Brady's children, no matter which one she is.
It's reassuring to see that Gisele offer Boston a firm vote of confidence, not that the city needs it, given what's been written and said about her in the past there. It's not Gisele's fault that David Tyree had Stick-Em on his helmet, or that Asante Samuel can't jump high enough, or that the Patriots' defense couldn't stop a nosebleed when it counted against the Giants in Super Bowl XLVI. That remains true, regardless of what you may read on Twitter whenever the Patriots are losing with less than five minutes to play.
John W. and Linda Pizzuti Henry [who own The Parent Company of This Blog and the Boston Globe] may have to carve out some room atop the city's social spotlight pantheon once Tom and Gisele are able to get out of the house more often without the kids.
T&G will be the ultimate 21st-Century Boston Power Couple. A godly handsome football player of Irish descent born and raised in California who attended the University of Michigan, and a stunning model from Brazil with German ancestry. A husband, wife and their 2 1/2 kids, living the dream just like the rest of us. Typical Bostonians in a sense, especially given the region's current and expanding diverse makeup.
They will be welcomed addition for sure.
[If you're interested in buying Brady Manor West, check out this Architecural Digest tour from 2013 for more info.]
Got a news tip, want to let me know directly what you think, or have a complaint or compliment about my "aggressively relevant" content, hit me up on our Obnoxious Boston Fan Facebook page, on Twitter @realOBF or e-mail me at obnoxiousbostonfan@hotmail.com. Thanks always for reading and pass the clicker.
About the author
Obnoxious Boston Fan offers a fun, unique and biting perspective on the Red Sox, Celtics, Bruins, Patriots and whatever else people are talking about in the world of sports. We
More »
Blogroll
If you're reading this list - then you already know about the other talented folks on Boston.com and BostonGlobe.com. Here are some others across the digital spectrum that you might enjoy (in no particular order):
Columnists and insiders
On the air
Get updates
Browse this blog
by category