Posted by Obnoxious Boston Fan
January 22, 2014 05:10 AM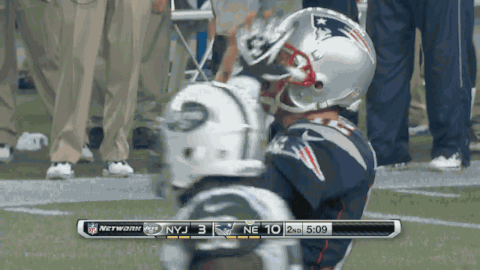 Three weeks into 2014 and we have our first big Boston sports trend of the new year:
"Tom Brady's Biological Clock."
We have made it a proper noun because if its singular nature and monumental importance.
We heard it loudly in Week 2 of the 2013 season after Brady's tirade against anyone within earshot during New England's win against the Jets.
It quieted as the season progressed. The Patriots piled up improbable win after improbable win. We had "show ponies and unicorns" against the Saints, Bill Belichick taking the wind and double-dog daring Peyton Manning in the cold of Foxborough, comeback wins over Cleveland and Houston and couple of season-ending blowouts, most notably the one against the defending Super Bowl champions.
With the emergence of the Patriots running game late in the 2013 campaign, the formula of "Brady + Running + Hobbits = Victory" seemed like a viable offensive equation for a trip to the Super Bowl.
Then a spell of typical - yes, typical, I lived there for two years - late January weather hit Denver. It took the best big game performance of Manning's NFL career to bludgeon the Patriots with common sense.
Tom Brady needs help. Tom Brady needs adult-sized, veteran, sure-handed wide receivers who can run downfield, out stretch their defenders and turn an errant pass into a 22-yard completion on 3rd and 8. Tom Brady needs the same type of prototype wide receiver that so many lesser QBs [see the likes of Matt Stafford, Carson Palmer, Andy Dalton] waste every week.
The Patriots have largely gotten a pass when it comes to being called out for doing things on the cheap because that formula once led to multiple championships.
The Patriot Way was working perfectly a decade ago. Holding firm on position salary slots, Belichick's brilliant coaching, Brady's all-around awesomeness and a nut-crushing-in-the-clutch defense delivered three Super Bowls in four seasons. The Patriots have repeatedly set a "Championship or Bust" mentality as their measure of success. Brady reiterated that just two days ago on the radio. It is within that frame that we talk about failure and frustration here.
On a personal level, the Patriots deliver season after season of enjoyable, successful and entertaining football. I was there as a ticket-buying fan in Jacksonville when they raised their their Lombardi Trophy/Super Bowl Cup. They didn't win their first Super Bowl until I was 36. My father died nine years before that, with his lasting Patriots' Super Bowl memory being the Fridge plowing into the end zone. On that level, I'll live and die in peace if they never win another. Many of you probably feel the same way. But that doesn't mean millions of greedy Patriots' fans don't want a Duck Boat parade every February. Patriots fans have become justifiably spoiled by the brilliance of Brady and Belichick [the coach, not so much the GM] and have bought into the same "Championship or Bust" mantra they preach.
Brady remains forever beloved thanks to his three rings and a whole lot of other attributes. He's under performed - some might say "crapped out" - in his past two AFC Championship Game appearances and his past two Super Bowls. Yet he's also been victimized by his own GM , owner and defense. He walked off the field in Super Bowl XLII holding the lead and a 19-0 record in tact with 2:42 to play when he had Randy Moss.
Forget breaking the bank, they barely scratched Bob Kraft's debit card in 2013 falling anywhere between $5-7 million below the salary cap. It was all smoke, mirrors and midgets height-challenged receivers in the end. And the best receiver in the group was working with a base salary of $715,000 and is now an unrestricted free agent.
Duh. Pay the man.
Interesting side note: Julian Edelman [@Edelman11] is very active on social media [he did a terrific reddit AMA during the season] and is not afraid to speak his mind. Between Instagram, Twitter and Facebook, he has about 385,000 followers. This could be very interesting if the Patriots try their Jedi mind tricks and media manipulation when it comes to trying to Kraft a reasonable deal for his services.
Any fears the Patriots or their fans had about losing Wes Welker never contemplated Welker taking out the Patriots' lone big-play cornerback with a pick/rub/illegal/legal/clean/dirty/nasty/legit 10 yards off the ball with a Super Bowl berth at stake.
The grateful and yet disappointed citizens of Patriots Nation know how special Brady has been/is/and still can be. He is a once-in-a-lifetime talent for anyone over the age of 10.
The Patriots had 14 rookies this year and three more starters who were Playoff Virgins. That's the type of team you field the year after Brady retires, not the type of team you construct when one of the greatest QBs of all time is still capable of stuff like this:
Fourteen rookies with this guy as your quarterback? That is a Football Sin.
It was amazing what Brady and Belichick [the coach] accomplished with the lineup they had in 2013. But Brady's too good be used as a JV coach. He deserves nothing less than the best varsity lineup Kraft's $2.9 billion can buy.
The Patriots basically bet it all on Rob Gronkowski and Aaron Hernandez when it came to spending on weapons [better word: options] for Brady. History is littered with horrible long-term strategic decisions that brought down leaders, nations and empires. Add this one to the list of really bad football decisions. The House of Kraft may never fully recover from its decision to invest so many millions in the "two tight-end" offense of the future, with such a emphasis on Hernandez. *1
Hernandez now counts $7.5 million against the team's cap for the 2014 season, even though the team has no plan to paying him any of it. The NFLPA has filed a grievance on Hernandez's behalf.
Gronkowski may only have one or two more seasons in New England, with or without injury. He is owed $5 million for 2015 and another $10 million if the club decides to keep him before the 2016 season.
Tick, tick tick.
The Patriots have spent in the past to bring that deep, downfield threat to Brady. Their most recent attempt came in the form of Chad Ochocinco, who pocketed $6 million in 2011 for basically being a decoy. [15 receptions for 276 yards and 1 TD].
The challenge is to spend money and spend it wisely on at least one legitimate, veteran wide out who is at least 6-feet-1 [sorry, Emmanuel Sanders] who can elevate and get down field at the same time. We lined up some of the usual suspects in our AFC Championship Game post-mortem. Names like Eric Decker, Hakeem Nicks, Anquan Boldin, James Jones, or even, possibly a Jimmy Graham at tight end, if the Saints somehow screw that one up and/or opt not to franchise him, will echo from Waterville, Maine, to Waterbury, Conn., are all legit considerations as the Patriots and their fans try to figure out the answer to what ails the Patriots' offense.
Why stop at just one? The last time the Patriots lost to Manning in the AFC title game, they picked up Moss and Welker in the following offseason. That type of over-reach would be a nice first step.
As Tom Brady's Biological Clock moves faster and tocks louder, the debate and discussion over which wide receiver[s] they should sign, will rage with equal vigor.
And Tom Brady's Biological Clock will be triggering seismographs this time next year.
You can't stop it, you can only hope to contain it.
And try to do whatever you can to win one more Super Bowl before it eventually stops.
Tick, tick, tick.
[*1: We know that the crimes Hernandez has been accused of committing dwarf any of this football stuff, but this is a football column. Thank you.]
Got a news tip, want to let me know directly what you think, or have a complaint or compliment about my "aggressively relevant" content, hit me up on our Obnoxious Boston Fan Facebook page, on Twitter @realOBF or e-mail me at obnoxiousbostonfan@hotmail.com. Thanks always for reading and pass the clicker.
About the author
Obnoxious Boston Fan offers a fun, unique and biting perspective on the Red Sox, Celtics, Bruins, Patriots and whatever else people are talking about in the world of sports. We
More »
Blogroll
If you're reading this list - then you already know about the other talented folks on Boston.com and BostonGlobe.com. Here are some others across the digital spectrum that you might enjoy (in no particular order):
Columnists and insiders
On the air
Get updates
Browse this blog
by category