Posted by Obnoxious Boston Fan
January 10, 2014 11:23 AM
Welcome to January.
It's most wonderful perilous time of the year.
The New Year's resolutions are being put to their first big test. It's gotten really cold. [Even in places like Florida.] The holiday decorations are gone. The college football season has ended. The Bruins are playing hockey past midnight.
And it's the time of year we're reminded by the Spygate Truthers, Patriot Haters, full-time contrarinans and Debbie Downers how much Tom Brady sucks because he hasn't won that elusive fourth Super Bowl.
In case you missed it/were buried in a snowdrift, Brady is 7-7 in his past 14 playoff games after winning his first 10. This is one "Seven & Seven" that sobers up the most intoxicated member of Patriots Nation. As the Patriots are poised to begin their annual playoff run, the refrain and recantation of Brady's recent postseason mediocrity returns to the civic, if not civil, discourse.
It's enough to drive you to drink [just make sure you have a designated driver for the trip home].
Take a quick look at this not-so Magnificent Seven list of losses and you'll notice a unique pattern:
27-13 to Denver in the 2005 Divisional Round
38-34 to Indianapolis in the 2006 AFC Championship Game
17-14 to the NY Giants in Super Bowl XLII
33-14 to Baltimore in the 2009 Wild-Card Round
28-21 to the NY Jets in the 2010 Divisional Round
21-17 to the NY Giants in Super Bowl XLVI
28-13 to Baltimore in the 2012 AFC Championship Game
Did you catch it?
Four of Brady's not-so-Magnificent Seven losses came to teams that would eventually win the Super Bowl.
So hidden in Brady's recent postseason mediocrity if the fact that he was beaten by the best team/defense in the NFL more often than not. And, as we know, in both Super losses to the Giants, Brady walked off the field with the lead and less than two/four minutes to play.
In the 38-34 loss to the Colts, the Patriots' gave up 32 points in the second half before Brady's final pass of the game was intercepted with 16 seconds to play.
Brady's mistakes have been epic, however. He began Super Bowl XLVI with a safety after intentionally grounding the ball from the end zone. His pass to Wes Welker with 3:48 to play wasn't perfect enough. His numbers in these seven losses have been anemic. You can check his entire post-season game log right here. [We'll wait.] His lowest passer rating came in the 2009 loss to the Ravens [a Mark Sanchez-esque 49.1], when he was 23 of 42 for only 154 yards with two TDs and three INTs. Overall in these seven losses, Brady has connected for 10 TDs and thrown 10 interceptions.
Ugly stuff.
So does this spell doom? It is time to cancel those reservations for the Bud Light Party Ship and put away the Penicillin, birth control paraphernalia and Dramamine? Is Brady forever cursed by Gisele? Will the Duck Boats stay on their regular schedule?
Not quite.
The Patriots have evolved this season to the point where their offense is no long dependent on Brady throwing for 300 yards and leading them to 30-something points. Necessity, the mass departure of Brady's Binkies and Rob Gronkowski's injuries have all been the fathers of invention. New England's running game is legitimate, even if it happened by accident. LeGarrette Blount actually runs downhill. Shane Vereen becomes invisible off those screens. And Stevan Ridley has stopped fumbling, at least for now. For the first time in nine years, New England's opponents have to game-plan for them running the ball and actually not fumbling it. Brady's arm and the go-for-broke, wide-open offense of 2007 have become as antiquated as that flip phone you used to text all that profanity after Super Bowl XLII.
This is where Brady is at his most menacing. Not when he's focus of the offense, but when he's no longer the center of attention. One play-action bomb on 2nd and 1 can once again shred the best laid-plans of any defensive coordinator or Pete Carroll.
There are no 1985 Bears, 2012 Ravens or 2007 New York Giants left on this winter's playoff radar. Brady and the Patriots have demonstrated what they can do to the Broncos. The NFC poses a much greater threat. Four the NFL's top five defenses [at least in terms of yards allowed] are still alive representing the NFC in the playoffs. Brady already worked his magic once against the Saints. And it's doubtful even Roger Goodell would let the Super Bowl end on a blatant pass/defensive interference non-call call. The Patriots offensively are markedly different than the team that played Carolina and New Orleans earlier this season. And Brady and Bill Belichick would have that Brady-Belichick advantage of facing a team for the second time in a season with two weeks to prepare.
The Seahawks would be 3,000 miles away from their earthquake inducing homefield advantage in New Jersey and are coached by Pete Carroll. That leaves the 49ers. A coin flip, but take the Patriots and the seven points.
We discussed Brady's Biological Clock in Week 2. He's now 36 going on four rings. Three or four years [depending on injury] are all that's left of his productive days in New England.
Remember this fury against the Jets: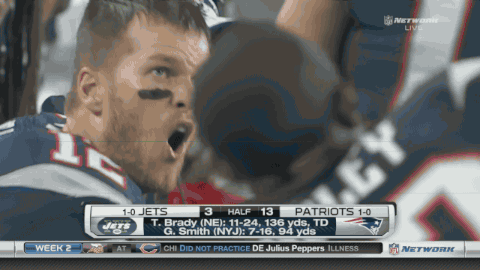 Brady's Biological Clock been ticking louder and louder with each passing season. But the ticks have become tocks and f-bombs in 2013. Brady's anger and frustration raged earlier this season but it has mellowed. He's traded most of his errant passes for hand-offs, keeping himself well preserved in the process. Brady hasn't entered the "twilight of his career," but it's well past five o'clock.
Thankfully for the Patriots, it's not longer all about Brady when it comes to their offensive [not offensive] play calling. Credit Josh McDaniels in part for that, along with all those other circumstances. But it's still all about Brady whenever the Patriots play.
The good news after Saturday night, Brady will no longer be stuck at .500 since beating Jacksonville in the first round of the 2005 playoffs.
The bad news, Brady and the Patriots may find out the one thing worse than being 7-7 since then.
That would be 7-8.
We'll all need a drink if that happens.
Got a news tip, want to let me know directly what you think, or have a complaint or compliment about my "aggressively relevant" content, hit me up on our Obnoxious Boston Fan Facebook page, on Twitter @realOBF or e-mail me at obnoxiousbostonfan@hotmail.com. Don't forget to visit our Obnoxious Boston Fan blog. Thanks always for reading and pass the clicker.
About the author
Obnoxious Boston Fan offers a fun, unique and biting perspective on the Red Sox, Celtics, Bruins, Patriots and whatever else people are talking about in the world of sports. We
More »
Blogroll
If you're reading this list - then you already know about the other talented folks on Boston.com and BostonGlobe.com. Here are some others across the digital spectrum that you might enjoy (in no particular order):
Columnists and insiders
On the air
Get updates
Browse this blog
by category