Posted by Obnoxious Boston Fan
September 21, 2013 11:24 AM

The undefeated Patriots haven't played since last week's poll, but they continue to tumble down the NFL charts.
They're holding on to the fourth spot in our poll this week, just barely.
Tom Brady and his fix-it-on-the-fly offense was blessed this season by the scheduling gods. It's as if someone on Park Avenue knew that Brady would lose all his favorite targets in the offseason and would need what amounts to seven preseason games to figure it all out.
The Bills, Jets and Bucs. That's a 3-0 start if Brady is throwing to you, me and Mayhem.
Right now, Brady is ranked 22nd in ESPN's Total QBR chart among NFL passers with a score of 45.5. That puts him behind such stellar field generals as Terrelle Pryor, Jake Locker and EJ Manuel.
It's enough to make anyone scream, even if you're the handsome part of the second-highest-earning celebrity couple [$80 million last year, just behind Jay-Z and Mrs. Carter at $95 million].
New England's defense has looked stellar against not-so-stellar competition. If fans ever wanted proof that the defense can gut-out a victory while the offense sputters, last Thursday's game against the Jets was evidence beyond a reasonable doubt, at least from defensive end Rob Ninkovich, who was in for all 71 plays, and Aqib Talib, who had two interceptions and a forced fumble.
Brady has vowed better body language and a milder temper this week when dealing with the kids, namely his two rookie receivers. Any struggles against the Bucs will put that vow to an early test.
The Patriots' offense won't be the only nationally televised car wreck in New England on Sunday. The Sylvania 300 goes green at New Hampshire Motor Speedway Sunday a little after 2 p.m. [ESPN]. It's the second race in the Chase for the Sprint Cup.
The irony here is that the drivers racing around Loudon's "Magic Mile" at the largest sports venue in New England face a lesser threat of injury than those titans of the gridiron will in Foxborough.
That wasn't always the case. Adam Petty was killed in a crash at the Speedway in May of 2000 while testing. Two months later, Kenny Irwin Jr. crashed and died during testing on the same track at nearly the same spot. His death was followed seven months later by that of Dale Earnhardt at Daytona. After Earnhardt's death, NASCAR got deadly serious about driver safety, mandated head-and-neck restraints, installed soft-walls and implemented a series of other precautions that have kept the sport free of such tragedies at the Sprint Cup level ever since.
No NFL player has ever died immediately as a result of an on-field hit [Chuck Hughes suffered a fatal heart attack while playing for the Lions during a game in 1971]. There's a mountain evidence that pro football, however, has eclipsed auto racing and every other competitive endeavor as the most life-threatening sport in America.
Contact sports, whether the uniform is made of sheet metal, steel and carbon-fiber or pads, helmet and an officially licensed jersey, mean injury.
NASCAR drivers go to work on Sundays knowing the risks of driving 180 MPH three-wide heading down the home stretch. There are always pre-race prayers and final hugs for wives, girlfriends and children. NFL players, too, suit up aware that one hit may end their season or career.
The NFL should take a page out of the NASCAR playbook in how to handle this perception and reality of player safety. It took the loss of the sport's most dynamic and beloved/hated driver for safety devices like the HANS device to become commonplace in NASCAR. In the past 12 years, NASCAR has done everything possible that's known to mitigate what is an inherently a dangerous sport.
There's no real evidence anywhere that NASCAR is not doing something it should be doing to protect its drivers. Its fans, on the other hand, continue to be at risk from flying tires and crash debris, as we witnessed the day before this year's Daytona 500. Bigger, higher and stronger fences will help to fix that.
There are, no doubt, technological advances to come in the future that will make the sport even safer for its drivers.
When it comes to player safety, the NFL is where NASCAR was a decade or so ago. There's much than can be done. NASCAR evolved from leather helmets, to open-faced helmets [see Earnhardt] to the space-suit like outfits worn by Matt Kenseth and Jimmie Johnson.
It's time for the NFL, colleges and high schools to consider taking a step backward in that area.
The helmet, just by its nature, gives any football player, solider or fireman a feeling of protection, if not invincibility. Football helmets these days are too good. Players deliver hits and don't feel a thing, until their 40th birthday. There are no more cuts, gouged eyes, facial bruises, broken teeth or smashed jaws. All the smaller injuries that made sure the head was not used as weapon have been eliminated. Boxers and MMA fighters feel every blow. The pain usually doesn't catch up to football players for days, weeks or years.
While asking for a return to leather helmets might be too much, there must be something available that can fix the current situation.
We don't need to lose the NFL's equivalent of The Intimidator for that to finally happen.
Here are this week's rankings, with the team's record and last week's rankings in parenthesis.
________________
1. Seahawks (2-0: 3) - The Seahawks broke the Guinness world record for the loudest crowd cheer ever Sunday night against San Francisco.
And then did it again.
The fans at CenturyLink Field proved they were the loudest in the world when Michael Bennett sacked Kaepernick with 1:15 left in the first quarter. The noise on that play was 131.9 decibels, passing the previous record of 131.76 by a soccer crowd in Istanbul back in 2011.
Midway through the third quarter, during a goal-line stand that stopped the 49ers, the noise reached 136.6 decibels, according to the Seattle Times.
Just imagine how loud the f-bombs will be across New England if the Patriots lose this weekend to the Bucs?
2. Broncos (2-0; 2) - The pressure will be on the Broncos' defense to pitch a shutout and Peyton Manning not to throw a pick-six this week. A Colorado appliance store has offered customers who buy products from their stores this week a full refund if the Broncos shut out the Raiders this week. The company pays between $20,000 and $40,000 each year for insurance that will cover the cost should the Broncos come through. The Appliance Factory told ESPN.com it expects to do between $1.2 million and $1.4 million worth of sales when the promotion is running. Any item sold for between $399 and $3,000 is included in the promotion.
Speaking of the Manning Brothers and last week's Manning Bowl III, here's one example of brotherly love you'll wish you could un-see:
[via Deadspin and SI.com]
3. 49ers (1-1; 1) - When you lose, this happens.
Of course, it didn't "really" happen after the game. The faux bet between Colin Kaepernick and Russell Wilson earned some nice pub for EA Sports but just proved that you can't believe anything you see on-line these days.
Except this column.
4. Patriots (2-0; 4) - If being ranked this close to the Dolphins doesn't inspire the offense, nothing will.
The bill for the game-ending melee between the Patriots and Jets a week ago Thursday will cost the participants a total of $72,000. Jets Willie Colon was fined $34,125 for two violations -- $26,250 for physical contact with a game official and $7,875 for punching a player, and D'Brickashaw Ferguson was fined $15,000 for punching a Patriot. Vince Wilfork, second-year cornerback Alfonzo Dennard and rookie defensive end Michael Buchanan were each fined $7,875 for unnecessary roughness.
Both teams were also fined an undisclosed amount for torturing fans who sat through last Thursday's game.
5. Dolphins (2-0; 11) - Ryan Tannehill is the best QB in the AFC East not named Tom Brady. He's also developing into the answer of a trivia question: Who was the starting quarterback at Texas A&M before Johnny Manziel?
6. Chiefs [sorry if you're offended] (3-0; 21) - This team's turnaround under Andy Reid already a candidate for NFL "feel-good" story of the year. Kansas City has already equaled the number of its victories from last season and there's still another week left in the baseball season.
7. Texans (2-0; 5) - Of all the undefeated teams in the NFL, the Texans are one of them.
8. Falcons (1-1; 6) - One more domino in the way of the Mighty Dolphins.
9. Packers (1-1; 7) - Aaron Rodgers threw for 480 yards last week and four touchdowns as Green Back racked up 580 yards of total offense. But that was against the Redskins [apologies if you're offended] defense. The host Bengals defensive front and linebackers could make this a very long Sunday.
10. Saints (2-0; 15) - The return of the "Honey Badger" [Arizona rookie safety Tyrann Mathieu] to Louisiana play the Saints adds a nice story-line to another wise NFL snoozer.
11. Bears (2-0; 20) - Howie Long's son, Kyle, is a rookie linebacker for the Bears. That's all I got this week.
12. Ravens (1-1; 12) - Joe Flacco missed the birth of his second child last Sunday. Daniel Flacco was born at 11:30 a.m. in New Jeresy, less than two hours before his dad began his game and eventual victory against the Browns in Baltimore. Mom went into labor at 5:30 a.m. but Sunday was business as usual for Flacco. Naturally, he got some flak for his decision not to drop everything and be at his wife's side. Flacco earned $1.25 million [based on his average salary] by playing. That should cover any therapy Daniel may need down the road, plus the rest of his lifetime expenses.
13. Bengals (1-1; 14) - Looked like a bunch of cool cats on Monday night against Pittsburgh. And that running back, No. 42, BenJarvus Green-Ellis is pretty good. And he never, ever fumbles.
14. Cowboys (1-1; 13) - Tony Romo has been roughed up in Dallas' first two games and needed to get a shot before last week's game against Kansas City. So where do we go to find out his status for this week against the Rams? Where else, to owner Jerry Jones. He told a Dallas radio station Friday Romo is "a hundred" percent healthy this week.
Perhaps we need to check in with Bob Kraft each time Brady is listed as "questionable."
15. Colts (1-1; 9) - Visit San Francisco this week. Andrew Luck will shave Kaepernick's other eyebrow if the Colts win.
16. Lions (1-1; 15) - Reggie Bush is questionable this week against the Redskins [apologies if you're offended]. But there was no official word on his status from team owner William Clay Ford, Sr.
17. Chargers (1-1; 25) - Season may have peaked with win at Philly last week.
18. Eagles (1-2; 20) - Reid gave the Eagles fans something to cheer about Thursday night, namely his return to Philadelphia. Then his Chiefs promptly beat the Eagles and left town.
19. Titans (1-1; 22) - Bernard Pollard has emerged in Tennessee this season and he's back at his old dirty tricks. Pollard was fined $42,000 by the NFL for his thuggery/shoulder-to-head hit on Andre Johnson on the sideline during the Titans' OT loss to Houston last week.
Pollard even offered a solution on how the NFL can cut down on injuries to offensive players. "If you don't want us to play defense, don't call us defense and take us off the field," he said this week. "Just let them go against air. Let's see what that do to the ratings of this game."
Or Pollard could just retire.
20. Rams (1-1; 18) - What can you say? Not much.
21. Steelers (0-2; 13) - The Browns can only keep them out of sole possession of last place in the AFC North for so long.
22. Redskins [apologies if you're offended] (0-2; 16) - More like RG 0-3 if Ndamukong Suh and the Lions get their way this week.
23. Giants (0-2; 17) - Horrible news this week. Tom Coughlin's only brother, John, died unexpectedly this week at age 63. He had been a fixture on the Giants' sidelines at their home games during Coughlin's reign. It's impossible to judge how people deal with such a loss. For Coughlin, he's been business as usual this week prepping the Giants for their game against Carolina. John Coughlin's funeral is next week. Condolences to all in Big Blue Nation.
24. Vikings (0-2; 24) - Adrian Peterson has put his name on a new fitness and sports training app for aspiring athletes. That and 10 million hours of exercise will make you play like Adrian Peterson.
Meanwhile, here's what a 105-yard kickoff return looks like, courtesy of Cordarrelle Patterson and SI.com: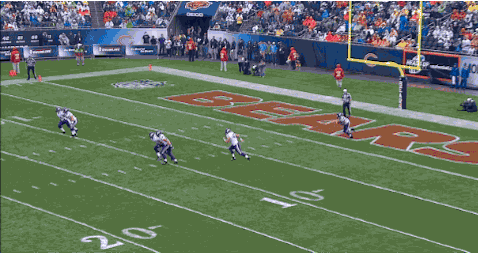 25. Cardinals (1-1; 25) - Now we know what happened to the "Honey Badger."
26. Panthers (0-2; 26) - Coach Ron Rivera called out his players this week after they lost 24-23 to the Bills. Next, comes the "vote of confidence" from ownership, before the rumored firing and eventually the Tweet, press release and press conference announcing a new coach around week 10.
27. Bucs (0-2; 23) - There's not enough room under the bus for both Josh Freeman and coach Greg Schiano. So long, coach.
28. Raiders (1-1; 30 - No one will ever say they got an upset win over Jacksonville.
29. Bills (1-1; 29) - Appear to be a lock for third in the AFC East.
30. Browns (0-2; 28) - Trent Richardson lost two games during his two weeks with Browns this season. That was one more loss than he had during his final year at Alabama. He's got to be thrilled with his trade to Indianapolis. That deal not only signaled the end of the 2013 football season in Cleveland, it was also the hottest NFL topic of the week. The league is still No.1 in our hearts.
31. Jets (1-1; 32) - Manziel, A.J. McCarron or Teddy Bridgewater?
32. Jaguars (0-2; 31) - Manziel, A.J. McCarron or Teddy Bridgewater?
Don't forget to visit our Obnoxious Boston Fan blog. As always, let us know what you think. Post your thoughts here, on our Obnoxious Boston Fan Facebook page, on Twitter @realOBF or e-mail me at obnoxiousbost onfan@hotmail.com.
About the author
Obnoxious Boston Fan offers a fun, unique and biting perspective on the Red Sox, Celtics, Bruins, Patriots and whatever else people are talking about in the world of sports. We
More »
Blogroll
If you're reading this list - then you already know about the other talented folks on Boston.com and BostonGlobe.com. Here are some others across the digital spectrum that you might enjoy (in no particular order):
Columnists and insiders
On the air
Get updates
Browse this blog
by category