Posted by Obnoxious Boston Fan
September 15, 2013 05:00 AM
The Red Sox will honor Yankees reliever Mariano Rivera before Sunday night's game at Fenway Park. Rivera played his entire major-league career with professionalism, class and respect for his opponents and teammates. He's definitely not NFL material.
The Red Sox will present Rivera with a gift Sunday, perhaps second base from Game 4 of the 2004 ALCS.
Then New York Jets offensive center Nick Mangold will sprint out of the dugout and take out Rivera at the knees when he walks off the field.
Or maybe not.
That lack of sportsmanship and class would be a nice follow to Mangold's attempted knee-capitation of Aqib Talib from behind at the end of Thursday night's miserable 13-10 victory over the Jets.
Talib picked off a Geno Smith pass and, like a wise NFL veteran, stayed bounds as long as possible before dancing his way off the field, icing New England's mathematical triumph.
This did not sit well with Mangold, who tried to do what that PED suspension couldn't do to Talib last year, namely end his career or put it on indefinite hold.
The teams came to blows in the aftermath of the play, with offensive lineman Willie Colon making contact with an official and D'Brickashaw Ferguson throwing a punch. It was the only punch provided by the Jets' offense.
The Patriots' offense was worse, especially since they actually have both a legitimate veteran quarterback and postseason expectations.
"I was tired of losing," Colon said. "And we just can't have it. I don't remember ... I was trying to get in there and help my brother and that is why I reacted the was I reacted."
Usually taking a swing at your opponent after the game is out of reach is usually considered one of the not best ways to respond to losing.
Mangold's cheap-shot and the ensuing melee set off Patriots coach Bill Belichick.
"I made the tackle. He was obviously along the sideline and I thought he was still in inbounds. I thought it was a good tackle and apparently it was not and that's how they saw it and it started a little ruckus," Mangold told the New York Daily News. "Obviously it's an intense game and an intense rivalry and tempers flare."
Patriots' lineman Logan Mankins, speaking on the CSNNE post-game Patriots' postgame show, had a much more concise and accurate assessment of the hit. "They took a cheap shot," he said in his weekly sponsored appearance. "It was on the wrong sideline to do that so we were standing up for our guy ... Since the Jets did it, was dirty. If I had done that, it would have not been dirty."
Welcome to the "No-Spin Zone."
Any official word on a possible fine for Mangold won't come until Monday at the earliest.
Cheapshots and childish antics have spread through the NFL and college ranks like PED usage or Johnny Manziel autograph signings.
Mangold's desperate dive was mild compared to some of the other lowbrow hits that have emerged in the league of late. The NFL's push to cut down on concussions via penalizing helmet-to-helmet hits or blatant head shots [see the league's $765 million legal settlement with its retirees] has created a new breed of "fake tough" players.
Many receivers and other skill players have lost the fear of going over the middle that they once had. And where defenders used to aim high to tackle, without necessarily using the helmet to hit the opposing player's head, they now the fear being penalized or fined for even incidental head-to-head contact. That means shots to the knees are becoming more common place even as offenses try to exploit these new rules.
"Wide receivers are crossing through the middle of the field and laughing," former Patriots' safety and All-Universe Cheapshot Artist Rodney Harrison, who now works for NBC, told The Wall Street Journal earlier this month. "It's a joke now."
Where defensive players once focused solely on hits, they now have to factor in fines. "Now their concern is looking up after every play and saying, 'I can't afford $30,000,'" Harrison said. "The entire league has realized these guys have had to change their temperament, and offenses have changed their whole approach."
That focus on the knees has snowballed and spread throughout the league.
Detroit Lions defensive tackle Ndamukong Suh, he of the infamous Thanksgiving 2011 head stomp and 2012 Matt Schaub groin kick, was fined $100,000 by the NFL for his low hit on Vikings center John Sullivan following an interception last week. The flag cost the Lions a touchdown. He's appealing the suspension and Suh's agent says his player was just making a routine play. The play was in a different part of the field as the Mangold hit, but was similar in its childhood cheapness.
Harrison once said he suffered roughly 20 concussions in his NFL career, or at least that's what he remembers. The insidious nature of these injuries has left the NFL with little head room to maneuver when trying to balance the basics of the game, such as hard hits over the middle, with concerns for players' long-term health, litigation and public perception of the sports.
Perhaps a few knees are an acceptable price to pay.
Green Bay Packers linebacker Clay Matthews went right for the head and was fined $15,000 for his Week 1 on San Francisco 49ers quarterback Colin Kaepernick. Before last week's game, Matthews had spoken about putting "hits as early and often on the quarterback."
The NFL levied $321,750 in fines after Week 1.
While the Patriots continue to shift through the debacle that was Thursday's victory, they can at least take pride that they've avoided inclusion on the 2013 regular-season fine list.
Here are this week's rankings, listed with the team records and last week's records:

1. 49ers (1-0; 1) - Manziel did everything but win Saturday. No. 1 Alabama beat Manziel and Texas A&M 49-42. Johnny Football threw for 464 yards, amassed another 98 on the ground, completed 28 of 39 passes and connected on a pair of TD passes, including a 95-yarder. He even did some Kapernicking.
Johnny Manziel #Kaepernicking. pic.twitter.com/tvBDIj7oSX

— San Francisco 49ers (@49ers) September 14, 2013
What did the 49ers' QB think of Manziel lifting his signature move with his signature arm?
#Salute to @JManziel2 for kaepernicking..... Keep ballin the rest of the season!

— Colin Kaepernick (@Kaepernick7) September 15, 2013
2. Broncos (1-0; 2) - Peyton Manning is playing against his brother Eli today in New York/New Jersey. They won't be on the field at the same time and both play the same position, but that doesn't matter. It does give us an excuse to bring back these SNL classics. Pick which one you like best:
Here's Peyton in "Big Brothers" [click to play]:
Or Eli in "Little Brothers" [click to play]:
The way Peyton dressed down his receivers in that skit reminds me of a certain QB the other night in Foxborough. Thankfully for his "kids," he didn't have the option of penalizing them in a Port-O-Potty.
3. Seahawks (1-0: 4) - The Seahawks are out to set a Guinness world record for the loudest crowd cheer ever. The record to beat is 131.76 decibels, set during a 2011 soccer match in Turkey.
This may be the highlight of this non-Patriots Sunday - unless Peyton and Eli get into a fist fight at the Manning Bowl III.
Here are the details:
The Seahawks' 12th Man has been measured at "112 decibels, louder than a power saw or a rock concert, and not much quieter than a Boeing 747."
Sunday's attempt will be staged, according to the Seattlepi.Com:
Fans will be directed by the stadium's big screens when an attempt is about to begin.


Fans will have, at the most, three attempts to break the record.


Guinness will have an official "adjudicator," dressed in an official Guinness World Records suit, on the sidelines with a Guinness-approved sound meter.


Fans can use their voices and any analog noisemakers, but no electronically amplified sounds.


The adjudicator will use his or her judgment to determine the loudest sustained decibel level.


Fans should know almost immediately whether they have broken the record
The loudest noise measured in Foxborough Thursday night was actually 326 decibels, but that was just from Tom Brady and Rex Ryan cursing on the sidelines.
4. Patriots (2-0; 3) - Yes, they won. Yes, they slipped a spot. That's only because no other team has elevated itself to crack the NFL's elite. Expect the bottom to fall out if New England somehow loses to the Bucs next week at home.
The Patriots are probably the worst 2-0 team in NFL history - at least since the 2011 Bills.
At least their two rookie receivers have a pair of well-earned nicknames:
I've created a monster. Well done RT @the_real_ced: Jerry, which one are you ordering?? pic.twitter.com/msLv0fDtRz?

— Jerry Thornton (@jerrythornton1) September 13, 2013
5. Texans (1-0; 8) - J.J Watt had 11 tackles in two games against the Titans last season. That should be no problem this week.
6. Falcons (0-1; 5) - Activate Matt Ryan this week on your fantasy squad.
7. Packers (0-1; 6) - Here's a look at the Matthews late hit/cheap shot he delivered on Kaepernick.
It came at the end of a Kaepernick scramble near the sideline in the second quarter of the 49ers' 34-28 victory. The play triggered a scuffle on the sideline.
Soup Boy would not talk about the hit. "Next game!" Matthews said Thursday. "I'm an awesome player, not a dirty player."
Isn't that what Harrison said?
8. Cowboys (1-0; 13) - It might not be as loud as Seattle, but the Cowboys pumped up the volume during practice this week to get ready for their game at Arrowhead Stadium this week.
9. Colts (1-0; 11) - Battle of the Undefeateds against Miami this week. 1972 Dolphins have the champagne on ice.
10. Saints (1-0; 15) - Drew Brees has averaged 380 passing yards in his past two games at Raymond James Stadium. A billboard near Tampa International Airport on I-275 this week showed a photo of Brees and Tampa Bay's Darrelle Revis with the headline "No Fly Zone." Thinking the Saints will be cleared for takeoff Sunday.
11. Dolphins (1-0; 16) - Primed to emerge in the AFC East if the Patriots don't shake things up offensively.
12. Ravens (0-1; 9) - Super Bowl champs home opener against Cleveland. Party time.
13. Steelers (0-1; 10) - Early-season key division match-up in Week 2 vs. Bengals.
14. Bengals (0-1; 7) - "Hard Knocks" star James Harrison faces his old team Sunday. The last time he faced Steelers QB and former teammate Ben Roethlisberger in a game was back in college when Harrison was Kent State. Harrison sacked the-then Miami of Ohio QB four times in that 2001 game.
15. Lions (1-0; 17) - Last week, coach Jim Schwartz showed a clip from "Saving Private Ryan" to motivate his team. It worked as Detroit held Adrian Peterson to only two touchdowns in their 34-24 opening week victory.
16. Redskins (0-1; 12) - Battle of the Season-Is-Over-If-We-Start-0-2s this week against Green Bay.
17. Giants (0-1; 14) - Manning Bowl II back in 2010 inspired this from Massachusetts-native D.J. Steve Porter:
There was no update needed this time. Manning Bowl III kicks off at 4:25 p.m. on CBS.
18. Rams (1-0; 18) - The Rams were a sleeper pick by some to steal a playoff spot out of the NFC West this season. They get their chance to justify that speculation against the Falcons.
19. Bears (1-0; 19) - Turns out Brian Urlacher left the Bears because of the way the club handled his contract negotiations with him.
During an interview on "In Depth With Graham Bensinger", Urlacher said he was so upset and angered by the way the Bears presented their one-year, $2 million offer last spring that he passed on a deal he would have otherwise taken.
Sound familiar, Patriots' fans?
20. Eagles (1-0; 26) - Designer Vera Wang has redesigned the cheerleader outfits she originally created in 2003.
Considering these fans once booed Santa Claus, these women don't stand a chance.
21. Chiefs (1-0; 21) - Last season, we had Mark Sanchez and the Buttfumble. This season, we got Tyson Jackson's butt thanks to a stumble by Jacksonville's Brad Meester.
22. Titans (1-0; 27) - The most interesting story about the Titans this past week concerned former Titan Keith Bulluck, who was falsely accused of robbery after a cab driver tried to con him out of $100. When something of interest about a current player happens, we'll let you know.
23. Bucs (0-1; 23) - How did Revis get his own episode of "A Football Life" on NFL Network? Is this becoming the NFL version of "Dancing With The Stars?"
24. Vikings (0-1; 20) - Look for Peterson to run the ball.
25. Chargers (0-1; 22) - Travel to Philly after short week, made even shorter with East Coast start.
26. Panthers (0-1; 24) - Carolina's Tigers > Carolina's Panthers.
27. Cardinals (0-1; 25) - I liked them better in St. Louis.
28. Browns (0-1; 28) - Still waiting for the next Bernie Kosar.
29. Bills (0-1; 29) - This was the highlight for Buffalo fans in their Week 1 loss to the Patriots.
#Billsmafia AHHH YESS GAMEDAY!!!! pic.twitter.com/p7xtNr36oU

— Breyon Harris (@bre_88) September 8, 2013
I prefer the classic "Simpson 32."
30. Raiders (0-1; 30) - The Jaguars are in town. It will be impossible for anyone in Oakland to suffer through this game without being completely inebriated. They'll have to load up the kids on cough syrup.
31. Jaguars (0-1; 31) - Defense is on pace to score 32 points this year, thanks to a safety in last week's 28-2 loss to the Chiefs.
Here's what may be their second-best defensive play of the season, mascot Jaxson de Ville shoves Kansas City's Donnie Avery after he scored a touchdown.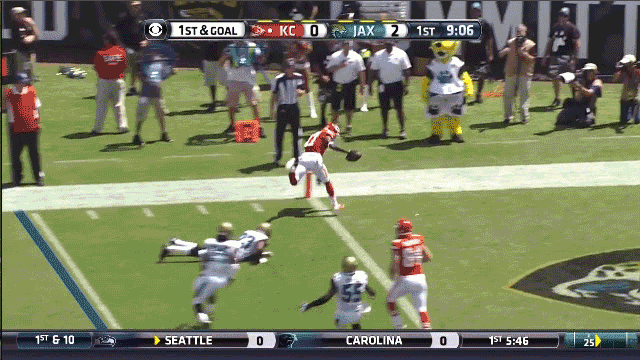 32. Jets (1-1; 32) - Another Jets quarterback controversy. Blah, blah, blah.
Meanwhile, losing to the Patriots ain't what it used to be.
Don't forget to visit our Obnoxious Boston Fan blog. As always, let us know what you think. Post your thoughts here, on our Obnoxious Boston Fan Facebook page, on Twitter @realOBF or e-mail me at obnoxiousbost onfan@hotmail.com.
About the author
Obnoxious Boston Fan offers a fun, unique and biting perspective on the Red Sox, Celtics, Bruins, Patriots and whatever else people are talking about in the world of sports. We
More »
Blogroll
If you're reading this list - then you already know about the other talented folks on Boston.com and BostonGlobe.com. Here are some others across the digital spectrum that you might enjoy (in no particular order):
Columnists and insiders
On the air
Get updates
Browse this blog
by category