Posted by Obnoxious Boston Fan
September 13, 2013 10:25 AM
Gisele was right.
Her husband still can't throw the ball and catch the ball at the same time.
Gisele BĂĽndchen has two children with Tom Brady, but it's his biological clock that's ticking these days. Louder and louder. Each dropped pass or missed route means another second has been wasted. At age 36, Brady knows his chances at another Super Bowl victory are dwindling at a Richter scale-increasing pace each year. Another lost season means another missed opportunity.
That fourth Super Bowl ring has been on the clock for nine years come February.
Thursday night, in the second quarter against the Jets, it appeared Brady reached his "I can't believe this is what they left me with" tipping point.
Aaron Dobson began his NFL career with a 39-yard touchdown reception from Brady. It was all downhill from there. Downhill as in off the edge of the Grand Canyon, re-entry into the earth's atmosphere or over the rail of Tobin Bridge.
Brady lost it when Dobson lost it, blowing a simple route that, had he executed properly, would have resulted in a touchdown in New England's hungover-Snooki-ugly 13-10 victory over the Jets.
With 5:10 to play in the first half on a 3rd and 5 from the Jets 12, Brady threw the ball. But Dobson ran an outside route instead of heading for the post.
He did not catch the ball.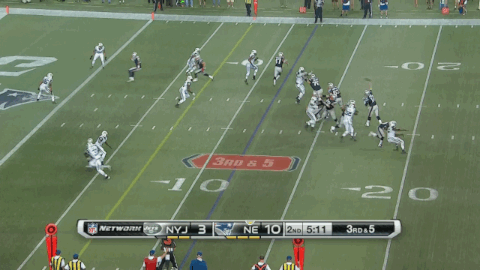 Brady couldn't believe his eyes.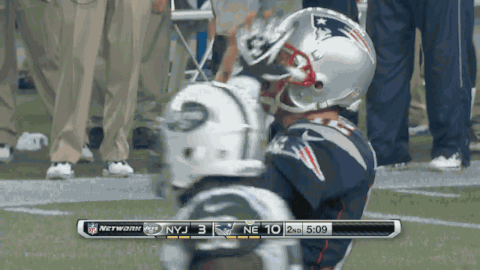 Then reality began to sink in.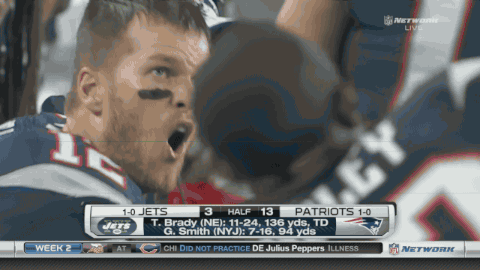 There was no word from Gisele. At least not any words we could print here.
The pace of Brady's biological clock seemed to quicken in the Off-season From Heaven and Hell. Management let Wes Welker slip through Brady's fingers in the offseason, along with Brandon Lloyd and Danny Woodhead. Rob Gronkowski's off-season surgery rehabilitation is expected to continue until at least week four. Aaron Hernandez did whatever he did to get himself arrested and charged with first-degree murder.
Meanwhile, Tim Tebow was unable to offer any salvation as a potential backup or wildcard option.
[Side note: Wifey is an attorney who went to law school in Boston, is licensed to practice law in three states and has been a member of the bar for 23 years. I am well-aware of the legal presumption of innocence in Hernandez's case. But that does not apply to the court of public opinion, the court of Roger Goodell and Robert Kraft or Brady being ticked off that no one on this team but Julian Edelman and Aqib Talib can catch the football.]
Brady's outburst and the visual daggers he fired at Dobson and Kenbrell Thompkins, among others, during the game drew post-game criticism from Troy Brown on the CSNNE post-game show and from Michael Irvin on the NFL Network. It's hard to argue with two Hall of Fame-caliber wide receivers, but they are also wide receivers and not quarterbacks.
Even Brady said after the game he needed to do a better job of keeping his "body language" in check.
Brady hasn't been this pissed since Gisele forgot to pack his Uggs. #Patriots

— Obnoxious Boston Fan (@realOBF) September 13, 2013
"I've got to do a better job with my body language," Brady said after the game. "I can definitely improve on that. I wouldn't say that's a real strong point of mine right now."
Don't be so hard on yourself, Tom. You had every reason to be pissed last night. And, in Brady's defense, his only demonstrably visibly outburst was after the missed route by Dobson documented above. [GIFs courtesy of Bleacher Report].
"Anybody seen Wes?" #Patriots pic.twitter.com/b5odJeGrk3

— Obnoxious Boston Fan (@realOBF) September 13, 2013
Those mistakes of commission are inexcusable. Rookie or no rookie, if Dobson is good enough to make the team, then he should be judged like anyone else on the field. Once a receiver has to think about where he's supposed to be, instead of instinctively running to that spot, he's cooked. The root cause for virtually any mental mistake in any profession can be found in a lack of preparation and concentration. On that count, Dobson and Thompkins will to have their days in the NFL defined as "Not For Long."
NFL Network showed a trio of Dobson drops before a cut-away in the fourth quarter. Veterans make physical mistakes all the time. [See Welker-to-Brady with 4:05 to play in Super Bowl XLVI]. Balls are dropped. But rookies like Dobson can't afford too many of them if they want to stick around in the NFL. Brady continued to target Dobson throughout the game, so he demonstrated faith in the receiver even if his body language didn't always show it.
Brady Postgame: "From now on, I'll be throwing passes behind my receivers or off their heads. This "hands" thing isn't working out."

— Obnoxious Boston Fan (@realOBF) September 13, 2013
The Patriots are 2-0. That's the good news. They could easily be 0-2 had they opened up against real teams like Denver and Atlanta instead of drawing Buffalo and the Jets on the early-season schedule.
After the game, Brady called the receivers "good kids" and admitted they are trying hard. But the "good job, good effort" mentality doesn't cut it over the long haul with Brady, the Patriots or their fans, all of whom expect a championship-level team each year as long as Brady remains healthy and in the fold. Fans are not being unrealistic or selfish, they're just following the expectations set by this team.
Brady is a leader. And leaders, whether they are on the football field, battlefield, sales floor, factory floor or dance floor, have to keep their cool or everyone will panic. In that sense, Brady screwed up Thursday.
But, Brady is not the coach. Nor is he allowed to buy the groceries in Foxborough.
He won't say Bill and Bob "f---d up big time by letting Wes leave over a lot less money than I saved them by restructuring his contract" Nor will he say stride up to the podium and mutter: "Aaron, WTF??? WTF!!!!!"
But you don't have to be a licensed psychiatrist to see those thoughts lurking in every curse, eye-roll and set of pursed lips.
The return of Gronkowski will be a 6-foot-6, touchdown-spiking, posing with porn-star boost at tight end. Danny "Man, You Thought Clay Buchholz Was Fragile" Amendola will have to stay healthy and contribute consistently if New England is going to fulfill its destiny and meet Denver in the AFC Championship Game. Thompkins, Dobson and the rest of the "kids" should, by default, learn and get better with each game.
None of that seemed to be on Brady's mind Thursday night. "We have a long way to go, so no one is coming to rescue and save the day," he said.
Or stop time, either.
Tick, tick, tick.
Don't forget to visit our Obnoxious Boston Fan blog. As always, let us know what you think. Post your thoughts here, on our Obnoxious Boston Fan Facebook page, on Twitter @realOBF or e-mail me at obnoxiousbost
onfan@hotmail.com.
About the author
Obnoxious Boston Fan offers a fun, unique and biting perspective on the Red Sox, Celtics, Bruins, Patriots and whatever else people are talking about in the world of sports. We
More »
Blogroll
If you're reading this list - then you already know about the other talented folks on Boston.com and BostonGlobe.com. Here are some others across the digital spectrum that you might enjoy (in no particular order):
Columnists and insiders
On the air
Get updates
Browse this blog
by category