So far, nearly every mock draft I've posted has kicked off with the Patriots grabbing a defensive tackle with the 29th overall pick. This time, I wanted to go a different direction, to at least entertain the idea that the Patriots could grab someone besides an interior defensive linemen to eventually assume the position as the heir to Vince Wilfork.
That being said, there are some long-term question marks for the Patriots on the interior of the other line — on the offensive side. Center Ryan Wendell is only back on a two-year deal, and without much guaranteed money, it is entirely possible that the Patriots could be looking to move on before the deal expires. Guard Dan Connolly has been discussed here and elsewhere as a potential salary cap casualty for his $4,083,333 cap hit in 2014; he is set to hit the open market in 2015.
Lo and behold, there were still more than enough viable options remaining at defensive tackle when the time came for the Patriots to make another pick.
Here's a look at the complete mock draft, with analysis for my Patriots' picks after the jump.

* * *
Notes: In this week's mock draft, I'm using the big board provided by Optimum Scouting. Throughout the column, I've embedded links to clips that show some of the traits I'm discussing.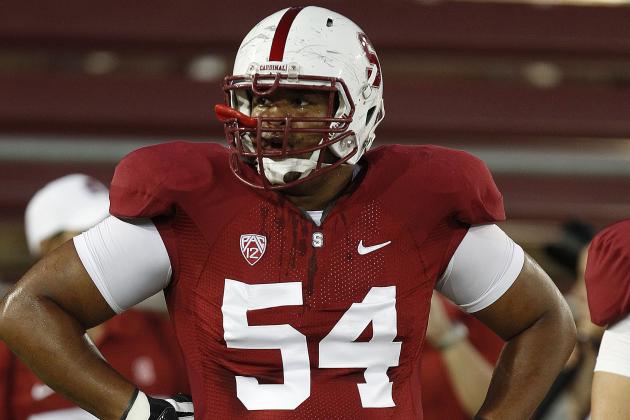 Round 1, Pick 29 — David Yankey (G, Stanford)
Yankey has the versatility to play both guard and tackle, and earned All-American honors at both spots (second team as a left tackle in 2012, first team as a left guard in 2013). He moves well on his feet whether executing a trap block, getting out in front of a screen play or simply getting to the second level in a hurry.
Questions about his strength and toughness are misplaced; he's not always knocking guys to the ground, but he knows how to control his man and he occasionally uses his punch to throw guys around. He's also good at using his long arms to redirect defenders away from the ball to create holes in the running game. His quick feet serve him well in pass protection, too, allowing him to shift spots and reset his feet with ease.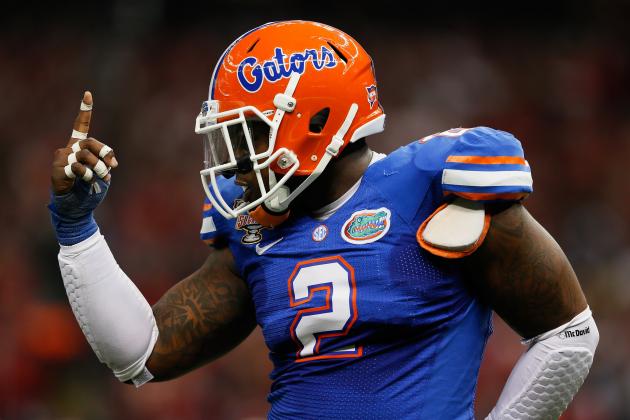 Round 2, Pick 62 — Dominique Easley (DT, Florida)
This marks the second mock draft with Easley as the second-round pick. He's a little undersized at 6-foot-2 and 288 pounds, and he is not known for his overwhelming power to contain multiple gaps, but instead for his quick burst off the snap, which he uses to make plays by breaking into the backfield. He had great hand technique as well, using his hands to ward off the hands of opposing blockers. The Patriots will love Easley's competitive streak and non-stop motor. He needs to learn to control his aggression, though, and can lose sight of the play or containment of his gap.
Round 3, Pick 93 — Tre Mason (RB, Auburn)
Going with Tre Mason for a second time, but the first time in a few weeks. And why not? He has all the tools to eventually be a three-down player for the Patriots; the only concern is whether he still has the tread left on his tires to handle such a role after touching the ball 535 times in the past three seasons. He has great stop-and-start quickness, hitting top gear within a few steps. He only caught 19 passes in his collegiate career, but the potential is there for more; he showed an ability to hit that top gear in open space and break off long gains. His presence would help the Patriots keep their options open with both Shane Vereen and Stevan Ridley set to hit the open market next offseason.
Round 4, Pick 130 — A.J. McCarron (QB, Alabama)
The Patriots have been consistently drafting a quarterback to replenish their backup spot for almost Tom Brady's entire career. In the past, it's been a late-round pick or an undrafted free agent. With Ryan Mallett, it was a third-round pick. Is McCarron the future at quarterback? Maybe, maybe not, but he has the tools to win a game or two if Brady goes down with an injury and has to miss time. His game is similar to Brady's and his ability to play within the offense will make him attractive to the Patriots.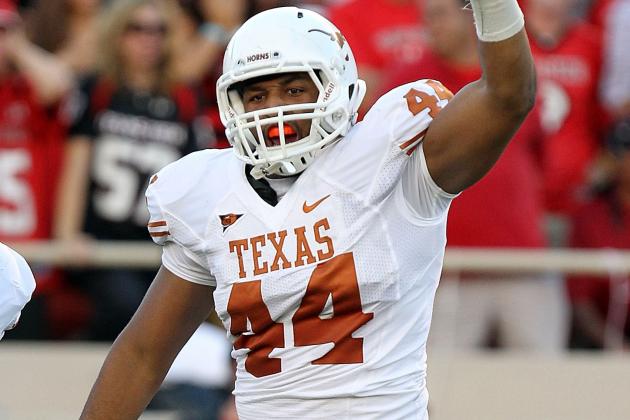 Round 4, Pick 140 — Jackson Jeffcoat (DE, Texas)
The Patriots still haven't signed a backup defensive end, so why not draft one instead? At 6-foot-3 and 247 pounds with 33 ⅞-inch long arms, Jeffcoat has the long frame and the lean build to be a situational pass-rusher in the Patriots' 4-3 defense. He also played outside linebacker in a three-man front at times, so he brings some positional versatility if the Patriots opt to bounce back and forth between the two schemes. He has good burst to get into the backfield off the snap, and knows how to keep an offensive lineman's hands away from him. He can even blitz the A-gap as an inside linebacker if needed. Give him some time in an NFL training program and he should add some size and strength in time.
Round 6, Pick 198 — Jonathan Brown (ILB, Illinois)
Jonathan Brown is not a big, physically imposing inside linebacker like Brandon Spikes, but he is just as effective at shooting gaps at the line of scrimmage — although Brown timed at 5.03 seconds in the 40-yard dash. He pursues well, but sometimes plays without discipline, though, in an attempt to make up for his lack of speed. The Patriots could also use some of his special teams experience, which they lost when Dane Fletcher signed with the Tampa Bay Buccaneers as a free agent.

Round 6, Pick 206 — Arthur Lynch (TE, Georgia)
If the Patriots are searching for a backup to Rob Gronkowski, they could certainly do worse than to use a late-round pick on Arthur Lynch. At 6-foot-5 and 258 pounds, Lynch has the big frame of a true "Y" tight end that lines up on the line and can add some punch in the blocking game. He's also hard to bring down with the ball in his hands, as his frame would suggest. He doesn't have the long arms of Gronkowski (32.5 inches), but he can still make contested catches and add another presence in the red zone. He has limited athleticism, but offers a balanced option to round out the depth chart at tight end.
Round 7, Pick 244 — T.J. Jones (WR, Notre Dame)
The Patriots may have a hard time finding room for him on the roster with so many other receivers, but his special teams ability could help him make a case as an insurance policy on second-year receiver Josh Boyce. His 6-foot, 188-pound frame isn't as physically imposing as some might like from a boundary threat, but he has the ability to work in space and savvy route-running to sell his routes and still get into his break. Jones doesn't have Boyce's timed speed or agility, but he does have some speed to make plays with the ball in his hands.
Final thoughts
This draft touched on pretty much all of the Patriots' biggest needs, now and going forward. Needs are an overrated element of the draft process, though. It's really about finding players with the potential to be starters. The first three picks all have a chance to start sometime in the next year or two, The fourth could be groomed to start in a few years. The rest can all contribute in smaller roles on the team.
Some fans might be upset that none of these players will be an immediate starter, but there's something to be said for bringing players along slowly and keeping the pressure off of them early in their careers.

Previous mock drafts:
Follow @ErikFrenz