There are two things on the minds of most Patriots fans when it comes to this year's draft: finding help for Tom Brady and finding depth on the defensive line.
This week's mock draft manages to accomplish both tasks.
The complexion of the draft has changed a bit, with the announcement of compensatory picks. The Patriots were rewarded with an extra fourth-round pick, the 140th overall pick in the draft.
Here's a look at the complete rundown of the mock draft, with analysis for my Patriots' picks after the jump.

* * *
Notes: In this week's mock draft, I'm using the big board provided by Walter Football. Throughout the column, I've embedded links to clips that show some of the traits I'm discussing.


Round 1, Pick 29 — Timmy Jernigan (DT, Florida State)
The Patriots may have re-signed Vince Wilfork to a new three-year contract, but they are still in need of a defensive tackle. Jernigan has the burst off the line and the strength at the point of attack to be either a one-gap or two-gap defensive tackle, depending on the assignment.
There are still some holes in his game, and his short arms (31 ⅝ inches) put him at a disadvantage when he's trying to shed blocks. He already has a number of moves that help him prevent offensive linemen from getting their hands on him, though, so he should be ready to start from opening day.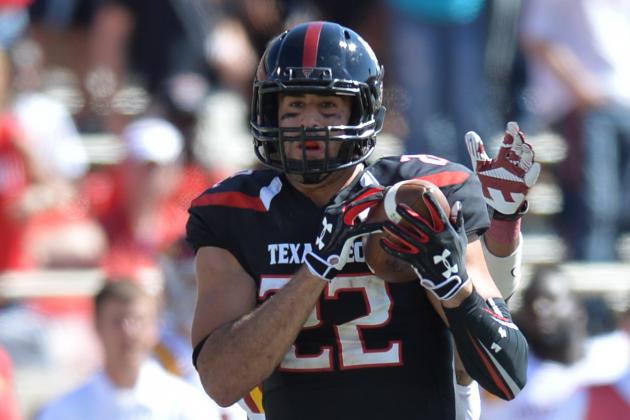 Round 2, Pick 62 — Jace Amaro (TE, Texas Tech)
He's a good downfield blocker on perimeter plays, but while his 6-foot-5, 265-pound frame suggests he'd make a good inline blocker, he hasn't spent much time in that role. Instead, he was utilized as a matchup nightmare in Texas Tech, using his combination of size, quickness, and speed to create problems for opposing defenses trying to figure out how to cover him.
He thrives running short and intermediate routes; he can pull away from defenders on drag routes, or fight through traffic to make a catch and gain extra yards. He doesn't play as big as his size, and while he can make some difficult grabs, he can also drop some easy ones. For the total package, Amaro would be a great find at this point in the draft.

Round 3, Pick 93 — Bishop Sankey (RB, Washington)
In today's NFL, the running back position has become all about specialization. Bishop Sankey would be a good choice if the Patriots want a back who is a jack of all trades but a master of none. He has a hard-nosed downhill style of running that allows him to break through arm tackles, but he is not reckless and will wait for the right holes to develop, then accelerate through the hole. With that said, he can put together long runs when he hits hole at full speed, but he sometimes hesitates too long before hitting the hole. He has a similar style of blocking — technically sound, patient and deceptively powerful. With over 700 total touches in his three-year college career, there are some concerns over how much tread is left on the tires, but his versatile skill set should make him an early contributor in an NFL offense.


Round 4, Pick 130 — Will Clarke (DE, West Virginia)
At 6-foot-6 and 271 pounds with 34 ⅝ inch long arms, his long frame is ideal for the 4-3 defensive end position. He does, however, need to learn how to put that frame to better use. CBS Sports' Rob Rang called Clarke a "poor man's version" of Patriots defensive end Chandler Jones, and the Patriots still need a rotational player to supplement their roster at the position. He has good burst off the snap to get past offensive linemen, and enough strength to get off blocks. He does a good job of bending the corner when he uses good technique, but he still needs to develop some more moves and doesn't always play up to his size. He can learn those moves with time, but he has the right build and physical tools, and would be well worth a mid-round pick.

Round 4, Pick 140 — Ed Stinson (DT, Alabama)
At 6-foot-3 and 287 pounds, Stinson is a little too big to be a defensive end in the Patriots' 4-3 scheme but he is also not heavy enough to be a traditional defensive tackle in that front. He projects most cleanly as a 5-technique defensive end (inside shade on the tackle) in a 3-4 defense. Bill Belichick will surely like his experience working under Nick Saban, and starting against SEC opponents.

Round 6, Pick 198 — Russell Bodine (C, North Carolina)
Went with Russell Bodine for a second time. Even after re-signing Ryan Wendell, the Patriots should still be in the market for more depth on the offensive line, particularly at guard and center. Bodine has the versatility to play both spots. He can move defenders off the ball when he gets inside their pads, and he put up 42 reps on the 225-pound bench press, the most of any offensive linemen at the combine. He has short arms (32 ½ inches), which leads to him being tossed aside at times by "longer" defensive linemen. He is tough and fundamentally sound, though, so he could find a home in New England as a late-round pick.


Round 6, Pick 206 — T.J. Jones (WR, Notre Dame)
Jones isn't a physically imposing receiver at 6-foot and 188 pounds, but he is a fluid and crisp route-runner with soft hands. He knows how to sell his routes to create separation out of his breaks. He also moves well in space, and can break long gains when he gets to the edge, but he sometimes tries to run before he secures the ball. He could quickly add depth to the Patriots' wide receiver corps, possibly as insurance on second-year receiver Josh Boyce.

Round 7, Pick 244 — Jeremiah George (ILB, Iowa State)
George is barely 6-feet tall in cleats, and at 234 pounds, he lacks the ideal size of a starting linebacker. Where George's contributions will be felt most strongly is on special teams. He is a good open-field tackler, and the Patriots may need a backup linebacker in that role after losing Dane Fletcher in free agency. Although he's not a physically imposing linebacker like Brandon Spikes, he can come downhill to stuff the run.

Final thoughts:
A new interior defensive linemen at the top of the draft, along with a new weapon over the middle for Brady. That seems like a great way to get this draft started. Sankey makes sense based on the lack of certainty around the long-term future of the running back spot. From there, this mock draft just piles on the depth: Two more defensive linemen, a wide receiver and a linebacker to finally build up the depth after losing Spikes and Fletcher.
We've hit on every major need. That's rare in the draft. So let's go ahead and assume this scenario won't happen.

Previous mock drafts:
Follow @ErikFrenz