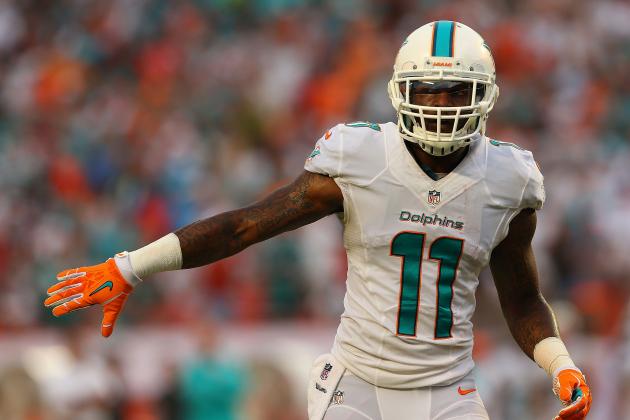 The Miami Dolphins invested in several high-profile free-agents in 2013, but they may already be hedging on their investment in at least one of those players.
According to CBS Sports' Jason La Canfora, wide receiver Mike Wallace is on the trading block, and teams are beginning to look into the possibility of acquiring the speedy receiver.
Fins have renewed attempts to trade WR Mike Wallace during the league meetings. Teams doing homework on him. Contract makes it a tough trade

— Jason La Canfora (@JasonLaCanfora) March 26, 2014
However, according to Armando Salguero of The Miami Herald, the Dolphins have not had any such talks with regard to trading Wallace.
The Dolphins have spoken to NO ONE about trading WR Mike Wallace -- not at annual meeting, not before annual meeting, not at all. Move on.

— Armando Salguero (@ArmandoSalguero) March 26, 2014
The Dolphins signed Wallace to a five-year, $60 million contract in 2013, and he is still owed most of that money. His cap hit in 2013 was $3.25 million, leaving the remaining $56.75 million to be paid over the next four seasons.
His cap hit for 2014 is a staggering $17.25 million. The Dolphins could have a hard time finding a team willing to take that on.
Wallace would count for $8.8 million against the cap in dead money if the Dolphins were to trade Wallace; his new team would assume his fully-guaranteed $15 million base salary and $2.2 million signing bonus. Releasing Wallace does not seem like an option, as it would result in $23.8 million in dead money ó $6.55 million more than it would cost to keep him on the roster.
Wallace established himself as a premier vertical threat when he was with the Pittsburgh Steelers from 2009-2012. As a rookie, he led the NFL with 19.4 yards per reception, and followed up by posting 21 yards per reception in his second season. His production has tapered off since the 2010 season, though, and his average yards per reception has dipped in each of the past three years.
In 2011, Wallace caught 41.7 percent of throws in his direction that traveled 20 yards or more through the air, according to Pro Football Focus. That number dipped all the way to a 19.4 percent catch rate in 2012, and to 16.7 percent in 2013.
"We've got to connect more on the vertical throws down the field," Philbin said at the owner's meetings, according to Chris Perkins of the Sun Sentinel. "Some of itís the timing between the two guys, some of it's ball location, some of it's on the receiver being in the exact right spot, the quarterback and receiver being on the same page. It's going to be a focal point for us moving forward. We've got to increase our explosive plays. We've got to score more points. We just have to. So that's a part of it. It's not the only part, but itís part of it."
Trading Wallace would not leave the Dolphins bereft of pass-catching talent. Brian Hartline remains the favorite receiver for quarterback Ryan Tannehill. Charles Clay emerged at the tight end spot and finished just seven catches short of Hartline's team-leading 76. Brandon Gibson was tied for second on the team in receptions (30) before he tore his ACL in Week 8.
Why give up on him so soon, though? At 27 years old, there is still plenty of time for him to establish rapport with Tannehill, and rediscover his old form.
The Dolphins could try again in a future year, when Wallace's cap hit and dead money charges will decrease substantially. Pulling the plug after one year seems like a hasty, ill-advised move.

Follow @ErikFrenz