The NFL draft is always full of surprises. Between the private meetings and the medical records, there is a lot of information available to the teams that is not readily available to the media.
Additionally, if there's a run of picks at one position, that could open things up for the Patriots to capitalize.
In this week's mock draft, there were five offensive tackles and five outside linebackers taken off the board within the 28 picks prior to the Patriots' selection. There were also three defensive ends and three wide receivers taken. Those four positions comprised 16 of the 28 picks, leaving plenty of talent on the board at other positions.
Here's a look at one possible if unlikely scenario in the draft.

* * *
Notes: In this week's mock draft, I'm using the big board provided by Fanspeak. Throughout the column, I've embedded links to clips that show some of the traits I'm discussing.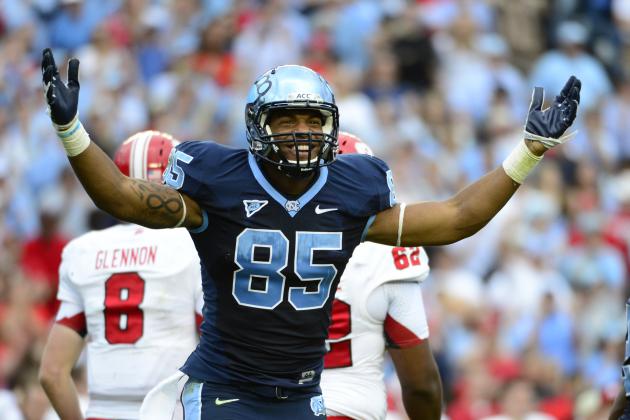 Round 1, Pick 29 — Eric Ebron (TE, North Carolina)
The Patriots suffered a lot of injuries in 2013, but one of their most devastating losses came last summer when Aaron Hernandez was arrested for the alleged murder of Odin Lloyd. North Carolina's Eric Ebron is considered a similar player on the field, for his athleticism and versatility. His 6-foot-4-inch, 250-pound frame helps him box out defenders and his long arms give him a massive catch radius. He ran a 4.6-second 40-yard dash at the scouting combine, and that speed shows up when he has the ball in his hands and also when he's running down the seam. He is not yet a polished blocker, but he shows flashes in that area.

Round 2, Pick 62 — Dominique Easley (DT, Florida)
The 6-foot-2, 288-pound defensive tackle is drawing comparisons to Bengals defensive tackle Geno Atkins, like so many other undersized defensive tackles. However, the comparisons seem more fitting for Easley than others. He is consistently getting into the backfield with a quick burst off the snap, and draws holding calls as a result of that burst. One thing that stands out about Easley is his non-stop motor. He never gives up, even when it seems like there's no chance to make the play. He has a tendency to get overaggressive at times, though, and can lose sight of the play or containment of his gap. He also struggles to fight off double-teams at times, but if he can fill out his frame with some bulk, he could improve his ability to anchor in those situations.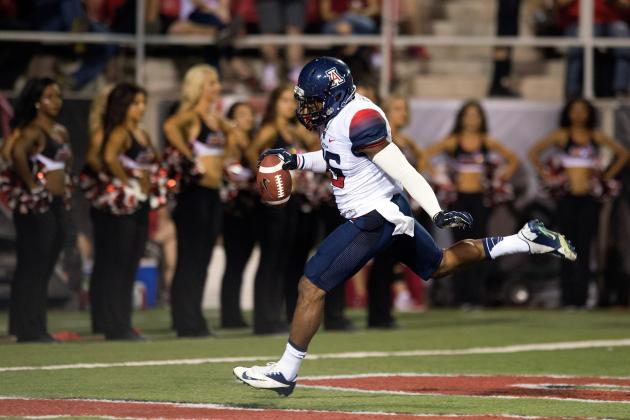 Round 3, Pick 93 — Ka'Deem Carey (RB, Arizona)
The Patriots could be in the market for running backs, with Shane Vereen and Stevan Ridley both set to hit free agency next year. Like Ridley, Carey was productive despite a lack of timed speed (4.7 second 40-yard dash) but he can still break long runs by getting to the edge, and he makes up for his lack of long speed by consistently hitting holes at full speed. He also has a similar flaw to Ridley in that he sometimes loses the ball while trying to gain extra yards. At 5-foot-9 and 207 pounds, Carey is narrower than expected and runs with a higher pad level than would be expected of someone of his height. There's also the question of whether he can continue to be productive outside of the spread system run by Rich Rodriguez at Arizona.

Round 4, Pick 126 — Brandon Coleman (WR, Rutgers)
Had to fit in at least one Rutgers player, right? At 6-foot-6 and 225 pounds, Coleman is the ideal size for an outside receiver. If the Patriots want a receiver who's going to create separation, Coleman's not the guy. He flashes the 4.56 40 speed he showed at the combine, but where he excels is at getting off a jam and making contested catches by using that big frame and extending his 34-inch long arms. He needs to discipline himself to catch more consistently with his hands instead of trapping the ball against his body, but that can be coached. Size can't.

Round 6, Pick 182 — Josh Mauro (DE, Stanford)
At 6-foot-6 and 271 pounds, Mauro looks the part of a 4-3 defensive end in the NFL. He anchors well against the run, but he doesn't have the first-step quickness to make life difficult for opposing tackles. Like Easley, Mauro has a motor that doesn't quit when it comes to chasing down plays. Belichick will love his versatility to play both inside and outside, as the Patriots have been searching for players to fill that role for years.

Round 6, Pick 190 — Ron Powell (OLB, Florida)
There will be a new middle linebacker in 2014, which will open up a bit of a logjam at outside linebacker. The Patriots have been searching for an athletic linebacker who can defend the run, cover tight ends and pressure in the pass-rush game. At 6-foot-2 and 237 pounds, he is a bit small to be a true defensive end, but he did rush the passer with his hand in the dirt at Florida. That kind of versatility will surely catch Belichick's eye. He's also good at shooting gaps from a two-point stance and has fluid hips when dropping into coverage. Powell would make a great backup for Jamie Collins, and could make a case for playing time as a movable piece in the Patriots' defense.

Round 7, Pick 221 — Zach Fulton (G, Tennessee)
Fulton was my seventh-round pick for the Patriots in my first mock draft, and he makes a return appearance this week. Fulton played exclusively right guard at Tennessee, so he lacks the positional versatility the Patriots usually covet in their backup linemen. He's not lacking in experience against top competition, though, with 40 career starts and plenty of work against SEC opponents. At 6-foot-5 and 316 pounds, he's a mauler in the running game, but not athletic enough to get out in front of plays as a lead blocker. He has raw talent, though, and could be molded into the kind of linemen the Patriots need.

Final thoughts
People banging the drum for more weapons for Brady will be satisfied with this mock draft, as there are two pass-catchers and three total skill position players on offense. The Patriots also get some depth to develop on the offensive and defensive lines.
In the end, this mock draft addresses pretty much all of the Patriots' biggest needs. The only one left on the table is the strong safety spot, but the Patriots could be looking to move Duron Harmon into the starting role after cutting Steve Gregory, who started 23 games for the Patriots over the past two years. Harmon started three games while Gregory was out with a thumb injury.
As always, readers are invited to use Fanspeak's mock draft simulator and share their mock drafts in the comments selection.

Previous mock drafts
Follow @ErikFrenz