Posted by Erik Frenz
March 17, 2014 07:00 AM
The dust has settled following the beginning of the 2014 NFL calendar and the opening of free agency.
Now that the signings have (and, in some cases, haven't) been made, teams around the league are beginning to get a better grasp on exactly what their needs are headed into the 2014 NFL draft.
The New England Patriots landed a pair of top-notch man cover cornerbacks in Darrelle Revis and Brandon Browner, but there are still plenty of holes to fill. The defensive line needs some new pieces, and the offensive line could use some reinforcements as well.
With the initial wave of free agency in the books, here are my thoughts on how a mock draft might break down using Fanspeak's mock draft simulator, which fills in the blanks for the other 31 teams while the user makes the selections for a team of their choice.
Here's the link to the final results of the mock draft, and check out a look at my picks after the jump.

* * *
Notes: In a recent addition, Fanspeak allows users to choose from three different big boards — from Fanspeak, Optimum Scouting and Walter Football — which each rank the prospects differently. In this week's mock draft, I'm using the big board provided by Eric Galko at Optimum Scouting. Throughout the column, I've embedded links to clips that show some of the traits I'm discussing.
Round 1, Pick 29 — Louis Nix III (DT, Notre Dame)
If the Patriots cut Vince Wilfork, as he has requested, they will need a nose tackle for the future. At 6-foot-2 and 331 pounds, Louis Nix is six pounds heavier than Wilfork.. Nix has a monstrous bull rush that's effective in helping him get into the backfield. He's not known for elite first-step quickness (1.87 10-yard split, 5.42-second 40-yard dash at the combine), but he's very good at maintaining his gaps, and often blows up plays as a result. If he's going to be the heir to Wilfork at nose tackle, he's going to have to do a better job of warding off double-teams.
Round 2, Pick 62 — Troy Niklas (TE, Notre Dame)
Niklas was already my second-round choice in the first mock draft, and is the choice again here. Niklas has similar traits to Rob Gronkowski, with a 6-foot-6, 270-pound frame and 34 1/4-inch long arms. His size makes him a great threat in the red zone, as he can box out defenders to make the catch. He doesn't have elite long speed, but he has solid first-step quickness off the line of scrimmage.
He is far more than just receiving tight end, though, and is one of the more well-rounded blocking tight ends in this years class, with quick feet in pass protection and willingness to get his hands dirty in the running game.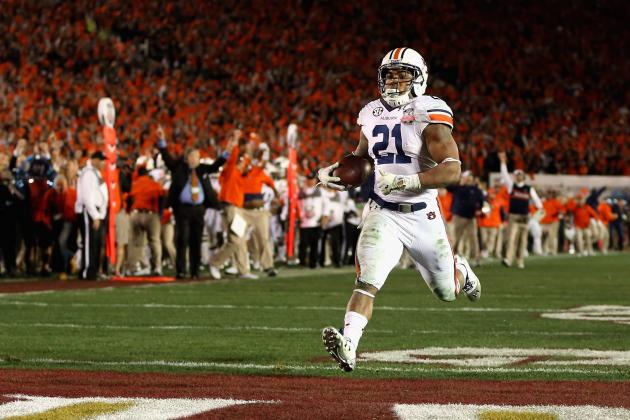 Round 3, Pick 93 — Tre Mason (RB, Auburn)
The Patriots may not appear to be in the market for a running back, but they could use some depth in the backfield if they plan to let LeGarrette Blount dangle in free agency too much longer. Shane Vereen and Stevan Ridley are both set to hit free agency in 2015, so the Patriots should be taking the long view in that respect.
At 5-foot-8 and 207 pounds, Tre Mason is a short, stocky back built similar to Ravens running back Ray Rice, with a low center of gravity and built-in pad level. He's not well-versed as a receiver, but he has flashed the ability to make plays with the ball in his hands, and he is solid in blitz protection. He's carried quite a load at Auburn, with 535 touches in the past three years, but view that as either a positive or negative — his extensive experience against SEC competition could help his transition to the NFL, or his tires could already be wearing thin.
Round 4, Pick 126 — Will Sutton (DT, Arizona State)
Any time an undersized, gap-penetrating defensive tackle comes along, he draws comparisons to Bengals defensive tackle Geno Atkins. As it turns out, that's exactly the kind of player the Patriots defensive line has been missing for years. Will Sutton doesn't have the timed quickness of other one-gap defensive tackles, but he has great burst off the snap and has a wide array of pass-rush moves to help him get into the backfield. He can get moved off the ball at times when he doesn't play with sound technique — one of the drawbacks of that small frame. He has positional versatility all over the line, and although he's a big man, no one will question his hustle in chasing down plays from behind.
Round 6, Pick 182 — Kevin Norwood (WR, Alabama)
If Bill Belichick is still as in love with the three-cone drill as he's been in recent years, Norwood should be on the Patriots' radar already. His 6.68-second finish in the three-cone drill was tied for fourth-best at the combine, but he also has some long speed to his game. He has the prototypical height for a boundary receiver at 6-foot-2, but he spends most of his time in the slot, and at just 198 pounds, he could stand to add some bulk to his frame. He doesn't always get separation out of his break, sometimes having to make contested catches as a result. His body control is also highly impressive. There are still some areas he needs to improve, including getting off jams, but Norwood has the potential and many of the traits that are characteristic of a Patriots receiver.
Round 6, Pick 190 — Marcus Martin (C, Southern California)
The Patriots still have yet to re-sign center Ryan Wendell. He could still be back, but the Patriots may be wise to develop some depth on the inside of the offensive line regardless. Martin is much bigger than the typical Patriots center at 6-foot-3 and 320 pounds. His versatility between the guard and center spots will make him a commodity in a Patriots offensive line that always likes to be stocked with movable parts. His experience in the West Coast offense of USC makes him great for getting out in front of the play, and he knows how to use his size and leverage in pass protection. He has a mean streak that makes him a force as a run blocker. There are some technique areas he needs to clean up, but with some time to grow in the Patriots system, he could grow into a contributor or even a starter.
Round 7, Pick 221 — Arthur Lynch (TE, Georgia)
Lynch is a very willing blocker, and although he's faced some questions about functional strength, hie put up 28 reps on the 225-pound bench press at the combine, tied for second-most at his position. He isn't going to make defenders miss in the open field, but at 6-foot-5 and 258 pounds, he's hard to bring down. That frame also helps him make contested catches and makes him one of those tight ends who is open even when he's covered. He's not going to win any awards for his athleticism, which gives him limited upside, but he immediately adds a well-rounded depth option to the offense.
Final thoughts
Most of the Patriots' remaining needs get addressed in this mock draft. The Patriots would probably still need to add a linebacker, a guard, and possibly a defensive end, but there's still plenty of time to add some pieces in free agency — and, if all else fails, they can turn to undrafted free agency to supply some competition in the battles for roster spots.
Defensive tackle immediately becomes the biggest need on the roster with the release of Wilfork, and backup tight end is still high on their list of needs even with the re-signing of Michael Hoomanawanui. Double-dipping at defensive tackle makes sense, since the Patriots have taken that approach at positions of need in the past.
Previous mock drafts
Follow @ErikFrenz
About the author
Erik Frenz delivers analysis of the biggest news with the Patriots, including insight into the AFC East and New England's biggest rivals from a Patriots perspective. Erik is an interactive writer who engages his audience in his posts' comments sections and on Twitter. Readers are encouraged to share their thoughts and ask questions.
More »
Get updates
Browse this blog
by category