Posted by David Lefort, Boston.com Staff
February 13, 2008 02:46 PM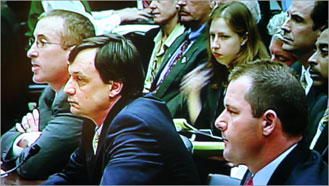 Some of the highlights from today's steroid hearings involving Roger Clemens and former trainer Brian McNamee, from the Globe's Gordon Edes, Boston.com's Eric Wilbur, and the Associated Press.
2:41 p.m.: The hearings have concluded.
2:35 p.m.: Chariman Waxman, while making his final remarks, had to gavel Clemens into silence as Clemens attempted to interrupt him. "This is not your turn to argue with me,'' Waxman admonished Clemens, as he was noting that both Chuck Knoblauch and Andy Pettitte confirmed what McNamee told Mitchell about their use of HGH, while Clemens said he was lying. Waxman also said to McNamee that he "took a lot of hits", which Waxman said in some cases were "unfair and unwarranted. I apologize to you for some of the comments that were made.''
2:26 p.m.: Rep. Elijah Cummings (D., Md.), whose questioning began all of this 4 1/2 hours ago, came back to how it is that Andy Pettitte and Chuck Knoblauch swore to the veracity of Brian McNamee's testimony that they used HGH but that somehow, in Roger Clemens's case, he was lying. Cummings told Clemens and McNamee that after all the testimony, if he came into the room today and everything was "Even Steven," he would be inclined to believe "Mr. Pettitte." Why would Pettitte and Knoblauch admit that McNamee's testimony was accurate, but Clemens does not? "Andy and I are close friends, we were plane travel mates," Clemens said. "If he misheard me, on the subject that I was talking about, some gentleman using HGH for quality of life, like I stated, then he misunderstood that. I'm telling you again that he should have had no doubt in his mind when he came into the locker room when the ... LA Times report was released, about having us implicated in that ordeal, he sat down and looked at me, I still at that time did not know ... again, he looked at me wringing his hands white as a ghost, and asked me, 'What are you going to tell them?', and told him I'm going out there to tell the truth, I didn't use any of this stuff, that alone should have took Andy off any kind of wavering about whatever he said."
"I take you at your word,'' Cummings said. "You say Andy Pettitte is an honest man. His integrity is impeccable. It's hard to believe you, sir. You're one of my heroes, but it's hard to believe you.'' Rep. Christopher Shays (R., Conn.) then tore into McNamee, calling him a "drug dealer.'' "That's your opinion,'' McNamee said. "No, you're a drug dealer,'' Shays said.
2:12 p.m. Rep. Virginia Foxx (R-North Carolina) opened her line of questioning by lamenting the direction the committee has gone in the past year, playing what she called, "Gotcha games."
"What this committee ought to be doing is government oversight hearings over this business that we have no business dealing with. But since we're here…"
Clemens asked Foxx if he could finally read a statement from his wife, Debbie, which Clemens tried to read to the committee this morning. In her statement, Debbie said she felt like a "pawn in his [McNamee's] game." Clemens also reiterated that he was offended over the assessment that he told McNamee to give his wife HGH.
When Foxx asked Clemens to detail his workout regime over the years, he started by explaining how he left the Red Sox in 1996, quoting Dan Duquette's "twilight of his career" remark. Clemens did not refer to Duquette by name.
"We'll leave his name out of it because he's gotten a lot of mileage out of it," he said.
2 p.m.: After an exchange between Rep. Lynn Westmoreland (R., Ga.) and Brian McNamee about why he didn't tell Clemens he told the truth when Clemens said that's what he wanted, McNamee said he did so when he answered, "It is what it is." McNamee said that means "The truth is the truth." Rep. Mark Souder later asked Waxman for permission to add to the record an explanation that "It is what it is" is an expression used by New Yorkers which means telling the truth. Maybe the committee will call Bill Belechick to explain its derivation.
1:48 p.m. Rep. Bruce Braley just asked Clemens if he had ever been diagnosed with senile dementia, Alzheimer's disease or if he had ever been a vegan or a vegetarian.
Clemens responded no.
Braley then wondered why someone would take B-12, which he said is usually prescribed for dementia, anemia, and low blood cell counts. "You have clearly never been diagnosed with a deficiency, so why were you taking them?" he asked.
Clemens said it was at the suggestion of his mother two decades ago. "I always assumed it was a good thing, not a bad thing. I think it's fairly widely used… It's healthy."
1:39 p.m. Clemens, after talking about how proud he'd been to wear the USA uniform in the WBC, said that he was unaware Sen. Mitchell and his investigators wanted to talk to him. "Bud Selig could have found me,'' he said. "If he knew this man (McNamee) was going to say things to destroy my name, he could have found me.''
Waxman noted that Clemens met with his own investigators before the Mitchell report was issued, and thus had awareness of what McNamee had told Mitchell.
Rep. Bruce Braley (D., Ia.) excoriated McNamee for being a terrible role model in assisting elite athletes in their use of performance-enhancing substances, then chided Clemens for using vitamin B-12 and using McNamee for stuff that would normally be done by a doctor or medical professional. "He told me he had a Ph.D.'' Clemens said. "I'm a trusting person.''
1:28 p.m. Clemens is being questioned more about the barbecue at Canseco's house by Representative Tom Davis. Clemens still says he doesn't remember any sort of lunch or party at his former teammate's house.
"A barbecue in particular," Davis reminded him.
Now we're getting down to the facts.
1:20 p.m.The proceedings are about to get back underway.
12:52 p.m. The committee has announced a 15-minute recess.
12:51 p.m. After Clemens's lawyers accused Waxman of "innuendo" for asking Clemens why he asked his former nanny to come to his home last Sunday before congressional investigators talked to her, Clemens struggled to come up with an answer to Representative Eleanor Holmes Norton, Democrat of the District of Columbia, who enumerated the things McNamee allegedly did -- such as giving Debbie Clemens HGH, and giving him an amphetamine, etc. -- and asked why Clemens still kept him in his employ.
"I'm a forgiving person,'' Clemens finally managed.
Said Norton: "I'm sure he's going to heaven.''
The committee took a 15-minute recess.
12:40 p.m. Representative Mark Souder, Republican of Indiana, railed against a "wall of silence" among major league baseball players that allow the drug culture to prevail in the game, and also raised questions about ownership complicity.
William Clay, Democrat of Missouri, got all starry-eyed during his questioning of Clemens, asking him if he knew what uniform he'd be wearing to the Hall of Fame.
Waxman is now noting that Clemens's former nanny said she was at Canseco's house, that Clemens' wife, Debbie, and the children overnighted at Canseco's, that Canseco was also there, and that Clemens called her to come to his house Sunday, even though he hasn't seen Clemens since 2001.
12:35 p.m. Asked by Clay if he could tell his children that Clemens accomplished everything he did in the game without aid of performance enhancing drugs, Clemens responded, "Yes, sir. Without a question, I took no shortcuts… Somebody's tried to break my spirit in this room, they're not going to break my spirit… You can tell your boys that I did it the right way."
12:30 p.m. Asked by Souder if McNamee knew or was speculating that his physical evidence could prove that Clemens used HGH, McNamee admitted that he was speculating. However, Souder did point out how Knoblauch's and Pettitte's testimony back up McNamee, and went on to chastise the players for their "wall of silence" calling it "disgusting."
12:23 p.m. Responding to questioning by Representative Carolyn Maloney, Democrat of New York, Clemens said he was never told by his agent or attorney that former senator George Mitchell wanted to speak with him for his report. If he had known what McNamee had told Mitchell, Clemens said he would have spoken with Mitchell, "In a New York minute if you will."
12:19 p.m. Roger Clemens told Representative John Mica, Republican of Florida, that on four to six occasions, McNamee shot him with B-12, which was red to pink in color, but had no idea what color the shot of lydocaine was. Clemens admitted that, because of these shots, McNamee could have gauze with evidence of his blood.
11:52 a.m. Representative Stephen Lynch, Democrat of Massachusetts, said on Monday that he received an MRI taken of Clemens of a "palpable mass" on his buttocks in 1998 that medical experts, including the Blue Jays' team doctor and trainer, as well as an outside medical expert, said was not consistent with a B-12 injection or a strained muscle, as Clemens had alleged. The doctor said he'd given a "thousand B-12 injections" without seeing a complication like the one Clemens exhibited, and the trainer said in 30 years he never saw one, either. An outside expert said it was more compatible with a steroid injection. Representative Tom Davis, Republican of Virginia, raised strong objections to Lynch's line of questioning, calling it a "new definition of lynching.''
11:37 a.m.: Representative Dan Burton, Republican of Indiana, used his turn to get McNamee to admit to numerous untruths, then said, "I don't know what to believe, but I know I don't believe you.'' He called McNamee a liar, Clemens a "baseball titan," referred to the proceedings as "really disgusting," and railed against "trial by media."
11:33 a.m.: Burton asked McNamee why he felt the need to keep syringes and gauze pads as evidence against Clemens. "As I thought about it, more things came up," McNamee said. "The fact that I never felt good about what I was doing, the fact that it was illegal… I might as well hang on to these things."
11:28 a.m.: Clemens admitted that he had a heated conversation with McNamee once he found out about accusations that his wife, Debbie, had used HGH.
11:21 a.m.: Brian McNamee on Clemens's insistence that the trainer injected him with B-12, not HGH: "The first time I ever heard of Roger taking B-12 was on '60 Minutes.'"
11:15 a.m.: Davis challenged McNamee about his version of a party Jose Canseco threw for his Toronto teammates at his Miami home, one in which McNamee said Clemens attended and spoke to Canseco about steroids. Davis noted that Canseco and his wife in sworn affidavits said Clemens was not there, that the team trainer didn't remember Clemens being there, and the traveling secretary said Clemens was not on the team bus that took players to the party. Clemens also said he was not at the party, that he was golfing that day. McNamee insisted he saw Clemens at the party, as well as Clemens's nanny. Representative John Tierney, Democrat of Massachusetts, is now the questioner, and he began by getting McNamee to acknowledge that he was not truthful to police about the 2001 incident, and that he was not truthful to investigators about the number and frequency of injections. Tierney is now pressing Clemens about an apparent contradiction in his deposition, in which he said he never spoke to McNamee about HGH, but later in his deposition said he had two conversations with McNamee about his wife's HGH use. Clemens at one point consulted with his attorney, Rusty Hardin, but stumbled through his answers.
10:56 a.m.: Representative Elijah Cummings, Democrat of Maryland, is first up to question Clemens, and asked him about Andy Pettitte's affidavit. Clemens said he thinks that Pettitte must "mis-remember" items about his alleged involvement with performance-enhancing drugs.
Clemens said Pettitte could have been referring to a conversation he had with his teammate about the stimulant ephedra. Clemens called Pettitte "a very honest fellow," but continued to repeat that Pettitte misheard. He also said he doesn't remember having a conversation with Pettitte in which the pitcher asked Clemens what he would say if asked about his HGH use.
Clemens insists he was "shocked" when he learned of Pettitte's use of HGH. Clemens said that if Pettitte thought that he used HGH, "he would have come to me and asked about it. That's how close our relationship was."
10:51 a.m. -- Opening statements recap: Clemens and McNamee both made their opening statements, Clemens in a strong voice asserting his innocence, invoking the example of mother and grandmother in believing hard work and determination were the only way to be successful and there were "no shortcuts." McNamee, speaking quietly but in an unwavering voice, said he injected steroids and HGH into three players, that two of them, Pettitte and Knoblauch, confirmed his account, and the third, Clemens was sitting beside him. McNamee, invoking the words of his father, a member of the New York Police Department for 24 years, said his father had told him people are human and make mistakes, but that you have to acknowledge mistakes. McNamee said he was reluctant to tell the investigators what he'd done, in part because he felt he was betraying the players he trained. But "make no mistake," he said, "I told the truth.'' McNamee said he kept syringes and other physical evidence because he was wary that Clemens might wind up "looking out for number one." When Clemens and his lawyers played a tape of a conversation he had with McNamee at a press conference, it was then that he decided to tell investigators of the material he had kept.
Waxman earlier chastised McNamee for not being fully truthful with investigators about the number of times he'd injected players with steroids and HGH. He also noted that Clemens had lied to police officers in connection with an incident in 2001 not related to the steroids investigation, and that it impacted his credibility.
10:47 a.m. In his opening statement, Brian McNamee said he takes no personal satisfaction in taking down Roger Clemens. "When I told Senator Mitchell about injecting Roger Clemens with performance enhancing drugs, I told the truth," he said. "Unfortunately, Roger has denied this and launched a full-on attack on my credibility." McNamee insisted he never injected Clemens with B-12 or lidocaine, as Clemens has claimed. "I have no reason to lie and every reason not to," he said.
McNamee injected Clemens with performance-enhancing drugs more often than he previously claimed, the pitcher's former personal trainer also said today.

10:40 a.m. Roger Clemens is making his opening remarks, claiming "short cuts were not an option" in his training. Clemens continued that if he is guilty of anything, it's that he is "too trusting in everyone." Clemens ended his opening remarks with the following: "Let me be clear, I have never taken steroids or HGH. Thank you."
10:37 a.m.: Reprentative Davis has taken the microphone at the proceedings with his opening remarks, saying that both Clemens and McNamee deserve this opportunity. "We're here to save lives, not ruin careers," Davis said. Clemens and McNamee are now swearing before the committee to tell the truth. Clemens is up first with his own opening statement.
10:28 a.m.: Waxman said that Pettitte in his sworn affidavit again said that he had two conversations with Clemens about HGH, one in 1999 and 2005, and his wife, Laura, also in a sworn affidavit, told the committee that Pettitte told her about first conversations. The first, in 1999 or 2000, Pettitte said Clemens told him he'd used HGH, a story corroborated by his wife. The second, in 2005, Pettitte said that he asked Clemens what he would do if asked about using HGH. Clemens told him he must have misunderstood him in the first conversation, that his wife, Debbie had used HGH. Again, Laura Pettitte corroborated her husband's story.
Waxman challenged Clemens's sworn version, saying that Brian McNamee and Clemens both testified that McNamee had injected Debbie Clemens in 2003, which means he could not have been referring to Debbie Clemens back in '99. Clemens testified that his wife was injected without his knowledge. McNamee said Clemens asked him to inject her.
Waxman said Clemens made statements that were "known to be untrue," "contradicted credible witnesses," or "simply implausible.''
One such contradiction, Waxman pointed out, was when Clemens said McNamee injected him with Lidocaine. Waxman said that both the Blue Jays team doctor and trainer said Clemens's account "makes no sense.''
10:20 a.m.: House committee chairman Henry Waxman, in his opening remarks, said that former Yankees Chuck Knoblauch and Andy Pettitte both confirmed Brian McNamee's accounts of their HGH use, and that both players acknowledged additional use of human growth hormone.
McNamee had said he injected Knoblauch seven to nine times in 2001. Knoblauch said that was the case, but that he had additional injections of HGH in 2002. Waxman said Knoblauch said he admitted to the use because he felt it important for his son's sake to tell the truth.
Pettitte admitted to using HGH on the occasion McNamee described in the Mitchell report, and in his affidavit said he also used HGH twice in 2004. "I have to tell the truth,'' Waxman quoted Pettitte as saying, "and one day I have to give an account to God.''
10:19 a.m.: In his opening statement, Representative Henry Waxman, Democrat of California, called today's proceedings "rare," in that while Roger Clemens and Brian McNamee both insist they are telling the truth, their accounts couldn't be more different. "Someone isn't telling the truth," Waxman said. Waxman later said there were "conflicts and inconsistencies in Clemens's account."
10:07 a.m.: Roger Clemens has entered the proceedings, wearing a black suit, and was crowded by a group of photographers as he took his place before the committee. Brian McNamee is seated two seats to Clemens's right. Waxman has begun his opening statement.

browse this blog
by category