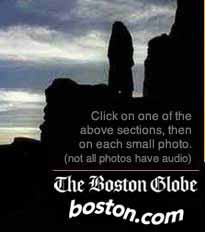 Hello, my name is Jonathan Wiggs. Welcome to my essay on Afghanistan. I spent approximately six weeks covering events in the country for The Boston Globe. I found Afghanistan to be one of the most beautiful countries I've ever visited, despite all of the chaos and suffering. I was welcomed by the people, and I want to thank them for their gracious hospitality. I hope that in a small way, these pictures will somehow convey the difficulty of life in Afghanistan and the hope of its people.

BACKGROUND IMAGE CAPTION:
A lone Afghan on a Bamiyan cliff at dusk.