Posted by Doug Saffir
March 12, 2014 10:57 PM
Researchers at the MIT Media Lab in Cambridge are working on a super important project, and they need your help. The study is modern, it's hip, and it could change how we look at human communication.
The study looks at emotions and how humans understand them - and, most importantly, how technology is changing the way we express ourselves.
Yes, yes it is fascinating, tiny sloth. Fascinating and awesome. Because if you haven't guessed by now, the study is focusing on how humans understand reaction GIFs!
That's right, folks - get excited! The MIT Media Lab is using crowdsourcing to figure out whether there's a universal language hidden in the land of reaction GIFs.
The research is being conducted by students Travis Rich and Kevin Hu, and is being run through a website called GIFGIF. The site asks visitors to observe two reaction gifs and choose which one best represents a given emotion.
In doing so, they not only provide evidence on how different reaction GIFs are perceived, but they also allow GIFGIF to build database where you find for the perfect GIF to match a certain emotion (like how fortunate we feel to be getting such a cool databse).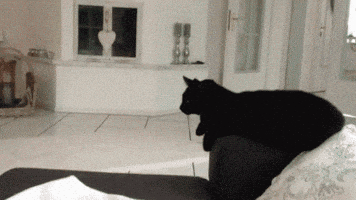 High fives all around. They've already got over 5,000 GIFs in the database and, with some help from their partners at Giphy, it's growing every day as people continue to vote.
From GIFGIF:
New gifs are automatically added when we've collected enough votes to characterize the gifs we already have in the database. We'd rather have 1,000 well-characterized gifs than 1,000,000 gifs with only a single vote each.
Excited as we should all be about an accurately categorized GIF database, these guys are actually interested in some of the science behind the data they're gathering:
We're hoping to answer some really interesting questions. Does a gif's emotional variance impact how it's received? (We have a hunch that emotional variance is why :) is pretty acceptable but ;) is typically an awkward mix of creepy/sexy/playful/pirate-y). Does a gif's emotional content vary between cultures? For example, what is the best representation of happiness for Germans, compared to a Canadian's impression?
Yeah, we were impressed, too. This isn't just about playing with GIFs. These guys are actually smart and plan to do some cool stuff with this project.
So quit dilly-dallying. Get on over to GIFGIF and participate! That awesome database (and equally awesome science-y stuff) isn't going to complete itself.
(H/T Daily Dot)
Reach me at douglas.saffir@globe.com. Follow me @dougsaffir
About The Source
The Source is your destination for must-read news. Compiled by Boston.com staff, it offers compelling stories, photos, videos, and links from Boston and around the globe. The latest story making headlines? That viral video you heard about? The stunning picture you'll forward to your friends? They're all here.
Submit to The Source
Have a link you want to share? Use the form below to send it to us for consideration.
Thanks for your submission!
browse this blog
by category