Posted by Austin Tedesco
August 19, 2013 05:06 PM
Pam Oliver, an NFL sideline reporter for FOX, suffered a hit from this errant throw by Indianapolis Colts backup quarterback Chandler Harnish yesterday. The football drilled her in the face while she was standing on the sideline prior to the game.
Harnish apologized for it later on Twitter:
Would like to take this time to apologize to Pam Oliver, for the bad pass to the face.. Be expecting flowers in the mail soon! #ToughLady

— Chandler Harnish (@C_Harnish) August 19, 2013
Here is a GIF of the throw, via Bleacher Report.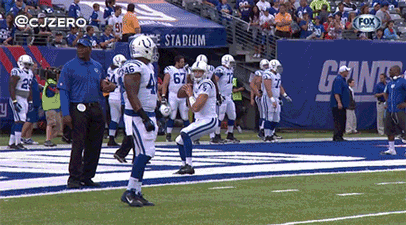 Mobile users unable to see the video, click here.
About The Source
The Source is your destination for must-read news. Compiled by Boston.com staff, it offers compelling stories, photos, videos, and links from Boston and around the globe. The latest story making headlines? That viral video you heard about? The stunning picture you'll forward to your friends? They're all here.
Submit to The Source
Have a link you want to share? Use the form below to send it to us for consideration.
Thanks for your submission!
browse this blog
by category