Stars and stripes desktop wallpaper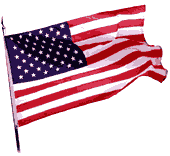 Select an image size:


800 x 600 (35k)


1024 x 768 (67k)


Choose 1024 x 768 if your monitor is set at high resolution.
Instructions
To install the American flag as the background image on your computer's desktop, follow these steps:
1) Click on the proper desktop size for the photo you want. (Please allow sufficient download time since file sizes are large.)
2) Windows 95/98: Right-click with your mouse on the image and select "Set as wallpaper."
Macintosh: Click and hold your mouse over the image. A menu will pop up. Choose "Save This Image As," and save it to your desktop.
Open the image in any image-editing program (i.e. - Photoshop, PaintShop, MacPaint, etc.). Choose "Select All," then choose "Copy" from the edit menu.
Next go under the Apple menu and select "Control Panels," then "Desktop Patterns." Go under the Edit menu and choose "Paste." Hit the "Set Desktop Pattern" button.