Money, loathing fuel bin Laden's network
Saudi exile Osama bin Laden has waged his "holy war" from caves in the mountains of Afghanistan backed by his fortune, his faith, his loathing for America, and what those around him describe as a death wish. (Boston Globe, 9/13)

ROOTS OF HATE
Legacy of Gulf War seen to fuel militants' hatred
Anger over the 1991 Gulf War gave rise to the decade-long campaign waged by bin Laden, specialists say. (Boston Globe, 9/13)

AFGHANISTAN
Nation plays host to unwelcome guest
Afghanistan's Islamic fundamentalist ruling party, the Taliban, is highly loyal to bin Laden. (Boston Globe, 9/13)

PAKISTAN
Rank-and-file view bin Laden as a hero
Most Pakistanis see bin Laden as a courageous figure who dares to challenge an arrogant, pro-Israeli superpower. (Boston Globe, 9/15)

WEAPONS
Threats of nuclear, chemical warfare loom
Though specialists cast doubt on the threat, bin Laden is rumored to have access to weapons of mass destruction. (Boston Globe, 9/14)
---
Bin Laden:
A violent history
A look at some of the key events in bin Laden's reign of terror:
1990
The Gulf War and flow of overseas troops into the Middle East fuel bin Ladenís anger against the U.S.
1991
Saudis arrest bin Laden for criticising their decision to bring in American troops. He leaves for Sudan and begins setting up terrorist training camps.
1992
Bin Laden claims to have carried out attacks on U.S. soldiers in Somalia.
1993
The first bomb attack on the World Trade Center, in which six die and more than 1,000 are injured. U.S. officials believe bin Laden was behind the plot.
1995
Bin Laden supports a failed plot to assassinate Egyptian President Hosni Mubarak in Ethiopia. He also backs the bombing of a military training facility in Riyadh, Saudi Arabia, which kills five American servicemen.
1996
Sudan bows to U.S. pressure and asks bin Laden to leave. He takes refuge in Afghanistan. He backs another bombing in Saudi Arabia that shatters an apartment complex housing U.S. servicemen. At least 19 are killed.
August 1998
Bombings at the U.S. embassies in Kenya and Tanzania kill 224 people, including 12 Americans. Bin Laden is believed to have planned the attacks.
2000
The USS Cole is attacked in Yemen and 17 U.S. soldiers are killed. Officials believe the strike had the markings of a bin Laden operation.
Sept. 11, 2001
U.S. confirms bin Laden and his al-Qaeda group are the leading suspects in the attacks on New York and Washington.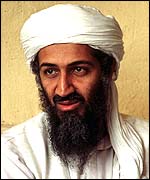 Osama bin Laden (AP)

PHOTO GALLERY
Osama bin Laden: A trail of terror

"I'm fighting so I can die a martyr and go to heaven to meet God. Our fight now is against the Americans."

— Osama bin Laden
Osama bin Ladenís terrorist group, Al-Qaeda, is believed to have cells in 34 countries, according to a report by Congress.
Al-Qaeda
---
Assets:
$300 million, used to fund a network of 3,000 Islamic militants.

Identified or suspected cells in:
Afghanistan, Pakistan, Bangladesh, Saudi Arabia, Qatar, Yemen, Jordan, Egypt, Libya, Lebanon, Algeria, Tunisia, Mauritania, Sudan, Azerbaijan, Uzbekistan, Tajikistan, Chechnya, Somalia, Eritrea, Kenya, Tanzania, Uganda, Ethiopia, Malaysia, the Philippines, Uruguay, Ecuador, Bosnia, Kosovo, Albania, the United Kingdom, Canada and the United States.
---
Why do they hate us?
The reasons are many, the history long.
What motivates Muslim terrorists
Few terrorists are crazy. By their own logic, twisted though it is, they act rationally.
US helped create bin Laden
Bin Laden's supporters developed a deep resentment of America during the Gulf War.
Why Muslims revere bin Laden
Many Muslims firmly believed that the US, or at least its government, is their enemy.
Why many Arabs hate America
It is often perceived that America is pursuing a worldwide war against Islam.
What's Allah got to do with it?
The terrorists were apparently guided by an extreme interpretation of Islamic duty.