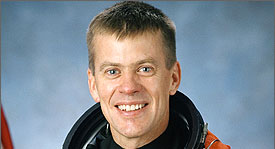 Age: 41
Occupation: Pilot
Experience: First mission
Personal: Married
Pilot's son found niche in space
It felt like a reunion, friends and relatives said, when they gathered last month in Florida to celebrate Commander William McCool's first flight in space. There was the launch, then a party at a Cocoa Beach hotel, handshakes exchanged, snapshots taken. And while McCool's wife and mother looked nervous that night, his father beamed with pride, McCool's friend Dale Somers recalled yesterday.
McCool, 41, the pilot and second-in-command on the Columbia mission, once said his father inspired him to fly. Barent McCool was a Marine and Navy pilot who took his son up in the air as a boy and encouraged him to build model airplanes. The whole family joined the military, Somers said: McCool's mother served in the Army Reserve, his younger sister just left the Navy Reserve, and his younger brother is an Army helicopter pilot.
McCool was as driven as any of them, a quiet youth with a big smile who went after what he wanted. As a junior high school student in Guam - one of many places where the family lived - he took a shine to Lani Vallejos, and decided he had to meet her, Somers said. She ran on the track team, so McCool joined, too, and kindled a romance.
It was a fateful move; McCool was as good a cross-country runner as he was a student. At Coronado High School in Lubbock, Texas, where he graduated in 1979, he straddled the cliques: an athlete, but also a brain. He was an Eagle Scout who played guitar, plucking folk songs and Eagles tunes with Somers.
He won a coveted spot at the US Naval Academy, where he finished second in his class. He and Vallejos had drifted apart, but as a Navy cadet McCool got back in touch, and eventually they married. McCool embraced Vallejos's two sons from a previous marriage, Somers said. The couple also had a son together, Cameron, now a teenager.
McCool went on to earn master's degrees in computer science and aeronautical engineering, and launched a career as a Navy test pilot, based at an air station north of Seattle. He was in his 30s - late, in NASA terms - when he applied to be an astronaut, sensing that he'd finally found the right path.
After NASA accepted him in 1996, the McCools moved to Houston for his shuttle training. His brother-in-law, Mike Chadwick, said yesterday that the family had always hoped to return to Washington state, where they kept a house in the country, and loved the hiking, fishing, and open space.
"My most enjoyable experiences are going out with my wife and my boys back country," McCool said in an interview posted on NASA's website.
He also loved talking to children about space. Chadwick saw it firsthand when McCool visited their Orlando-area home last Christmas and helped Chadwick's son use a new telescope. There he was, a real astronaut in their midst, Chadwick said, but soft-spoken and modest: "He just seemed very humble about it."
As they readied for the landing yesterday, McCool's parents, at home in Las Vegas, were stationed outside with binoculars and a camera, hoping to catch a glimpse of the shuttle overhead, Chadwick said. He and his wife were at the landing site with Lani McCool and watched the countdown drop to zero. The shuttle never came.
It was so different from the outcome McCool had predicted in the NASA interview: "We'll come back and land, slowing from 17,000-plus miles to 200-plus miles per hour. Rick Husband, our commander, will make a smooth landing, and the mission will be over."
By Joanna Weiss, Globe Staff