Following the attacks on September 11, many people have looked to art, in all its forms, for consolation.

Did any piece of art help comfort you following the attacks?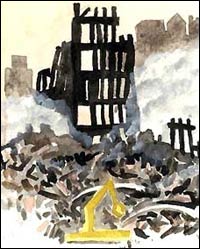 Jean Holabird of Cambridge painted "10-3 - Murrary and Greenwich, 3 p.m.," a watercolor scene from Ground Zero. Many artists responded visually to the September 11 attacks.

See artwork
Read the song lyrics and poetry that helped many cope with the grief they felt after September 11:

'Across the Universe', Lennon/McCartney

'America the Beautiful', Katherine Lee Bates

'American Tune', Paul Simon

'Change the Day', Alex MacDougall

'Colors of the Wind', Vanessa Williams

'Leap', Brian Doyle

'He Ain't Heavy, He's My Brother', The Hollies

'Jesus, etc.', Wilco

'Love and Mercy', Brian Wilson

'Lucky', Radiohead

'Memorial for A City', W. H. Auden

'Musee Des Beaux Arts', W. H. Auden

'One', Cheryl Sawyer

Chorus from 'The Other Side', Joie Scott and Richard Wold

'The Other Side', Don Conoscenti

'Overcome', Live

'The Peace of Wild Things', Wendell Berry

'Rhymes and Reasons', John Denver

'Rockin' in the Free World', Neil Young

'September 1, 1939', W.H. Auden

'Show the Way', David Wilcox

'Song in a Year of Catastrophe', Wendell Berry

'The Summer Day', Mary Oliver

'Superman', Five for Fighting

'There You'll Be', Diane Warren

'Through Your Hands', John Hiatt

'Trouble of the World', Mahalia Jackson

'Try to Praise the Mutilated World', Adam Zagajewski

'Victory in Defeat', Edwin Markham