Different Kennedy had a different gathering in New York
By Steve Fainaru, Globe Staff, 07/18/99
NEW YORK -- Outside John F. Kennedy Jr.'s nine-story loft building in Tribeca, a fashionable neighborhood in Lower Manhattan, one bouquet of flowers lay near the glass front door, and a large media contingent had gathered across the street. But the crowds were tiny, contrasting sharply with the enormous gatherings outside Jacqueline Kennedy Onassis's posh Fifth Avenue apartment after her death five years ago.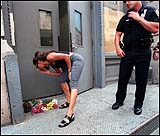 Amy Romera, who lives in the neighborhood, gestures with a kiss after placing a bouquet of flowers outside the doorway of the residence of John F. Kennedy Jr., in New York, Saturday. (AP Photo / Lynsey Addario)

Kennedy was a different sort of New Yorker than his mother, who guarded her privacy tenaciously and lived the gilded, doorman-attended life of the Upper East Side elite. Despite his celebrity, Kennedy was often seen rollerblading through Central Park or, more recently, jogging along the Hudson River near his apartment. He lived in an up-and-coming neighborhood of the very rich, but many of the buildings are covered with graffiti, and refurbished buildings like Kennedy's often sit between dilapidated structures and charred, gutted warehouses.

Neighbors said Kennedy and his wife, Carolyn Bessette-Kennedy, could walk around the neighborhood without being bothered. They often hung out at Walker's, a microbrewery, and Bubby's, a nearby restaurant.

"I used to see him walking down the street, but this isn't the kind of place where people would give him trouble,'' said John Cristovich, a clerk at an upscale antiques shop across the street from Kennedy's red-brick building. "It's all big money.''

Kate Beattie, who works at J. Mably Fabric Co., also on Kennedy's street, said the couple were simply part of the neighborhood, and the news that their plane may have crashed en route to Martha's Vineyard left her sad.

"It's just devastating that a family could have so much tragedy in it,'' she said. "I mean, how much can one family endure? I don't want to believe that they're dead. It's so surreal.''

Christopher Baetz, her co-worker, added: "It's sad, because they were really a new couple. They didn't really have a chance.''

This afternoon, the top editors of George, the magazine founded by Kennedy, gathered in the monthly's midtown offices on Broadway. An operator said Kennedy's colleagues were not available for comment.

Fred Kaplan of the Globe staff contributed to this report.