JFK Jr.: 1960-1999
Heir to Camelot didn't revel in spotlight, didn't shun it either
By Ellen Barry, Globe Correspondent, 07/18/99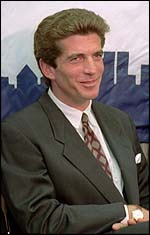 John F. Kennedy Jr. is shown in New York in this October 1994 file photo. (AP Photo)

This spring, a tiny college on the eastern shore of Maryland called John F. Kennedy Jr. to award him an honorary degree for a service program he had created. Kennedy -- who had spent his life in the public eye as the embodiment of a nation's loss, the Sexiest Man Alive, and then the most glamorous editor in publishing -- trekked down to Chestertown, Md., to address the 200 graduating seniors at Washington College.

But Kennedy headed back to New York without the degree. He said he had not earned it.

"I thought he was nuts," said historian Douglas Brinkley, an associate editor of Kennedy's magazine, George, and a friend since 1990. "Universities give those out all the time. I thought, that's ridiculous. There's a lot of people who have done less than him who would have taken it. But he said, `I don't think I've done anything to deserve it.' "

John F. Kennedy Jr. was born famous, just two weeks after his father was elected president. He struggled with fame -- but while others might seek to deflect the attention, friends say, he thought constantly about deserving it.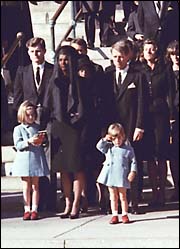 Three-year-old John F. Kennedy Jr., salutes his father's casket in Washington three days after the president was assassinated in Dallas in this Nov. 25, 1963 file photo. Widow Jacqueline Kennedy, center, and daughter Caroline Kennedy are accompanied by the late president's brothers Sen. Edward Kennedy, left, and Attorney General Robert Kennedy. (AP Photo/File)

Behind the gloss of celebrity, Brinkley said, there was an unassuming grace that the public could not see. Kennedy did not remember saluting his father's coffin in 1963, but he accepted with equanimity that the moment was part of the personal imaginative scrapbook for millions of Americans.

As such, Kennedy lived with scrutiny every day of his life. Who can forget the lovers' quarrel with his girlfriend in Central Park, the second failure of the bar exam, or the doomed undergraduate gesture toward an acting career. When he sprained his ankle this spring, the alert went out to society columnists all over the country.

What was remarkable about Kennedy, friends say, was that he never reveled in the attention, but he never really minded, either.

"He realized all the gifts he had been given," Brinkley said. "God had given him a great deal. He felt it would be really low-class to whine about it."

Although he had expressed no interest in running for office, Kennedy had an intensifying strain of liberalism that made even close friends wonder where his career would lead him after George was on solid footing. Joseph Nye, dean of the Kennedy School, where Kennedy was poised to take over the chairmanship of the board of directors for the Institute of Politics, remembers standing next to Kennedy in a receiving line at a White House dinner and kidding him gently about his intentions.

"I said to him, 'Do you remember this place?' and he said, 'Only vaguely,' " Nye recalled. "I said, 'Do you want to come back?' And he smiled and said, 'Only vaguely.' "

Kennedy was born Nov. 25, 1960, the second child of John F. Kennedy and his wife, Jacqueline. "John-John," as he was dubbed, mistakenly, by a visiting reporter, was already the nation's best-known little boy when his father was assassinated in Dallas, and the wrenching salute that John-John gave to his father's retreating casket, on the day he turned 3, in a light-blue coat and short pants, remains one of the indelible images of that era.

Kennedy grew up in Manhattan, living in the household formed when his mother remarried the Greek shipping magnate Aristotle Onassis. Jackie Onassis was determined that her children not grow up removed from everyday life; when 13-year-old John Jr. was mugged in Central Park, his mother told bodyguards she thought it would be good for him. He attended Phillips Academy in Andover and Brown University, and showed talent as an actor that was defeated, ultimately, by the stony disapproval of his mother.

After passing the bar exam on his third attempt, Kennedy spent four years in the New York district attorney's office.

More interesting to the public, during that period, was his love life. Kennedy's bachelorhood in New York was a tabloid goldmine, as he romanced a series of high-profile blondes -- including the singer Madonna and film stars Sarah Jessica Parker and Daryl Hannah -- and disappointed innumerable others. He finally married his long-term girlfriend Carolyn Bessette, a former Calvin Klein publicist from Greenwich, Conn., in a private ceremony on an island off the coast of Georgia on Sept. 21, 1996.

She joined him in the perpetual spotlight. In a May 1998 interview with USA Today, he said he "had thick skin for it." For his wife, though, "I think people sort of forget how hard that can be. It's like you go from having a life you've built on your own terms and all of a sudden it's being snatched away from you. ... My wife went from being a private citizen to a public one overnight. I'm really proud of her."

Meanwhile, Kennedy had secured a place on the opposite side of the media spotlight by starting his own magazine. George, launched in 1995, was the glossy embodiment of his belief that there should be no stark line drawn between politics and popular culture, and announced itself with an inaugural cover featuring Cindy Crawford dressed as George Washington. At George, Kennedy's most jarring move was an editorial in September 1997 chastising his cousins Michael and Joseph, who were both involved in highly public domestic ruptures, as "poster boys for bad behavior.''"

Still, Kennedy dutifully tried to maintain his father's legacies. When it was clear she was dying, Jackie Onassis had entrusted her daughter, Caroline Kennedy Schlossberg, with overseeing the Profile in Courage awards at the Kennedy Library, and John Jr. with stewardship of the Kennedy School of board for the institute was "becoming a burning interest with him," said Brinkley. And Americans had caught a glimpse of what was possible for Kennedy when he addressed the 1988 Democratic Convention, prompting what William Schneider, a political analyst, later described as "an audible gasp."

But there were things that inflamed him more than politics. He could talk for hours about the history of Boston's streetcars or Robert Fulton's steamship or almost any other form of transportation, said Brinkley. He would also sneak into bars in Mississippi to hear blues musicians.

There was also a series of escalating outdoor adventures, including kayaking, parasailing, and, finally, flying.

"There was a sense of testing his limits that was a little like his father's," Brinkley said. "If John was on a boat, he wanted to be in the front with his face in the wind."