John F. Kennedy Jr.: 1960 - 1999
Camelot's son, J.F.K. Jr. presumed dead at 38
By Larry McShane, Associated Press, 07/19/99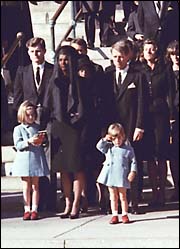 Three-year-old John F. Kennedy Jr., salutes his father's casket in Washington three days after the president was assassinated in Dallas in this Nov. 25, 1963 file photo. Widow Jacqueline Kennedy, center, and daughter Caroline Kennedy are accompanied by the late president's brothers Sen. Edward Kennedy, left, and Attorney General Robert Kennedy. (AP Photo/File)

NEW YORK - The world wept at John F. Kennedy's death 36 years ago and has wondered ever since whether history might have been different, gentler if he'd lived.

John F. Kennedy Jr.'s life was cut off even earlier than his father's, and like President Kennedy's assassination, his presumed death in the waters off Martha's Vineyard has raised unanswerable questions.

Might the son have become a father? Would he have bowed to admirers' wishes and someday sought elected office? How would that famously handsome face have weathered with age?

Kennedy, 38, grew to manhood in the shadow of a president's legend and the glare of the public eye, remembered always as the young boy who raised his hand in a brave salute to his father's coffin. By all accounts, Camelot's heir bore the burden, and the blessing, with grace.

On Monday, a ship equipped with sonar scoured the floor of the Atlantic, searching for the remains of his single-engine, six-seat Piper Saratoga II HP. He was presumed dead, along with his wife, Carolyn Bessette Kennedy, 33, and her sister Lauren Bessette, 34.

Three days of searching failed to turn up their bodies, but Coast Guard officials said the chances of surviving in the 68-degree waters were close to zero.

Kennedy forged his own identity as a prosecutor and publisher while carrying his family's legacy with style. Affable, athletic and attractive, he embodied the sense of youth and invulnerability that had helped propel his father into the White House in 1960.
John F. Kennedy Jr. walks with his mother Jacqueline Kennedy Onassis at his 1983 graduation from Brown University. (AP File Photo)

In the end, however, he did not live as long. President Kennedy was 46 when assassinated in Dallas' Dealey Plaza; his son would have turned 39 this November.

"It's hard for me to talk about a legacy or a mystique,'' Kennedy said in 1993. "It's my family. The fact that there have been difficulties and hardships, or obstacles, makes us closer.''

The second child and first son of Jack and Jacqueline Kennedy, John Jr.'s life was a headline from the time he was born Nov. 25, 1960, just 2 weeks after his father's election as the 35th president, to the day he disappeared.

Americans met him as the playful boy hiding beneath dad's desk in the Oval Office.

Like other icons, he represented different things to different people.

For the generation that elected his father, he would always be that little boy in a blue coat and shorts, saluting his father's casket on his third birthday - a moment he didn't even remember.

"I think that what happens is that you see an image so many times that you begin to believe you remember the image, but I am not sure I really do,'' he told TV interviewer Larry King in 1995.

To the MTV generation, he was "the sexiest man alive'' - the People magazine appellation that made him cringe. New York's gossip pages intensely chronicled his romances with Daryl Hannah, Sarah Jessica Parker and Madonna.

The 6-foot-1, 190-pound Kennedy embraced his roots yet insisted on establishing his own name. He preferred a "normal'' life outside the media glare, hanging out with family and friends.

That was often impossible. Kennedy was born famous, and he would die that way.

After his father was killed on Nov. 22, 1963, his mother moved the family to Manhattan. There, she raised John and older sister Caroline after her marriage to Greek shipping magnate Aristotle Onassis.

He grew into a quintessential New Yorker, likely to pop up shirtless with a Frisbee on the Great Lawn of Central Park, decked out for dinner in a Tribeca restaurant, casually riding a subway downtown.

"I thank my mother for doing that,'' he once said. "I always took the bus. I always took the subways. Hotel suites and limos, it's like, `Whew! Forget it.'''

Although constantly hyped as a candidate for any number of political offices, Kennedy stayed on the fringes of politics. His potential political appeal was most evident at the 1988 Democratic Convention, where he introduced his uncle, U.S. Sen. Edward M. Kennedy - and received a two-minute standing ovation from a crowd of national delegates.

In a 1993 interview with Vogue he acknowledged that he had considered running for office "a lot,'' but added that he wasn't ready.

"Once you run for office, you're in it,'' he said. "Sort of like going into the military - you'd better be damn sure that it is what you want to do and that the rest of your life is set up to accommodate that. It takes a certain toll on your personality and on your family life.''

Kennedy graduated from Brown University in 1983 and eventually enrolled in law school, earning his degree from New York University in 1989.

Passing the bar was not as simple; he twice failed New York's famously difficult bar exam, prompting the memorable tabloid headline "HUNK FLUNKS.'' He passed on the third try and landed a job with the Manhattan district attorney's office, where he won all six of his cases.

After his mother's death in 1994, Kennedy left his job as assistant district attorney to launch the $20 million political magazine George, where he interviewed figures from ex-Alabama Gov. George Wallace to Cuban leader Fidel Castro.

In September, 1996, he married girlfriend Carolyn Bessette in an ultra-secret wedding on an island off the coast of Georgia.

He is survived by his older sister, Caroline, and her three children.